After a down year in 2020, prices exploded in 2021 for physical and digital art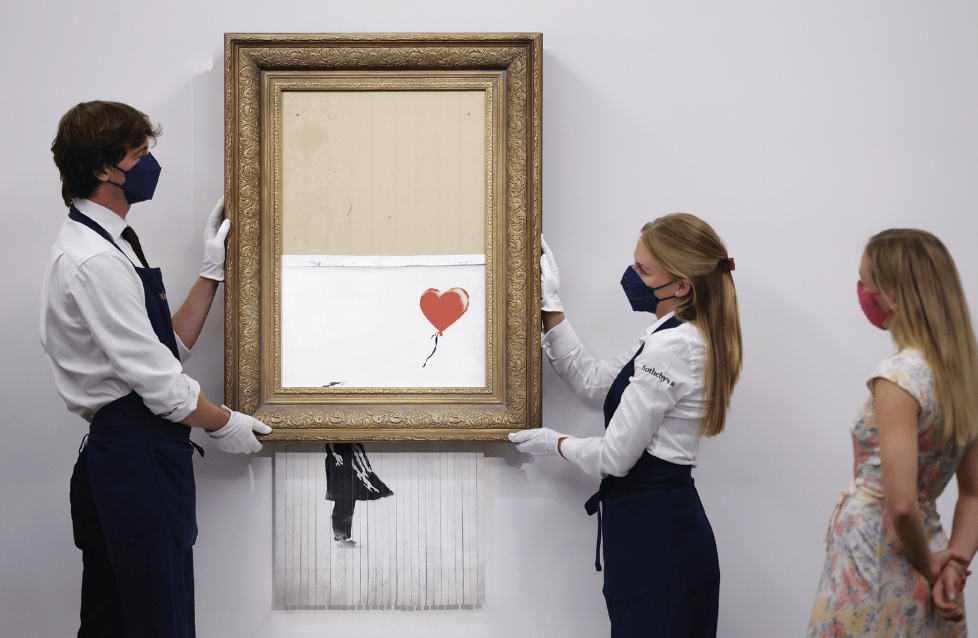 A work of art called Everydays—The First 5000 Days exists solely on the internet and has no presence in the physical world, yet it sold for nearly $70 million a year ago in online bidding at Christie's. Observers heralded the jaw-dropping transaction as the first time a major auction house sold a solely digital image.
But it wasn't the last. Estimates vary widely as to how much buyers shelled out last year for non-fungible tokens (NFTs) that reside online instead of on canvas or as sculptures.
However, widely quoted data from DappRadar indicates that trading in NFTs reached $22 billion in 2021, up from just $100 million the year before. Buyers paid for most of them with cryptocurrency, which seems appropriate because—like NFTs—crypto arguably has no offline presence. Perhaps the explosion in NFT art purchases came as part of a larger trend, one that's operating in the temporal world as well as in the metaverse. As of early November, sales for the year at the three largest auction houses set a new record of $15 billion, a CNBC report said.
Several factors are at work. Wealthy, young first-time buyers are entering the market. Meanwhile, older patrons are not only buying more art but also paying higher prices. Everyone has seemingly thrown caution to the wind, and they're driving prices well beyond auction estimates.
Consider the recent auction of For the Greater Good, by Reggie Burrows Hodges. The painting was expected to bring $50,000 to $70,000 but inexplicably sold for more than $600,000—roughly 10 times its estimated value.
Hodges, who draws upon his childhood memories of the Los Angeles suburb of Compton, is extremely talented but wasn't well known—at least not until that auction.
The same type of frenzied bidding is happening elsewhere. A painting by the late Lebanese-American writer and painter Etel Adnan sold in November for nearly $500,000. That was five times higher than the estimated value.
The extreme examples continue.
The paintings of a famous pseudonymous British street artist called Banksy have arguably become the most coveted works by any living artist. In 2018, a mechanism mounted behind his Love is in the Bin began to shred the canvas immediately after it was auctioned for $1.4 million. In October of last year, the half-shredded painting commanded the astounding price of $25.4 million—the most ever paid for a Banksy work.
For context, the all-time price record for a painting sold by a living artist was set in 2010 when a collector paid $110 million for Flag by Jasper Johns. The only other living artist to surpass the $100 million mark is Damien Hirst, whose For the Love of God reached that milestone in 2007.
But based on the current trajectory, Banksy may claim that record in the not-so-distant future.
Other illustrations of the robust nature of the current market for fine art include two recent auctions of legacy family collections.
In November, Sotheby's auctioned works collected by New York real estate investors Harry and Linda Macklowe. The 35 pieces were expected to generate about $400 million in sales but pulled in closer to $700 million.
The collection included works by Pablo Picasso, Mark Rothko, Cy Twombly and Andy Warhol. The lowest prices for any of their paintings were more than $1 million, and the highest was over $80 million. Sotheby's referred to the sale as "the most valuable single-owner auction in history."
An auction at Christie's, also in November, featured the Impressionist art collection of Texas oilman Edwin Cox. The high estimate for the collection was $270 million, but eager bidders paid a total of $350 million.
Those auctions suggest traditional fine art and the emerging NFT niche have officially joined the "everything rally."
And in the event of a market correction, fine art could prove bulletproof. Collectors who can afford to pay tens of millions of dollars for a single piece of art can likely withstand a downturn—even of the extended variety.
Andrew Prochnow, a regular contributor to Luckbox and other publications, has been trading and investing professionally since 1998.