Replay: Pinball's Flipping Back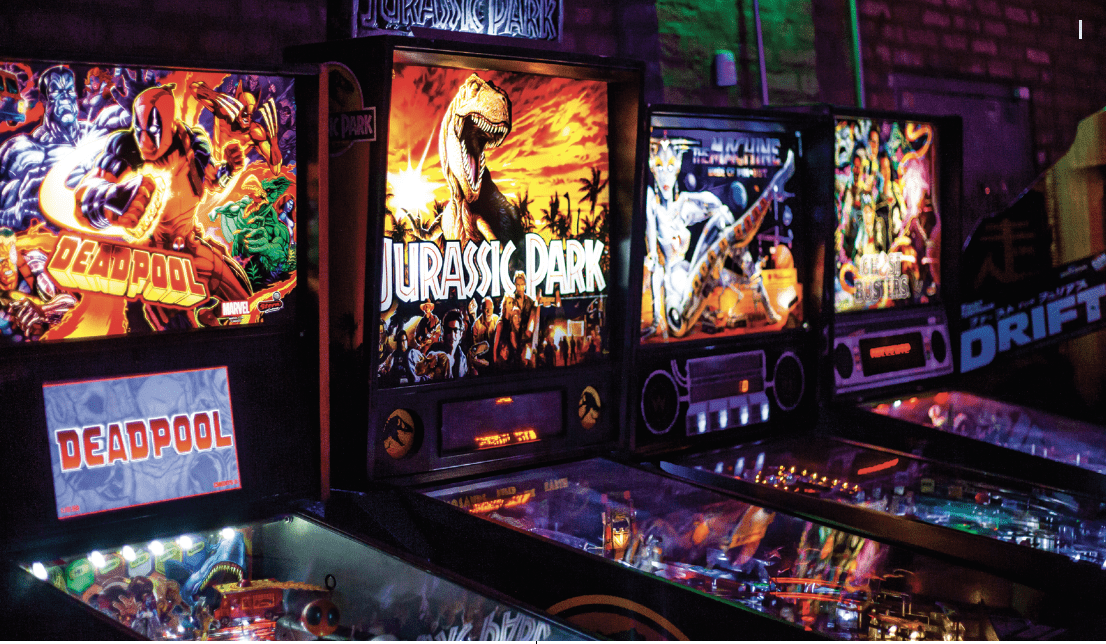 Vibrant colors, flashing lights and staccato bursts of sound: A piece of Americana is regaining popularity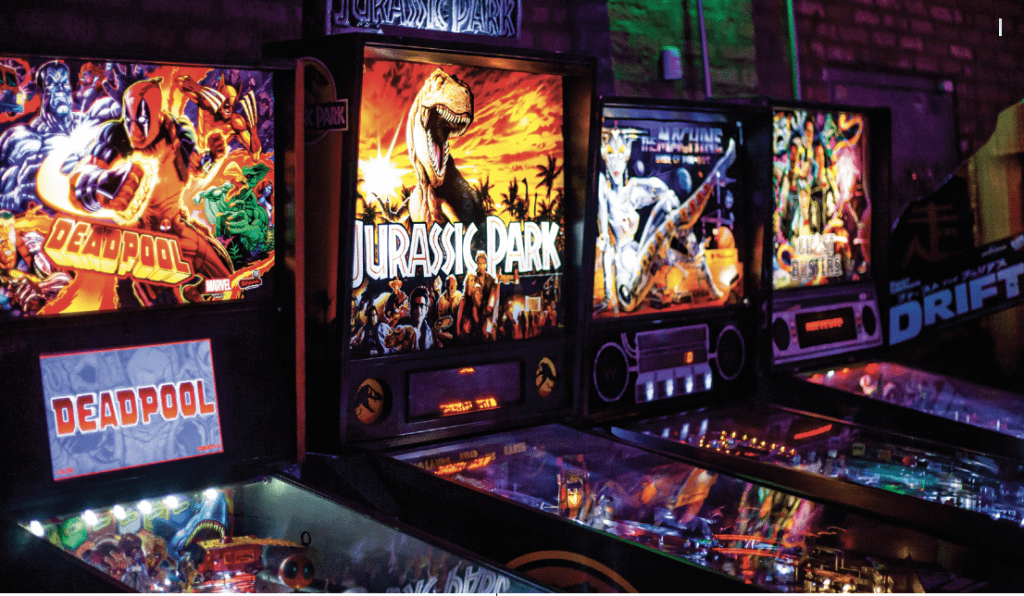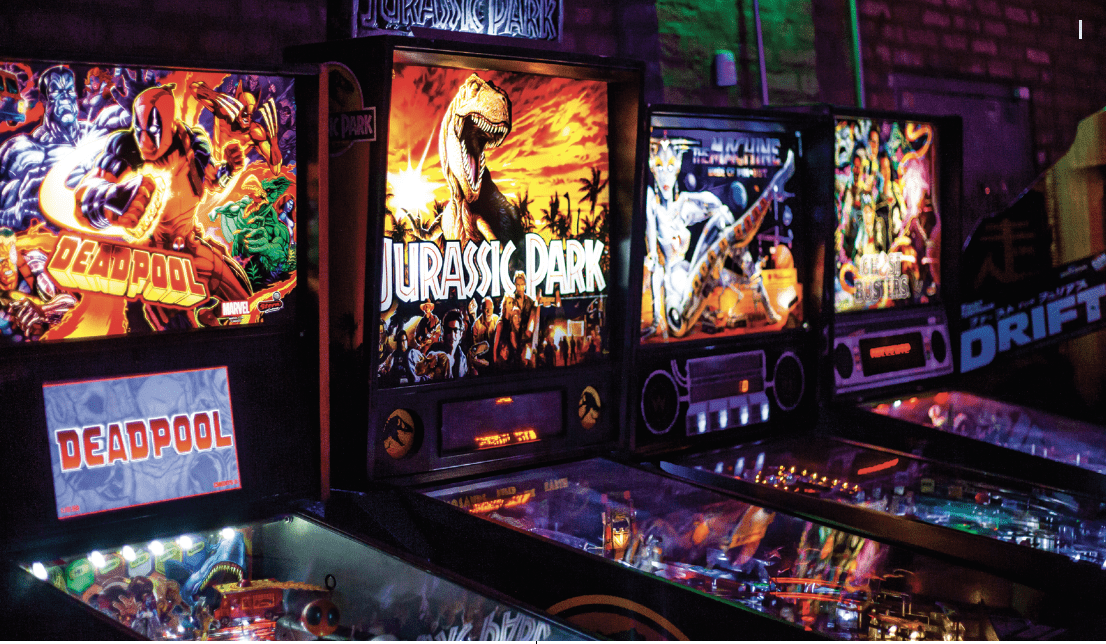 Few industries have endured as many close calls with extinction as pinball. Yet, despite formidable challenges from politicians, arcade video games and home game consoles, the ball-and-flipper-based pastime has not only survived but is arguably entering a new golden age.
Inspired by bagatelle boards, where players move balls past pins and into holes, modern pinball originated in Chicago during the 1930s. The Great Depression was an ideal backdrop for its initial widespread popularity. Cheap entertainment was in high demand, and pinball delivered.
Early pinball, like Bally Manufacturing's 1932 game Ballyhoo, had no flippers or bumpers, which are standard on modern machines. Balls were launched, scores were tallied based on where the balls landed, and prizes were occasionally awarded. But critics complained the games were driven by chance instead of skill and therefore constituted gambling. It didn't help that some players actually were gambling on pinball, and before long, the industry fell into political disfavor.
New York City Mayor Fiorello La Guardia banned pinball in 1942, asserting that the machines "robbed the pockets of schoolchildren in the form of nickels and dimes given them as lunch money." The NYPD rounded up machines, smashed them with sledgehammers and dumped them into the city's rivers. Similar bans were enacted across the country, many persisting decades after the 1947 debut of flippers on D. Gottlieb & Co.'s Humpty Dumpty. Those flippers literally put the outcome of a pinball game in the player's hands.
In many cases, it wasn't until 1976 that the pinball prohibition of the '40s was overturned. That year, the New York City Council was re-examining La Guardia's 1942 ban, and magazine writer Roger Sharpe was tapped to testify in defense of pinball. Sharpe demonstrated that pinball was a game of skill rather than luck by calling a shot and precisely making it, saving the game and helping usher in a resurgence of its popularity.
In 1979, the industry peaked with the sale of 200,000 machines, according to Vermont-based museum arcade Pastime Pinball. But when video games, such as Pac-Man and Space Invaders, made their way into arcades, pinball sales took a hit, declining as much as 85% by 1982.
Pinball made a comeback again in the '90s, thanks to games like Bally's 1992 The Addams Family, which sold more than 20,000 units. But the '90s also saw the rise of home game consoles including the Super Nintendo Entertainment System in 1991, the Playstation in 1995 and the Nintendo 64 in 1996. Gaming at home became more popular—and convenient—than visiting an arcade.
As pinball sales took yet another beating and the future looked more and more digital, one by one, manufacturers folded or pivoted production away from pinball until only one major American manufacturer remained: Stern Pinball.
ball 1: The barback
As a barback at Chicago's Emporium arcade bar in Wicker Park, Roper Fuentes was responsible for washing glasses, bussing tables and emptying the various games of tokens patrons deposited the night before. He started working for Emporium, the first arcade bar in the city, when it opened in 2012, and he wasn't sure how it would be received.
"I sort of expected that there might just be a bunch of dudes who show up because it's video games and beers," Fuentes said. "We were, to our surprise, slammed every night."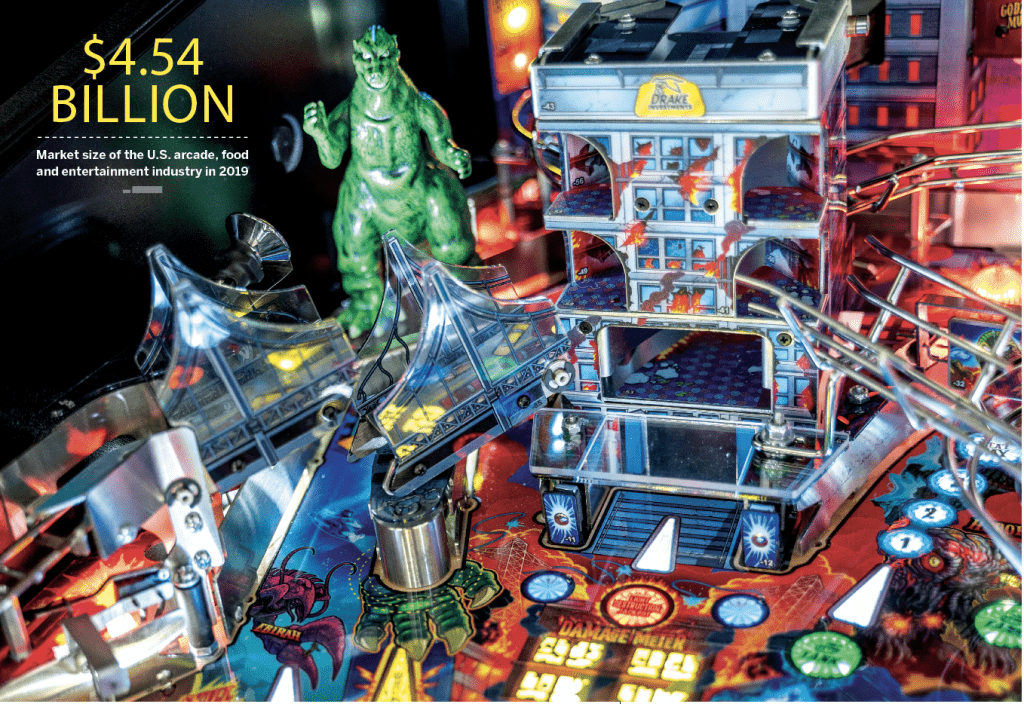 Every night was like a Saturday night, he said, as customers from all walks of life mingled, drank and played games. At the time, about 95% of the games at Emporium were classic arcade video games: Pac-Man, Mario Bros., Asteroids, Space Invaders and others. But four pinball machines also found a home there.
Fuentes admits that by enthusiast standards,
the pinball machines they had were "crappy." They were bought used, at least 20 years old and with a lot of mileage. The games broke down all the time, and without a dedicated game technician, servicing them often fell on Fuentes or Emporium's owners, Danny and
Doug Marks.
"They said, 'You know what? We're gonna get rid of the pinball machines. They're too much of a hassle,'" Fuentes recalled. "And being the one who was emptying the games every morning, I was like, 'We need more pinball. These are actually making more money than anything else in here.'"
The next morning, Fuentes showed the disbelieving owners the pinball machines' coin boxes and, sure enough, they were stuffed.
"And they didn't even work," he said of the machines. "But they got played like crazy."
As the company grew and opened two more locations in Chicago—one in Logan Square and one in Fulton Market—each included pinball. Today, around 30 pinball games can be played across Emporium's three Chicago locations, and Fuentes now serves as the regional manager.
Pinball remains a big draw for Emporium, Fuentes said, and he looks forward to adding more games. But the market's evolving, and pinball's popularity isn't exclusive to arcades and arcade bars. Home and collector sales are growing too, and as interest balloons, so do prices.
ball 2: The dealer
Zach Meny was a clinical psychologist when the pinball bug bit him. Drawn in by how far the technology had advanced beyond the games he grew up with, Meny began spending more time playing, researching and talking about pinball. He and a friend even recorded a video series on YouTube about it.
"My wife said, 'Hon, we're spending too much time on this, so what's the deal?'" Meny said, remembering how he tried to sweet talk her into taking over a pinball distribution company owned by a friend nearing retirement. He responded, "What if we reach out to him and say if he's ever going to retire, we'd be happy to put some interest on purchasing his business."
Within the year, that's exactly what happened, and in early 2019, Meny became the new owner of Flip N Out Pinball in
Evansville, Indiana.
What was supposed to be a weekends and evenings gig to justify his pinball obsession became a full-time job—plus some—in just six months. For a while, Meny tried to juggle both his work as a psychologist and the pinball business. But about a year and a half ago, he decided to devote all of his time to selling and distributing pinball machines, parts and other merchandise.
"From doctor to pinball salesman, my family was like, 'Are you sure you know what you're doing here?'" Meny said. "And while it was a risk, it was a calculated risk. Those first couple of years that I was just a hobbyist and kind of a viewer of pinball and a player of pinball, I'd seen a pattern of market growth that started expanding."
A handful of factors contributed to that growth, Meny said, including nostalgia for the games, increases in pinball-related social media, buzzworthy new game themes and technological innovations. But pinball also got an unexpected boost from the pandemic.
"It took an already trending industry, and it likely increased it tenfold," Meny said.
In the home and collector market, supply just can't keep up with demand, he said—a trend intensified by the pandemic-induced lockdowns. Ninety percent of Flip N Out Pinball's business is home sales and
10% is operator sales. As a direct result of internet-based purchasing, it ships as many games to California and New York as it does to its own backyard of Indiana.
Sales have at least doubled every year for the past four years, Meny said, but that's not a great gauge of overall market growth. "With so many games that we have back-ordered, it's not really an accurate representation of what we could sell," he said.
Stern Pinball's 2021 release of Godzilla is particularly popular.
"If I had 200 of those things—these are $9,000 pinball machines—I could guarantee you I would be sold out of that 200 within a week," Meny said. "And I'm trying to be conservative here."
Meny said it's a good time to be in the pinball business. It's also a good time to be a player. The recreational and competitive scenes have never been more vibrant, and they're attracting younger and more talented players by the day.
"We are seeing younger developers like Raymond Davidson, the No. 1 pinball player in the world, hired by Stern Pinball to code these games," Meny said. "He is a living, breathing computer—sweetest man in the world—but he's a young guy in his 20s."
ball 3: The wizard
"As soon as I could reach the flipper buttons—like 3 or 4 years old—my dad showed me what pinball was," said Raymond Davidson, the International Flipper Pinball Association's highest ranked pinball player in the world.
His grandparents had a 1976 Gottlieb Pioneer in their basement, and every time he visited, he had to play it.
"My cousins would be out in the pool, and I would just be in the game room playing the pinball machine," Davidson said.
He started his competitive pinball career at the age of 15 during the 2008 Northwest Pinball Championships in Seattle. In a field of nearly 80 players, he placed ninth—high enough to win a cash prize—and was instantly hooked. At 29 years old, he's competed in 345 IFPA-sanctioned events—
26 of them outside the United States. He's come out on top 89 times.
Davidson thinks he achieved the IFPA first place ranking after he won the 2018 IFPA World Pinball Championship in Canada—just a year after winning the World Championship in Denmark. These days, he goes to at least a tournament a month, averaging 18 to 20 tournaments every year.
He's a pinball wizard and undoubtedly one of the best players to play the game, but Davidson acknowledges the tournament scene is getting bigger and more competitive.
"The events that were kind of big 10 years ago are now really, really big," he said. "It's crazy now to think that if you go to a tournament, I'd say like 80% of the people if you ask them, they'd say they just got into pinball in the last five years."
He describes the growth as "an explosion," yet he has managed to defend his spot on the top of the IFPA leaderboard. But his footprint in the pinball world doesn't end there. As of May 2020, he's been working as a software engineer for Stern Pinball, the largest pinball manufacturer by market share in the world.
"I just focus on the game and don't have to worry too much about any meetings BS," he said. "It's just all about the game, which is super cool."
extra ball: The founder
The pinball industry is looking good, and if anyone can speak to that with authority, it's Gary Stern, the founder and CEO of Stern Pinball.
"Pinball has never been hotter and more visible to the general public than it is currently," Stern said. "The love of pinball is generational and a part of the global culture and family unit with players of all ages, genders and races."
Pinball's getting more interconnected, too, he said. Innovations such as Stern Insider Connected, a web app on the company's website, enables players to track their scores, receive digital and physical rewards, earn achievements and badges, and connect with other players around the world—all with the scan of a QR code.
Stern Insider Connected not only enhances the experience for players but also helps operators improve earnings with operational efficiency through remote updates and diagnostics, Stern said. It's a win for everyone and will likely play a significant role in the growth of the game.
"Pinball has been a part of the human experience for over 300 years," Stern said. "There's nothing that can offer the same type of immersive entertainment experience with the hottest themes as pinball, and we see no signs of it slowing down."