The Blunt Truth About Pot Stocks
Cannabis-related stock prices are falling as the nation awaits federal decriminalization
After the 2020 U.S. presidential election, cannabis stocks reached new highs as the nation waited for President Joe Biden to fulfill campaign promises to decriminalize cannabis and pardon nonviolent offenders.
When that didn't happen, cannabis stocks began falling to new lows. Although the S&P 500 is up 5% since January 2021 when Biden took office, the average cannabis stock is down almost 50%.
Here are a few stocks that are smokin', and others that are ready to go up in smoke.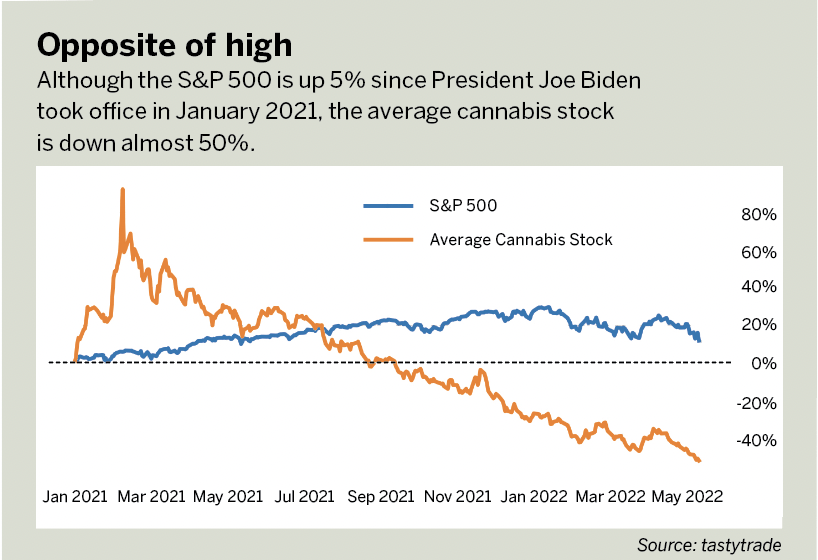 Cannabis-oriented ETFs
Cannabis exchange-traded funds have great symbols: Cambria Cannabis (TOKE), AdvisorShares Pure Cannabis (YOLO) and ETF Managers Alternative Harvest (MJ). But catchy symbols haven't necessarily led to liquidity and widespread use.
The most liquid, judging by the average dollar amount traded per day, is AdvisorShares Pure US Cannabis (MSOS). A close second is ETF Managers Alternative Harvest.
The others are best avoided—Cambria Cannabis trades an average of $191,000 worth of shares a day, and it's a good rule of thumb not to buy anything that trades less than $10 million per day.
Below are some of the biggest names in the cannabis industry. Stocks priced at less than $5 are not included.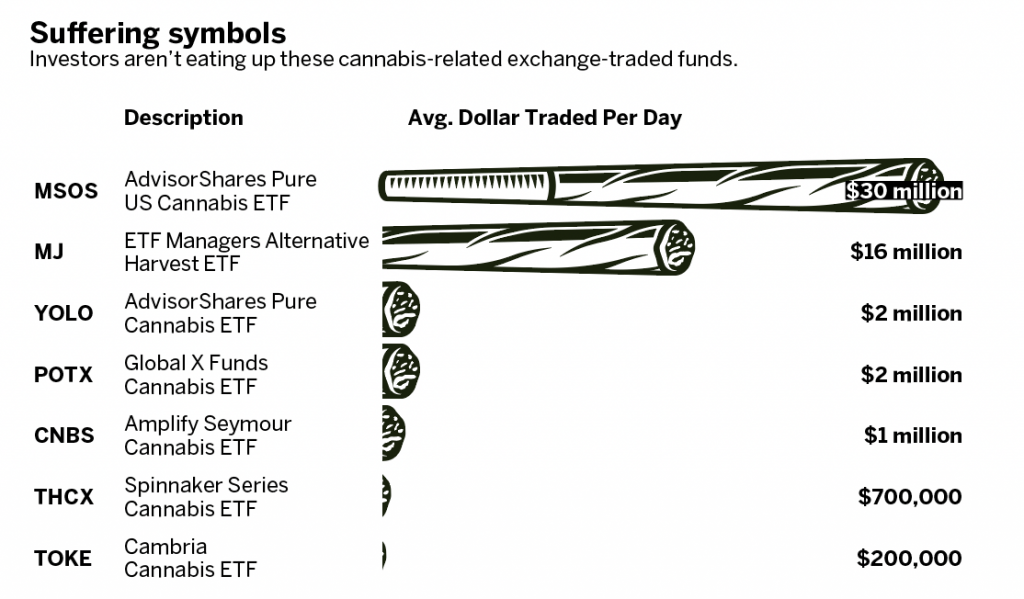 Tilray Brands (TLRY) was the most actively traded stock through the end of April. While revenues have increased, it is bleeding money and net income is dreadful. But its fortunes could change and the stock could turn around.
Active investors considering Tilray for their portfolios could take advantage of the call skew.
By projecting out a month, they could buy the stock and sell the first out-of-the-money call and lower the investor's breakeven by 20%.
Investors interested in taking advantage of a real estate investment trust (REIT) might want to consider Innovative Industrial Properties (IIPR). It's had positive net income for years. It's lumped into the cannabis industry because it owns cannabis-heavy commercial properties. It also pays a respectable 4.8% dividend. Investors could consider a covered call in this stock by buying 100 shares of stock and selling the first (or second) call option above the current stock price.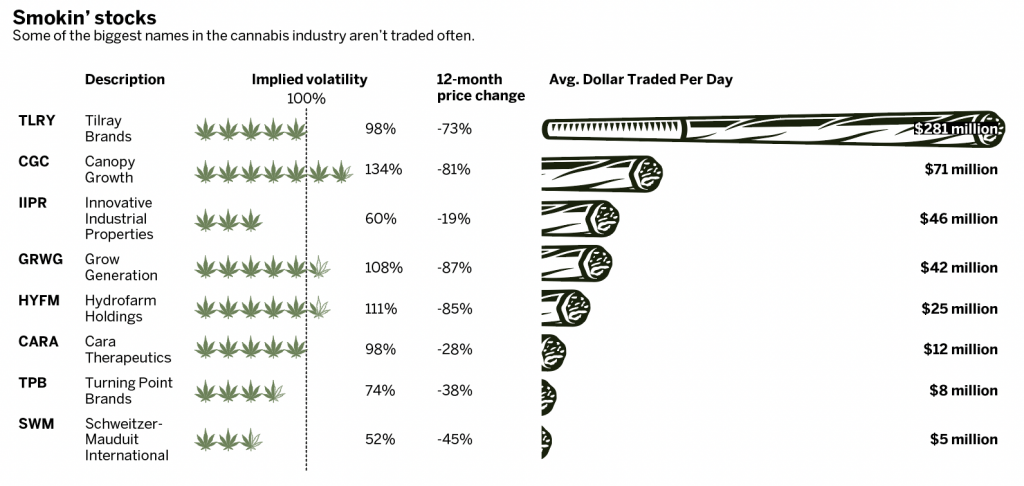 Michael Rechenthin, Ph.D. (aka "Dr. Data"), is head of research & development at tastytrade. @mrechenthin