Summer Doldrums? There is a Trade For That
Volatility tends to be low in the summer! May, June and July tend to have the lowest monthly VIX average prices. Traders and business tend to slow down in the summer and it seems the government is also quieter in the summer months. Look below: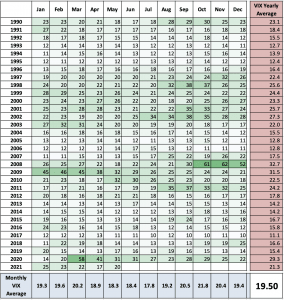 Over the last 20 years, May, June and July have had the lowest VIX averages; 18.3, 18.4, and 17.8 respectively. Our May average was a 20. So what can you do? Same as you've always done — but be vigilant. Thinner summer markets mean movement can be accentuated. Careful of thin individual stocks and keep those positions small!
Cherry Picks is written in collaboration with Michael Rechenthin, PhD, Head of Data Science at tastytrade; James Blakeway, CEO of Quiet Foundation, a data science-driven subsidiary of tastytrade; and John Kicklighter, Chief Strategist at DailyFx with an expertise in fundamental analysis and market themes.