Kickoff to Q4 Earnings Season
Earnings: Daily Breakdown
Earning Season "officially" begins with the big banks. Expect to see the bulk of earnings at the end of this month and beginning of next. One way to play earning stocks is to look for a "volatility crush" that tends to happen immediately after the release of the earning announcement. This is usually done with a short strangle or iron condor using the weekly expiration. Always keep positions small.
Examine the risk and probabilities using tastytrade's free backtesting platform: lookback.tastytrade.com.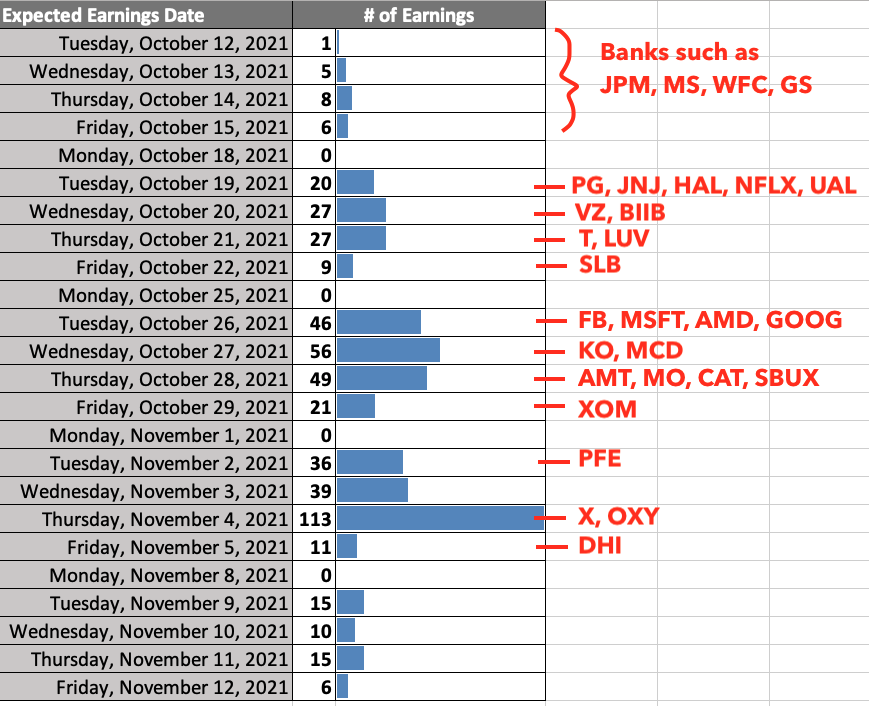 Financials Up First
Most of the major banks report earnings this week, with the exception of Berkshire Hathaway (BRK.B). These major banks make up a large percentage of the S&P Financial ETF (XLF) which has a current implied volatity rank of 26. XLF may move this week if we see large moves in these banks.
Download the Earnings as a Spreadsheet
If you would like the full list of upcoming earnings, click here!
The free weekly Cherry Picks newsletter from tastytrade is stuffed with market research studies, data-driven trade ideas, and unique insights from the geekiest of geeks. Conquer the market with confidence … get Cherry Picks today!
Cherry Picks is written in collaboration with Michael Rechenthin, PhD, Head of Research and Development at tastytrade; and James Blakeway, CEO of Quiet Foundation, a data science-driven subsidiary of tastytrade.