Most traders in the United States have probably encountered two or three Chinese stocks in their search for market opportunities, but about 150 publicly traded Chinese companies are available for trading directly on exchanges here. Six of those stocks seem particularly interesting, and they fall into two categories: two are deemed weak and the others appear relatively strong.
Weak Trades
Baidu
For many years, Baidu (BIDU) seemed sensational, earning a reputation as the "Google of China." However, it stalled in 2017 and then stumbled badly, falling from nearly 300 to one-third that amount in just a couple of years. Although it has recovered somewhat, it seems unlikely it will regain its lost glory, probably staying below $150 for years to come, if not permanently.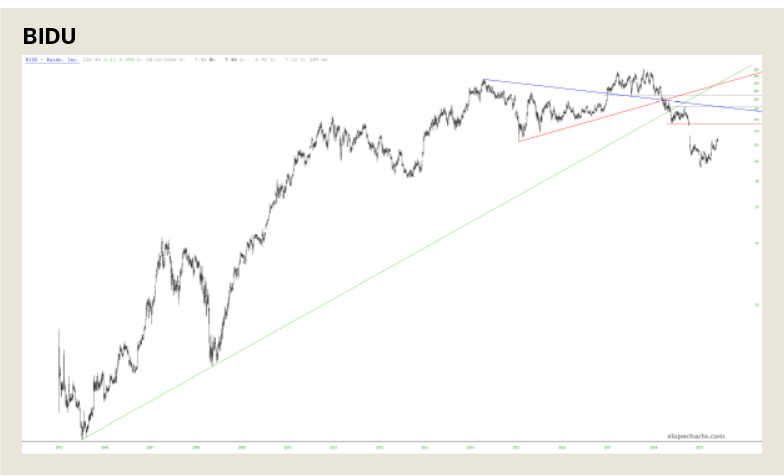 PetroChina
It may seem hard to believe, but the first trillion-dollar company wasn't Apple, Google or Microsoft. It was PetroChina (PTR), which soared from a few dollars per share to nearly $200. Since then, over the course of many years, it has tumbled about 80%. In addition to its persistent downtrend, there's far more overhead supply right now than support beneath. It's conceivable this stock could re-enter the teens in years to come.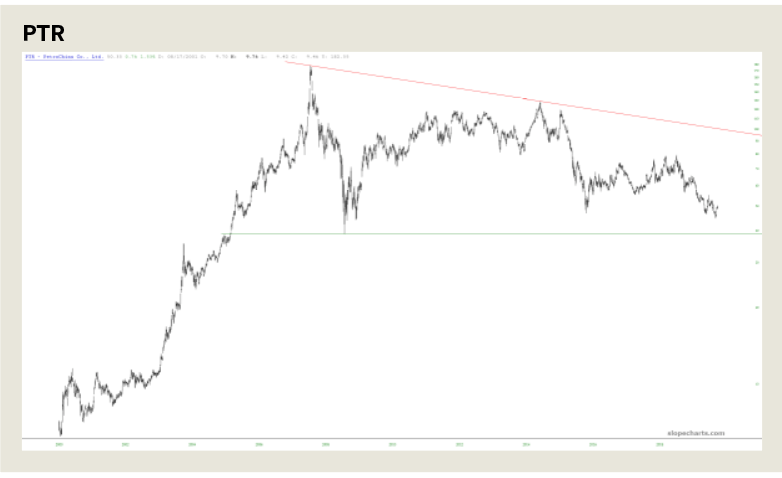 Strong Trades
Alibaba Group
Alibaba's (BABA) first year as a public company was terrible, as it lost about half of its peak value. That nadir proved to be an important bottom, however, as BABA ascended from $60 to almost four times that amount. It has also completed another large basing pattern, recently moving to new lifetime highs.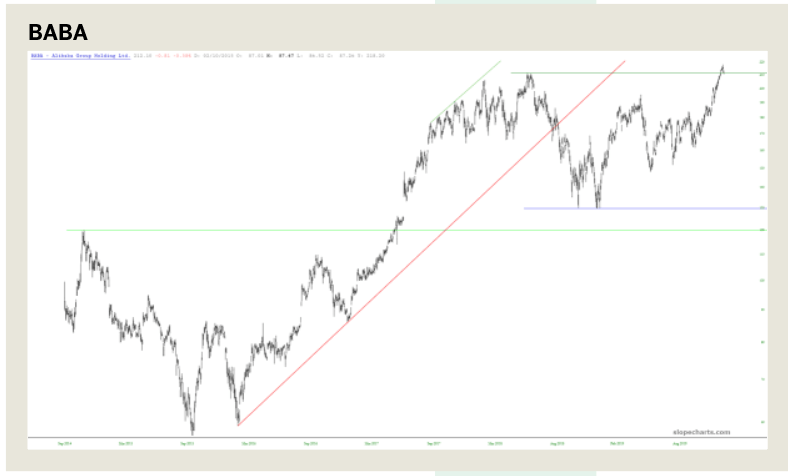 GDS Holdings Ltd.
The company GDS Holdings (GDS) is a leading data center provider in China, and it is sporting a very bullish pattern. What's especially intriguing about this chart is its analog. In 2016 and 2017, the stock chart formed a bullish base which proceeded a very powerful advance higher. The stock seemed to stall in the middle of 2018 and began forming an extremely similar, but even larger, pattern. It has recently broken out of this pattern, which suggests more gains to come.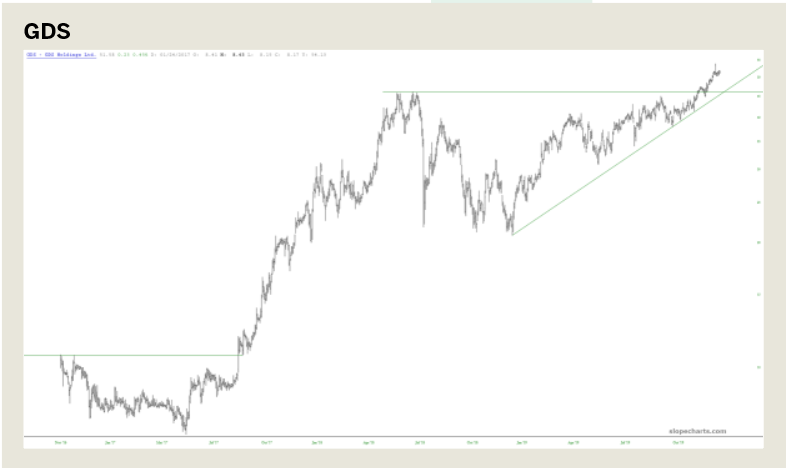 NetEase Inc.
NetEase (NTES) is a large Chinese internet company which has been around since 1997. What's remarkable about this stock's chart (below) is that it shows not only the enormous price gains it has enjoyed, but the relatively steady, robust performance of the stock for nearly 20 solid years. Even the most severe economic downturns don't seem to affect the stock badly, and the persistence of its rally conjures up similar powerhouses, such as Home Depot (HD) and Disney (DIS).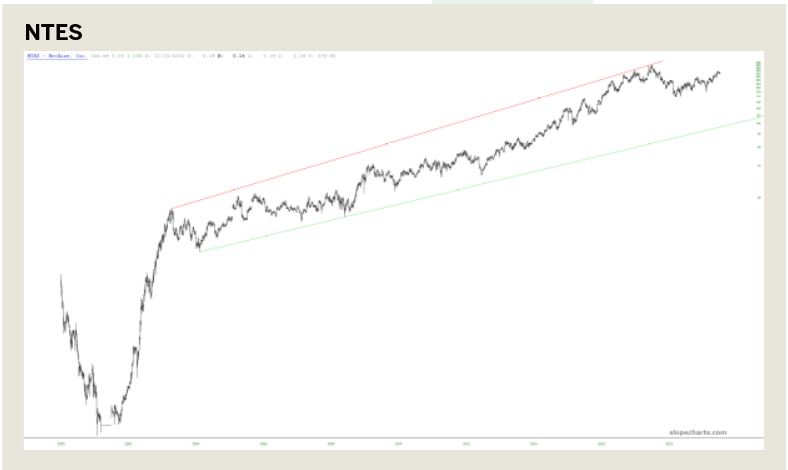 TAL Education Group
As the name suggests, TAL focuses on education, particularly K-12, one-on-one tutoring and other educational services, both online and offline. Even though its business model is utterly different from that of NetEase, its stock behavior is extremely similar. Its own bullish basing pattern formed from 2010-2012, which was followed by multi-thousand percent gains. After peaking in 2017, it lost about half its value, only to recapture those losses and push to new lifetime highs. This stock has been in a steady uptrend for eight years and is exhibiting the signs of a long-term winner.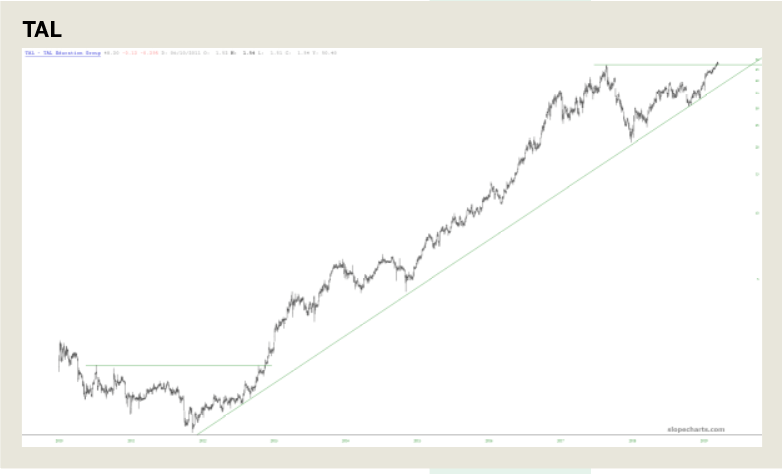 The beauty of technical analysis and charting is that investors can apply it to an enormous array of financial instruments and international markets, irrespective of the country of origin. These charts can provide fresh ideas about opportunities with respect to price change and the most probable price directions in the months ahead.
Tim Knight has been using technical analysis to trade the markets for 30 years. He hosts Trading the Close daily on the tastytrade network and offers free access to his charting platform at slopecharts.com.