A famous stock picker got almost everything wrong with a set of predictions
Nearly two years ago, stock prognosticator Jim Cramer created a seminal video called The Magnificent Seven to showcase stocks he considered the superstarsof the COVID-19 pandemic. All had achieved cult status despite weak earnings.
"What if earnings just don't matter anymore?" Cramer asked rhetorically. Readers can see how he addressed that issue by searching for "Cramer magnificent seven" on YouTube.
Let's review the stocks, in the order he presented them, to see how they've performed since the video was released on Oct. 19, 2020. (Percentages as of May 9, 2022.)
Netflix (NFLX)
DOWN 67%
The first stock examined in the video was the streaming video service Netflix, which Cramer cited as a logical pick because "people won't go to movies anymore" during the pandemic.
"Four fall from grace," and "The black sheep" begin when Cramer's video was created and provide a quick way to track performance.
Netflix stock meandered for many months, but in the latter half of 2021, it gained strength, peaking at above $700 before losing a breathtaking 70% of its peak value.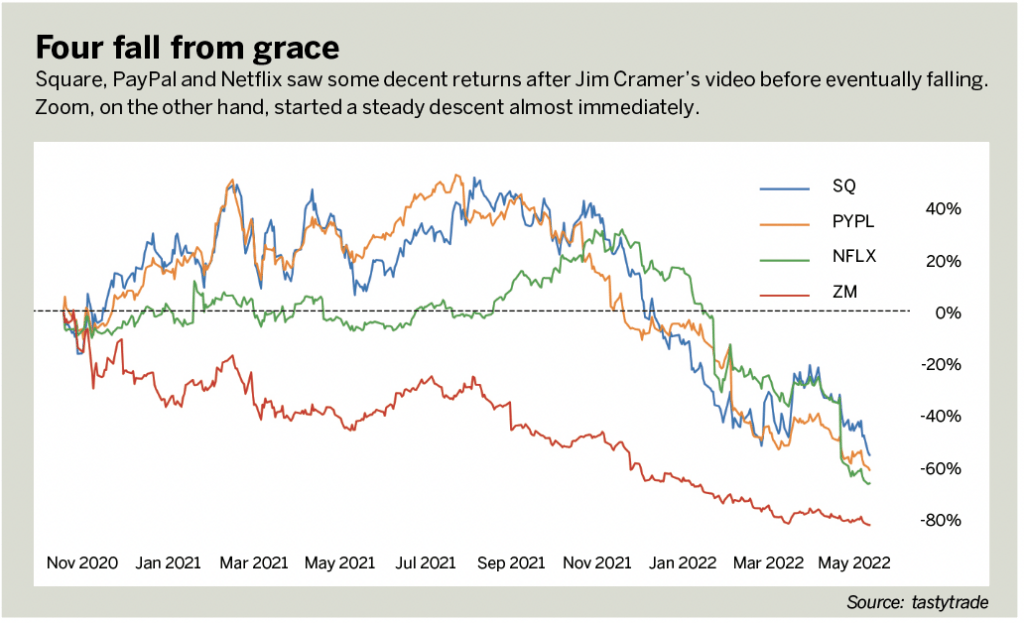 PayPal (PYPL)
DOWN 61%
PayPal has been public much longer than most of the other stocks in Cramer's group. After he recommended it as a long position, it did indeed ascend in price, peaking in July 2021.
Since then, however, it has formed a large rounded top above the $226 level, and an even larger top above the $179 level, crumbling lower and lower in successive stages.
Although Cramer described PayPal as having "a remarkable ecosystem" and being "all about the democratization of money," those buzzwords did not save it from a mesmerizing demise.
Peloton (PTON)
DOWN 89%
Peloton truly benefited from the COVID-19 lockdown. Cramer described it as being a way to play "the athletic-pandemic angle" and said that it was "the one stock you can buy instead of going to the gym."
Between September 2020 and November 2021, the stock formed a tremendous right triangle topping pattern, then plunged when
the company reported declining sales and a significant quantity of unsold inventory.
Roku (ROKU)
DOWN 60%
Home entertainment companies thrived during the pandemic lockdown, and Roku, a streaming video-related organization, was no exception. It also got Cramer's nod, as he declared "no one under 30 can tolerate commercials."
In February and July 2021, Roku double-topped in price action and began a nearly ceaseless plunge.
Square (SQ)
DOWN 54%
Square, the payment processing company, was a highly valued "unicorn" before it went public. Cramer said Square "stands for the empowerment of the little guy."
He characterized the company's prospective performance by saying, "it doesn't seem to matter what these guys do."
Although the company did increase in value immediately after the release of the video, the stock has not performed well in the long term.
Tesla (TSLA)
UP 87%
Finally, a "magnificent" pick that actually lived up to the name! Tesla was the one and only stock among Cramer's seven that's now worth more than when he chose them.
Even though it's below the lifetime peak it reached Nov. 4, 2021, it consistently performs as a triple-digit winner. The stock has been hammering out a steady series of higher highs and higher lows.
From a charting point of view, the stock does have one black mark against it: the trendline failure of January 2022.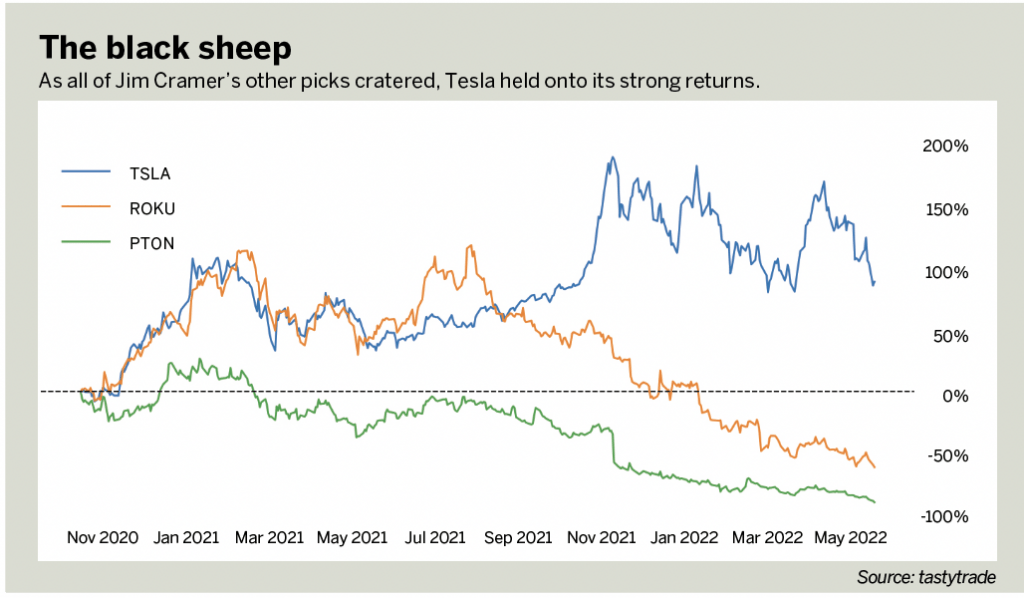 Zoom (ZM)
DOWN 83%
The Magnificent Seven video was released precisely when Zoom was reaching the highest price in its history at $588.84.
Cramer described the company as the leader of the magnificent seven and said, "This is the Zoom economy, and we just live in it. It's only just begun to monetize all those users. Any disappointment is just one more reason to buy them."
Unfortunately, there has been ample disappointment in Zoom stock since then and absolutely no reason to indicate a buy.
What's the difference?
The numbers don't lie. If someone purchased an equal amount of these seven stocks the day the video was released, the cumulative return would have been approximately -47%.
Now, if the market as a whole had gone down 35%, well, that's simply unfortunate timing. But on the contrary, the plain old boring SPY (S&P 500 Index) went up 18% during the same period, which means this basket of stocks underperformed the market by an eye-watering 65%.
Tesla is the one and only remaining winner among Cramer's picks. The other stocks Cramer identified were bordering on "meme" status. By recommending a buy despite lackluster company performance, Cramer suggested a flawed investment strategy.
Tesla was the outlier for a number of reasons:
Unlike most of the other seven stocks, Tesla was already a well-established, very large-cap company with an expanding product line and growing profits.
It did not depend upon a very specific circumstance (the COVID-19 lockdown) for helpful business conditions. Companies like Zoom, Peloton, Roku and Netflix all benefited from the lockdown.
For whatever reason, Tesla's robustness as a "cult" stock was vastly greater than that of Peloton. As a result, Tesla continues to be much hardier, even in the face of occasional overall market weakness.
It may be tempting to perceive these battered stocks as representing some kind of bargain. However, the bottom of the y-axis on a price scale is $0.00 and not the minimum price of a given security. From a charting perspective, only Netflix may ultimately make sense as an "on sale" security, assuming it eventually grinds its way down to about $150.
Tim Knight has been using technical analysis to trade the markets for 30 years. He's the host of Trading Charts with Tim Knight on the tastytrade network and offers free access to his charting platform at slopecharts.com. @slopeofhope