Real Expectations for Virtual Reality
The adoption rate of new technology varies wildly. The iPhone, for example, succeeded almost immediately, and 100 million people now use them in the United States alone. MP3 players, on the other hand, stumbled along with modest sales for years, until Apple came along with the iPod and set the industry alight.
An emerging technology that has not yet caught on—at least so far—is virtual reality (VR). Technologists have been talking about virtual reality for decades, and earnest attempts at launching products with mass appeal have been made repeatedly, but nothing's achieved traction.
Indeed, Facebook's $2 billion acquisition of Oculus probably marked an important peak in the most recent VR craze. Since then, customers have bought only a relatively small number of Oculus headsets and probably haven't used them much.
But a number of public companies are involved in virtual reality. Examining the performance and prospects of their stock, it becomes clear there's a nearly perfect inverse correlation between a company's dependence on the VR market and its equity success.
In other words, companies that rely on VR have done dreadfully, while those with just a passing acquaintance with VR have done best. Let's look at some.
Vuzix
Vuzix (VUZI) is devoted to augmented reality (AR), which blends VR technology with the real world around the user. Products include personal display and wearable computing devices that include smart glasses.
It's an engineering-oriented company that's come up with some extraordinary innovations, but the most amazing technology in the world isn't going to make any difference to the bottom line if people aren't adopting it on a broad scale. The company's stock chart reflects that with a terrific 400% run-up from 2013 until early 2018, only to lose every penny of those gains. Over a six-year period, the stock has, in absolute terms, not budged a penny.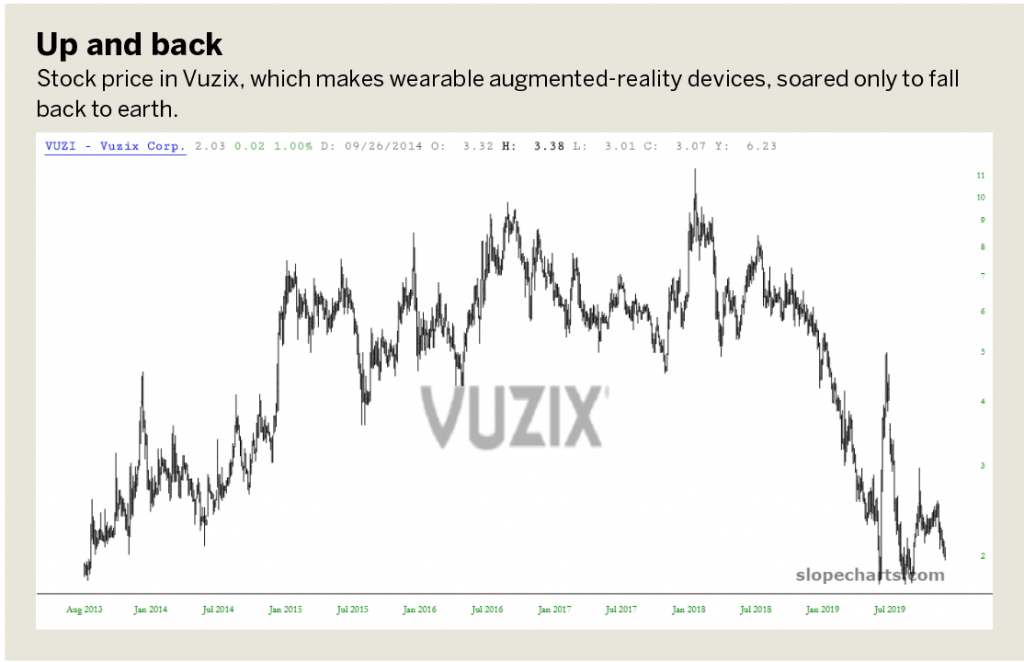 Immersion
While Vuzix creates components and products directly related to the VR experience, Immersion (IMMR) sells components to large manufacturers. So Immersion doesn't strive to create new markets or market its products to end users.
The company has researched sensory technology that can change the way people interact with devices. The resulting touch feedback technology, or "haptic technology," can delight consumers, the company says. Consumers have "the power of touch" in gaming consoles, automobiles and smartphones, the company says, noting that its technology is in more than 3 billion devices worldwide.
Immersion's "haptic technology" products create sensory experiences, such as the rumbling vibrations of a race car the user drives. It has had good success with gaming companies, and a huge number of people use Immersion products without knowing it.
The company went public in the midst of the Internet bubble of the late 1990s, and its stock peaked at about $80 before crashing to literally pennies. Since then, the company's stock has been more or less steady at about $7 per share. Over the past 15 years, it had swung in a relatively wide range from about $5 to over three times that much, but on the whole, the price has continued oscillating steadily around the $7 price level. (See "Home again," below.)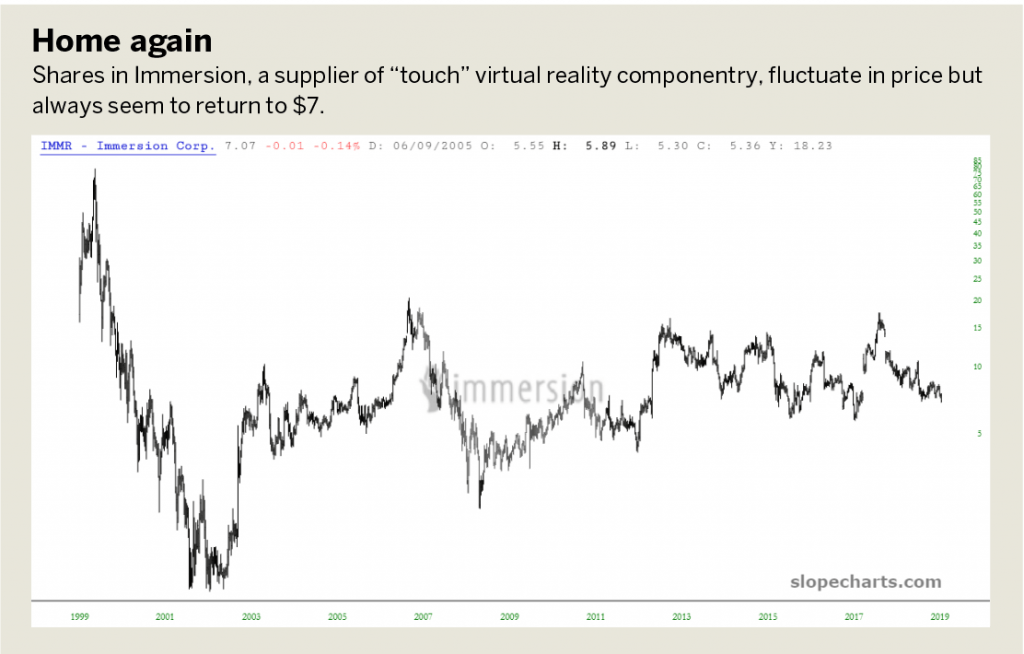 Lumentum
Much like Immersion, the company called Lumentum (LITE) produces components for other manufacturers. The parts include diode lasers for 3D sensing in smartphone, computing and gaming products. In mobile devices, its diode lasers are used for biometric security that includes face recognition. The lasers enable gamers to control interfaces or play using gestures and body movements. More than 500 million Lumentum diode lasers are operating around the world, the company maintains.
So instead of the "haptic" technology of Immersion, Lumentum creates lasers to make the movement and gesture measurements critical for a VR experience. The company's stock progressed steadily higher from 2015 until 2017 and since then has traded mostly between $50 and $60. It has not broken out yet, but if it does, it will have a substantial base behind it, which should power it higher.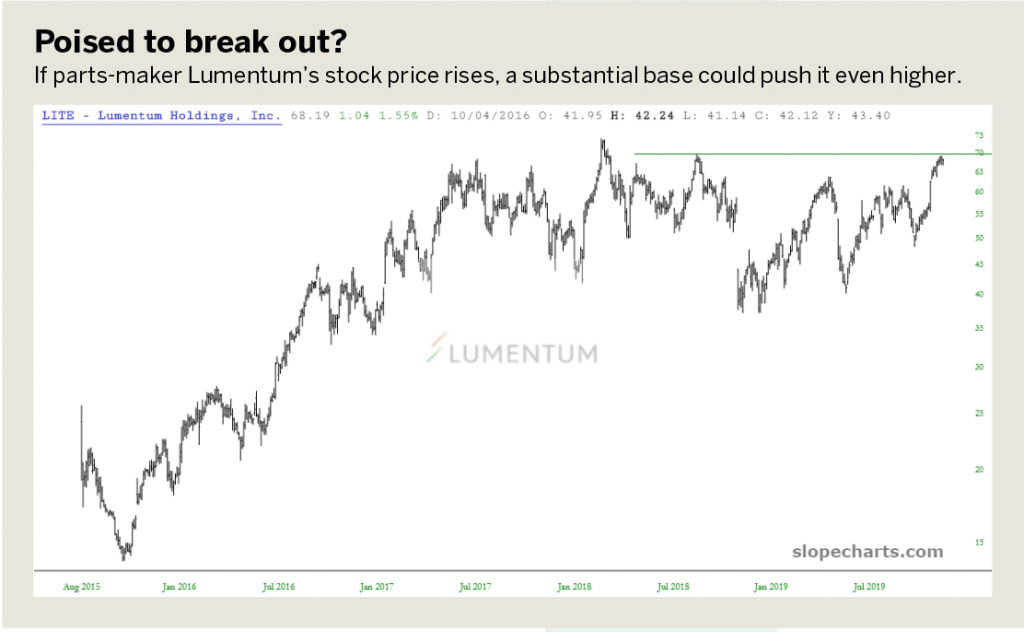 Nvidia
Nvidia (NVDA), one of the most familiar names among VR-related firms, produces graphics cards heralded as the go-to choice for cryptocurrency miners. Nvidia's success with crypto has faded somewhat as the entire crypto market took a hard U-turn lower beginning in early 2018. But the company has other markets, including VR.
Between 2012 and 2018, the company's stock never seemed to have a down day, and its move over those six years was a breathtaking 20-fold. In a matter of weeks, however, the company lost over half its value. Q4 2018 was a devastating period for Nvidia shareholders. Since then, it has recovered somewhat, although it is still substantially beneath its nearly $300 price peak.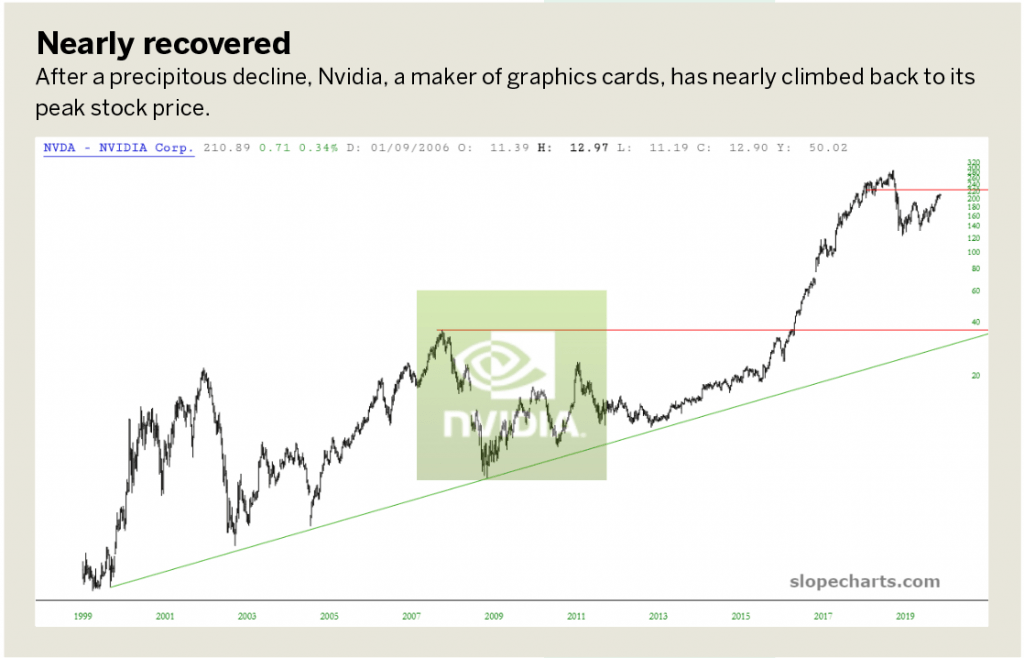 Qualcomm
Like most gigantic tech firms, Qualcomm, (QCOM) dabbles in just about any new technology or application that comes into its purview, and VR is no exception. The company says it designs for "fully immersive mobile VR."
Whether or not VR thrives or disappears will, in the short-term, hardly matter to Qualcomm's bottom line. It is far too small a niche, still in the hobbyist stage, to have an impact. Firms like Qualcomm, however, want to be involved just in case a particular industry takes off, so that it can partake of its success (as it did with cell phones).
The stock itself is bullishly poised, with a foundational base spanning nearly two decades (as illustrated by the horizontal line on the chart in "Tentitive commitment," below). It would seem the company's long-term prospects remain positive.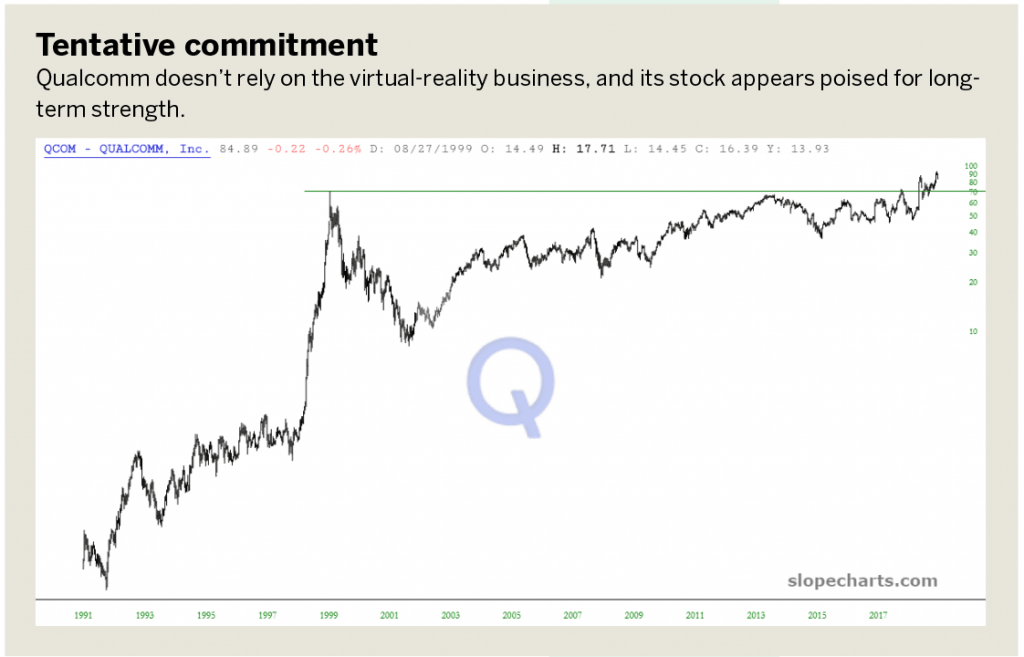 Axon
A firm obliquely related to VR is Axon (AAXN), which years ago was known as Taser. This outfit creates non-lethal guns for law enforcement that use electrical shock as opposed to bullets. Indeed, a web search about Axon and virtual reality will yield sites related to sensitivity training for officers using virtual reality to help them in tense situations.
It seems VR has some importance to Axon, however, if the recent board of directors choice indicates its focus. The company tapped Facebook's chief of virtual reality hardware for the board of directors. The organization's stock performance has been splendid and, like Qualcomm, the chart seems poised for more strong gains over the long-term.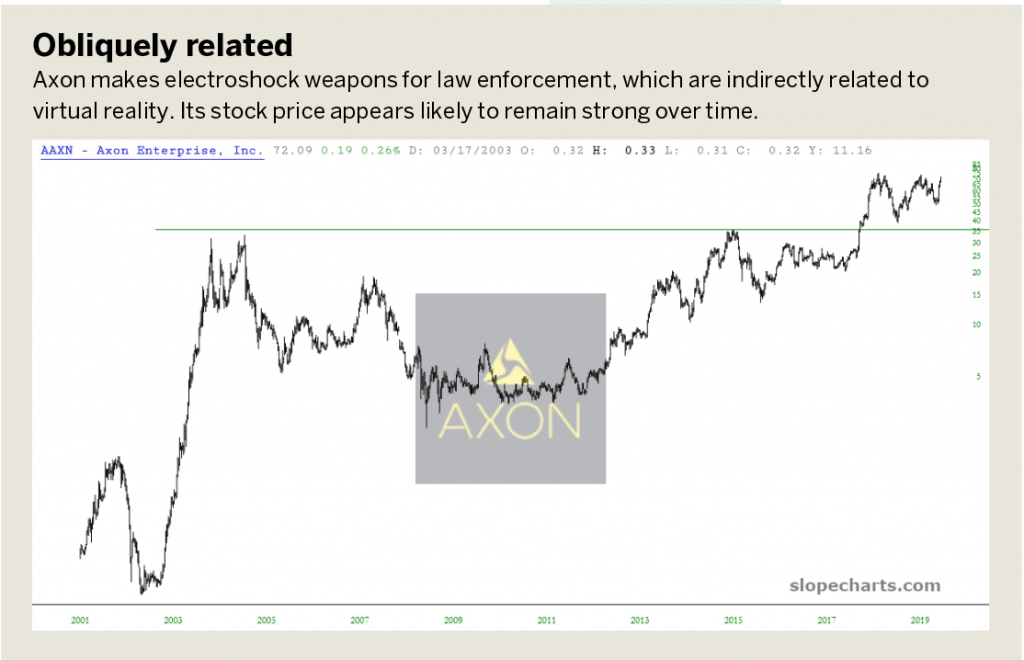 Tim Knight has been using technical analysis to trade the markets for 30 years. He hosts Trading the Close daily on the tastytrade network and offers free access to his charting platform at slopecharts.com.