Googling "gig economy companies" or "side hustles" yields a multitude of entries on individuals and organizations. They're workers and companies offering goods and services that don't require large amounts of capital. Whether it's driving a car, creating a handicraft, drafting a promotional piece or writing a piece of code, side hustles abound in the gig economy.
But not many of those entities have gone public. In the gig economy, it takes an unusual market opportunity to grow large enough to justify a public offering. Yet seven companies have proven themselves exceptions.
Taxi!
Mention "the gig economy," and ride-sharing services immediately come to mind. Investors eagerly awaited the IPO of the largest, Uber (UBER). The stock did well for a few weeks after the company went public, but after peaking at around $47 per share, it began grinding lower until it reached the upper $20s.
As of this writing, the stock is still down about 30% from its peak, and prospects for recovery don't look good. There's substantial overhead supply from $40 on up, and reaching even that level doesn't seem likely, in spite of Uber's major presence. (See "Uber's fall," below). The somewhat smaller giant in the ride-sharing sector, Lyft (LYFT), went public a couple of months before Uber. Although it fell sharply from its offering, it was starting to form a clean saucer base (illustrated by the horizontal line in the graph in "Non-flying saucer," below).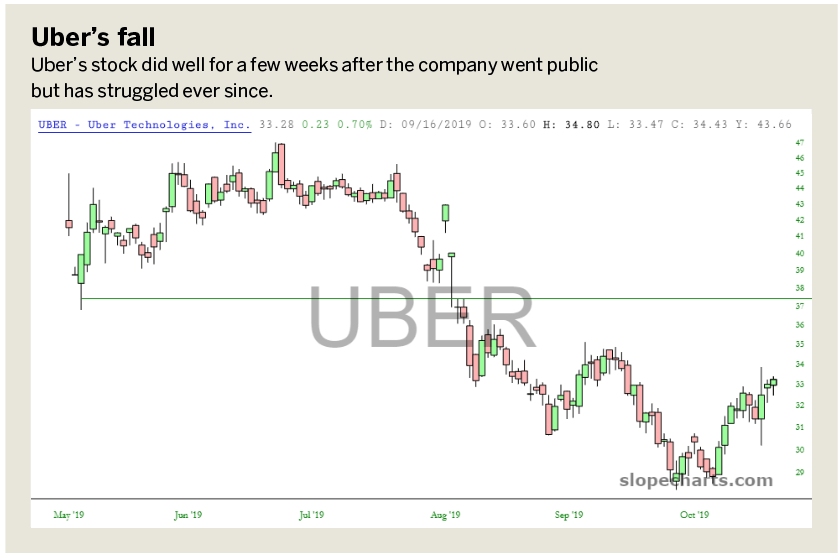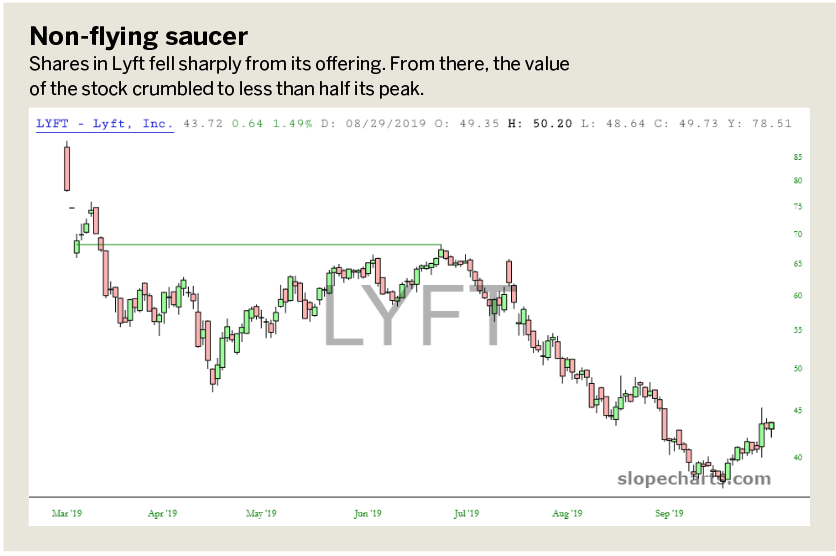 Regrettably for the company, the base never formed completely, and the price crumbled to less than half its peak value. As with Uber, Lyft began with fanfare and excitement, yet both companies badly disappointed shareholders.
A little help?
Because the companies created to replace taxicab companies don't appear to be doing that well, let's refocus attention on firms that marry skilled workers, especially those with technical expertise, to people or companies in need of those talents. The first, Upwork (UPWK), provides another example of a relatively young company whose present price level is only about half of its peak. The stock meandered in the lower $20s and upper teens, but the important technical event in the chart shown in "A familiar downward story," below, was the shooting star pattern that took place Aug. 8, just after Upwork's earnings announcement. This single bar appears above the horizontal line, and while the shooting star is intrinsically bearish, the fact that an island reversal pattern took place at the same time made it decidedly so.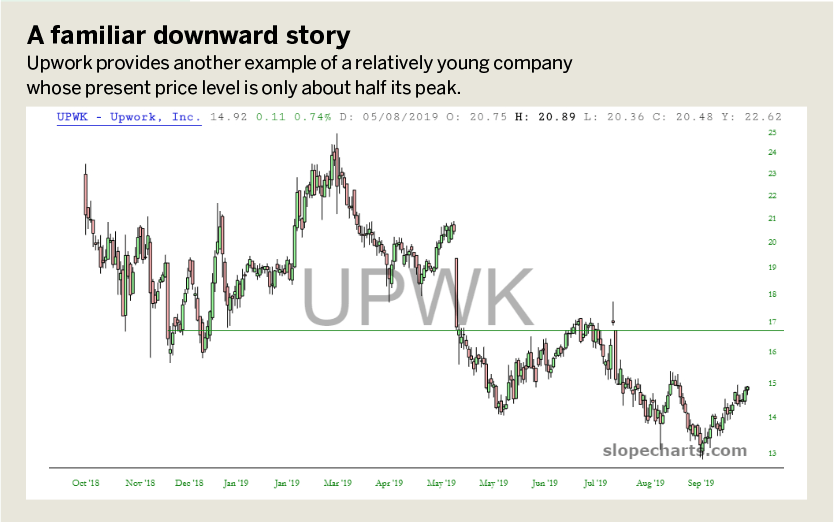 Give me five
Israel-based Fiverr (FVRR) offers a platform similar to Upwork, concentrating on digital services by professionals. The day of its offering dawned explosively, but the stock peaked literally on its second day as a public entity. Since then, it has done even worse than the firms mentioned above, losing a full 60% of its value.
Then it appeared Fiverr had bottomed and was starting to recover. That might seem encouraging, take note of the volume, which is shown in the lower portion of the chart in "Leaving stockholders hanging," below. Volume has withered to a tiny fraction of its original levels, so it appears doubtful there's enough enthusiasm behind the recovery to sustain it.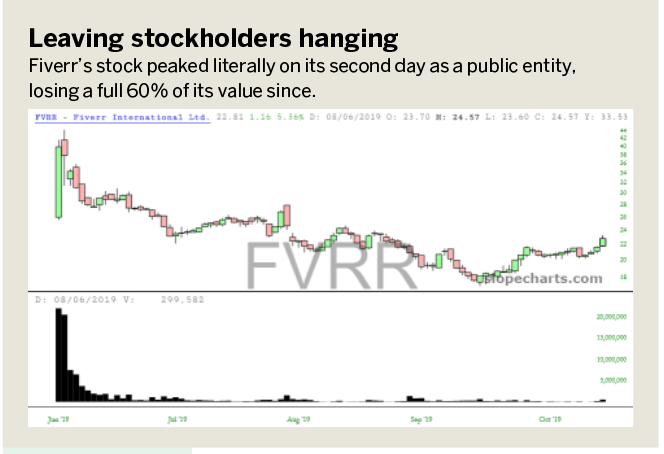 Ups and downs
While it may seem all of these stocks have performed poorly, one notable exception is Care.com (CRCM). However, what had been a marvelous recovery there has soured as well.
After a successful IPO, Care.com proceeded to lose about 80% of its value. But starting in 2016, the company began to recover, and it eventually rose almost to its peak price. Sadly for the shareholders, however, this was yet another "gig" company that gagged.
Although the stock isn't near its lifetime lows, it has still had a dreadful run, as shown in "Down, down, down," below. It seems doubtful stock buyers will be revisiting the stock anytime soon, given its two vicious pushes to the downside.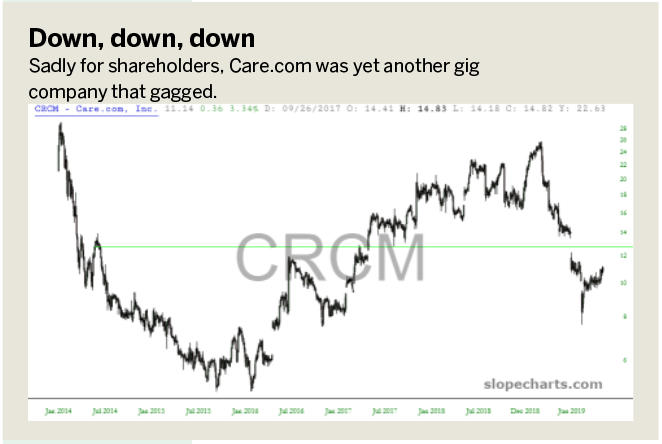 Two standouts
As grim as these examples may seem, a couple of charts can pique the interest of traders.
"The exception," below, depicts the fortunes of Etsy (ETSY), an e-commerce site that offers crafts, craft supplies and vintage merchandise. Between August 2015 and August 2017, the company's stock formed a clean, bullish base. After completing the base at about $15, it went on to produce a nearly 400% return for shareholders, one of the best of any public company during that period. Since then, the stock has given up some of its gains, but by no means is it as bearish or damaged as some of the others described here. Among all the stocks mentioned, Etsy has been the only one to show true strength and a persistent uptrend.
Rainy days
Lastly comes Amsterdam-based Yandex (YNDX), an umbrella company for a wide variety of services, including food delivery, ride-sharing, meal kits and literally dozens of other offerings.
The company had a clean topping pattern (shown tinted in pink on the chart in "Positive pattern," below) which preceeded an approximately 75% drop in value. The stock spent two years recovering and pushing higher, until early 2018 when it had almost fully recovered its peak price. It then began to stall, and most recently it formed a medium-sized topping pattern. Price support for Yandex appears to be at about $25 per share.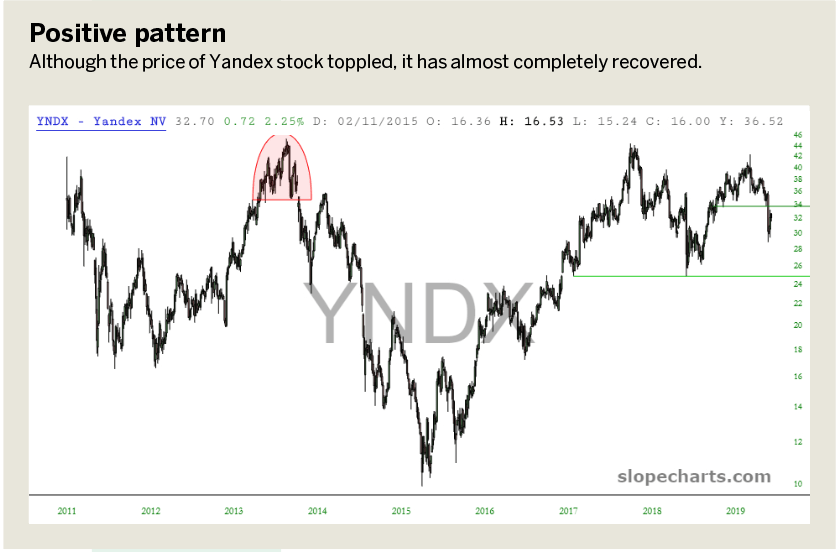 Down upshot
None of these stocks has done well for investors. Indeed, some have been terrible.
But sometimes a business makes the world a better place—the way ride-sharing companies make it easier to get around town, or an online marketplace offers opportunities to make extra money. Thousands of jobs have come into being at companies that started as side hustles.
But the fact that a company achieves popularity doesn't mean it's going to make investors money. Companies such as Uber, Lyft, Upwork, Etsy, Care.com, Yandex and Fiverr may have many years of life left in them, but thus far it seems the biggest winners are those who participate in these services—not the investors who sink cash into them.
Tim Knight has been using technical analysis to trade the markets for 30 years. He hosts Trading the Close daily on the tastytrade network and offers free access to his charting platform at slopecharts.com.