One sector of the U.S. equity market that's well populated by heavily traded and dynamic securities is healthcare. However, the fact that these financial instruments reside in the same sector doesn't make them identical. Stocks, like people, are characterized by different personalities, and stocks in the medical field are no different.
In spite of the wide range of "personalities" among different medical corporations, investors can group company tickers into subsets based on behavior. Let's assign these groups metaphorically to three familiar hospital locations: the emergency room, the waiting room and the surgical theatre.
To be clear, these whimsical group names have nothing to do with goods or services the corporations provide. Instead, they are shorthand ways of expressing the general personality of these ticker groups.
All of these stocks were identified as related to medicine by the Sectors function of the SlopeCharts website. The lists were filtered based on price and volume to ensure that no thinly traded issues would make the cut.
The emergency room
Stocks in the emergency room group are characterized by high drama—their wild and dynamic swings. They are the kinds of securities that occasionally have periods of extremely high volatility.
Three tickers in this group:
THC: Tenet Healthcare operates acute-care hospitals that include ambulatory surgery centers, diagnostic imaging centers and urgent care centers across the United States.
AMED: Amedisys provides home health services to the chronic, co-morbid, aging American population through its home health, hospice and personal care.
EHC: Encompass Health Corp. provides post-acute healthcare services through inpatient rehabilitation hospitals, home health and hospice agencies.
The featured chart from this group is EHC, and a quick glance shows how powerful the up and down moves have been. The stock has gone from triple digits to single digits and back again, and very few periods in this multi-decade chart could be described as dull. See "Never a dull moment," below.
The waiting room
In clear contrast to the "emergency room" stocks, those in the "waiting room" are slow, steady and generally "buy and hold forever" kinds of issues. Options traders would certainly want to consider a different kind of strategy with this class of stocks, because volatility tends to be low and the direction tends to be plodding steadily higher.
UHS: Universal Health Services owns and operates acute care hospitals, behavior health centers, surgical hospitals, ambulatory surgery centers and radiation oncology centers.
DGX: Quest Diagnostics provides diagnostic testing, information and services to insurers and healthcare information technology businesses.
HCSG: Healthcare Services Group provides management, administrative and operating expertise to the housekeeping, laundry, facility maintenance and dietary service departments of the healthcare industry.
The representative ticker shown in the chart, UHS, has climbed thousands of percentage points since 1990. It has not been immune to market downturns, but as the chart shows in "Keeps going strong," below, the devastating financial crisis of 2008 was hardly a "blip" in the long-term trend of this security. It has moved resolutely from the realm of penny stocks up to triple-digits.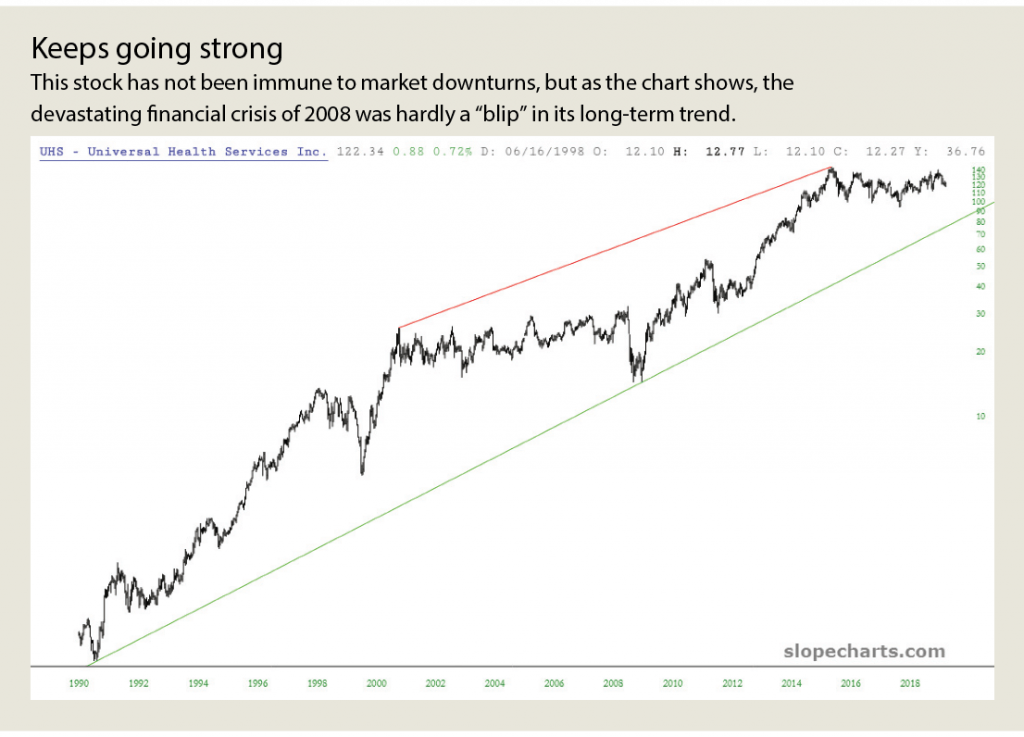 The surgical theatre
The behavior of a third group falls between the extremes of the first two. Stocks in the "surgical theatre" are neither wildly dynamic nor steady climbers. Instead, they tend to be the kind of stocks that swing traders prefer, participating actively in sustainable up and down markets that trend well over longer periods.
MD: Mednax provides physician services that include newborn, anesthesia, material-fetal, pediatric cardiology and other pediatric subspecialty care.
ACHC: Acadia Healthcare operates mental healthcare facilities that address behavioral abnormalities in psychiatric facilities, substance abuse facilities and residential treatment centers.
LH: Laboratory Corporation of America engages in end-to-end drug development services.
The chosen stock from this group depicted in "Top of the field," below, is MD, which has an especially interesting analog pattern. Note the rounded top spanning 2005-2007, preceding one of the worst falls in the history of the company. Likewise, notice the similar, although much larger, rounded top that has completed in recent years. If past behavior indicates future results, this suggests a substantial drop in prices for this security, which already seems to be transpiring.
Different strategies should be applied to different personalities of stocks. The more history a given instrument has, the more evidence you will have as to its nature and its past behavior (which, in turn, should inform you as to likely subsequent moves, given its reactions in the past). When you are trying to winnow down opportunities in a particular sector, it is helpful to tease out which stocks seem to have similar natures with one another, since that, in turn, can help you understand how that cohort behaves.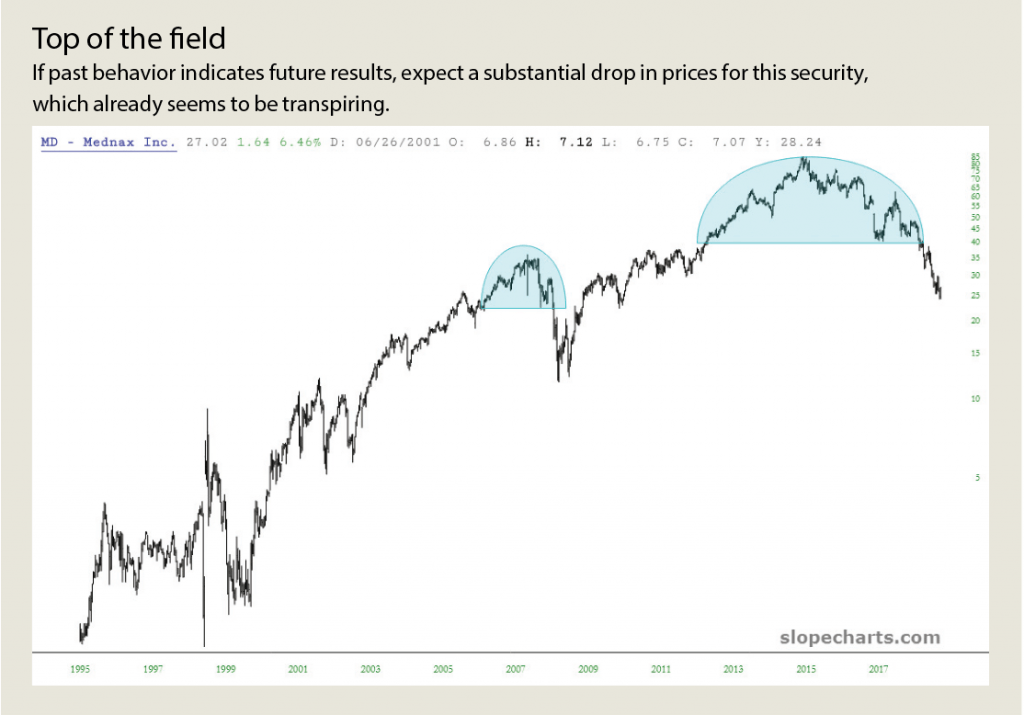 Tim Knight has been using technical analysis to trade the markets for 30 years. He founded Prophet Financial Systems and offers free access to his charting platform at slopecharts.com.