In 2008, a General Motors factory closed in a suburb of Dayton, Ohio, leaving more than 2,000 employees without work. The plant, which had produced SUVs and trucks, would lay dormant for years, offering no indication that life—or jobs—would return.
Then entered China.
Six years after the closing of the GM plant, China-based manufacturing company Fuyao Glass Industry Group, under the leadership of founder and chairman Cao Dewang, purchased the barren factory and transformed it into an automotive glass production facility. The U.S. subsidiary of the Chinese company brought jobs and hope back to town, but not without controversy.
Such is the story told in American Factory, the award-winning Netflix documentary directed by Steven Bognar and Julia Reichert. The nearly two-hour film chronicles the opening and first few operating years of Fuyao Glass America, as well as the sometimes-contentious, sometimes-inspirational cultural exchanges that came as a byproduct.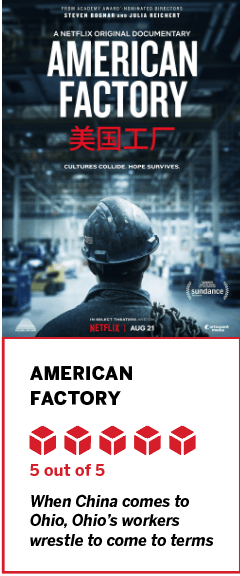 "America is a place to let your personality run free," the Chinese workers relocated to the U.S. were told. "You're free to follow your heart."
The film's beautifully shot, fly-on-the-wall style doesn't hold back from showcasing the challenges and frustrations that befell both the American and Chinese workers. Language barriers, cultural differences and contrasting work expectations often sparked conflict, especially when efforts were made to unionize the plant's workforce—something Fuyao desperately wanted to avoid.
Conflicts aside, American Factory offers a rare glimpse into a real business experiment that can simultaneously warm and break viewers' hearts. Average, everyday people take center stage, and what unfolds is a bittersweet, albeit captivating story that continues to be told to this day in Dayton, as well as at other plants across the United States.
"The most important thing is not how much money we earn," Cao said to the Chinese workers, "but how this will change the Americans' views of the Chinese and toward China."