The film One Child Nation brilliantly documents a 35-year human tragedy. The Chinese Communist Party decreed in 1979 that families could have only one child, setting in motion a retinue of horrors that included mind-numbing propaganda, forced abortion, mandatory sterilization, exploitative adoption and lifelong feelings of abandonment.
The narrative builds slowly, beginning with an interview of a minor local official who oversaw the abduction of women for forced abortions and sterilizations. He feels bad about what happened but doesn't believe he had any choice. "Policy is policy," he says sadly.
An 84-year-old midwife who estimates she performed between 50,000 and 60,000 abortions and sterilizations emphasizes that she and her co-workers didn't make decisions. They executed orders. "I was the executioner," she admits, while maintaining that her work to promote fertility compensates a little for the deaths.
In a culture that heavily favors boys, families simply discarded baby girls. Some placed female infants in baskets, cardboard boxes or plastic bags and left them on tables in markets in the hope someone would take them home. Others simply tossed baby girls onto rubbish piles to die from thirst, hunger or exposure.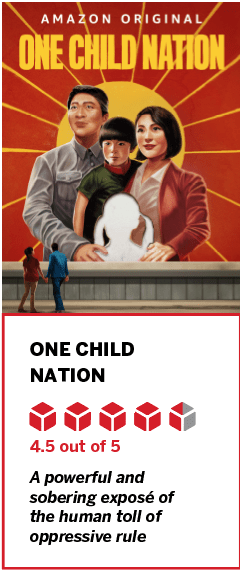 Other babies wound up in the international adoption machine that enriched human traffickers. The directors discovered during filming that the government seized babies and took part in the profiteering.
But one-child propaganda so thoroughly permeated life that many grudgingly accept what they view as the necessity of limiting population. Even now, five years after the end of the policy, they continue to defend what happened.
Still,  there's no denying the pain of the young woman whose interview concludes the movie. The camera lingers on her, a girl in China who's now in contact with her identical twin in America. A heart-wrenching range of emotions cross her face.