Barstool Sports' Call Her Daddy changed the podcast industry forever and then disappeared in a soup of scandal. Now it's back—sort of.
Those who live for drama have come to depend upon reliable sources that include politics, reality shows, YouTube influencers—and now, podcasts? The formerly placid world of podcasts, once ruled by the dulcet-toned policy wonks of NPR, has been upended in a messy display of millennial hubris.
It's a scandal filled with sex, feminism, a guy in a suit and a man the internet loves to hate. Luckbox breaks down the Call Her Daddy furor and what it means for content creators, media channels and dudes who like to send pics of their junk.
Call her what?
In one of the most gobsmacking origin stories of all time, two hot chicks walk into a bar and walk out with a podcast. No, seriously. In 2018, Sofia Franklyn, 27, and Alexandra Cooper, 26, were vigorously discussing their sexual predilections in an Austin, Texas, bar during South by Southwest.
As a crowd of randy men gathered, one yelled, "Y'all should have your own show!" So, they started a podcast from their New York City apartment, and one month later Barstool Sports came a knockin' and signed the duo to a three-year contract. Call Her Daddy was born.
The two discuss hook-ups, breakups and everything in-between in what they deem "uncensored, real, female locker room talk." Seriously, this podcast can make a trucker blush. In an anecdote pertaining to the show, a registered nurse was put on paid leave for merely suggesting to another coworker that they should listen to it.
Rise of the Daddy gang
In the two years since its launch, the podcast has rocketed up the Apple and Spotify charts. Call Her Daddy jumped from 12,000 downloads to more than two million downloads in just two months.
Men really wanted to learn how to slide into a woman's DMs apparently. At the time of this writing, Call Her Daddy sits at No. 14 on the Apple (AAPL) Charts and at No. 10 on Spotify (SPOT).
According to Erica Nardini, CEO and babysitter at Barstool Sports, "more than 35% of Barstool's revenue now comes from the company's podcast business, and Call Her Daddy was the crown jewel," reports The New York Times.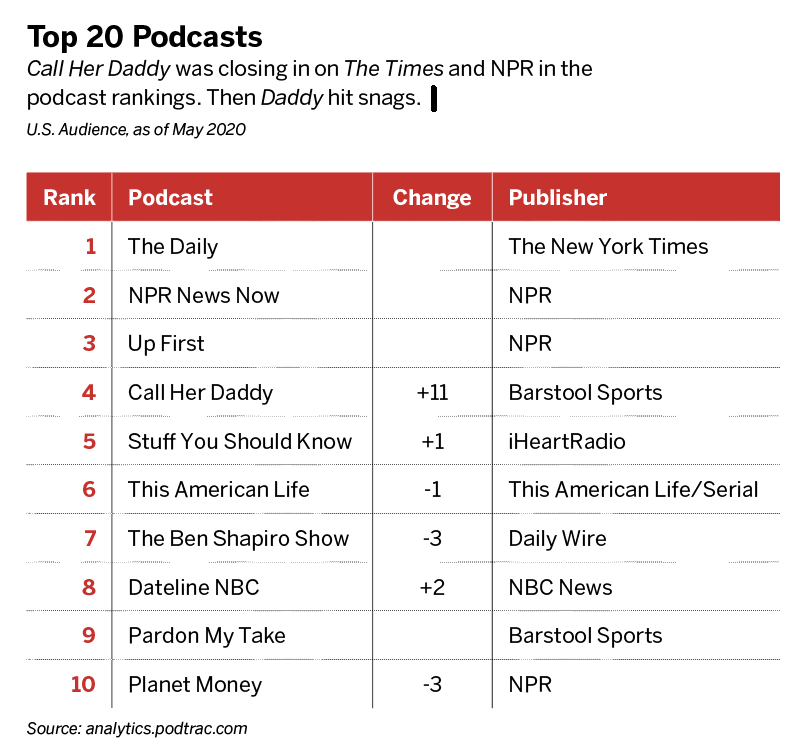 Free the fathers?
Getting paid to talk about who you're boning sounds like nice work if you can get it. (Sorry Sister Francis.)
In one episode, Cooper laments how hard it is to have intercourse with an NHL player (gotta take separate Ubers to dinner) while also boning her wealthy ex-boyfriend. Who can relate, amirite ladies?
Franklyn and Cooper, both relative unknowns before they became Daddies, have now garnered millions of followers on Instagram and wanted to pursue spin-off opportunities like merchandising, book deals or maybe even Daddy, the Movie?
But Barstool Sports owns the show's intellectual property, including the logo, the name and even the concept.
Anyway, the pair posted their last episode together on April 8. But before that, the show's titles became increasingly cryptic. Shows were called "It's Over," "We Had Fun" and "Sorry for the Sh*t Show."
Fans lamented on Twitter and urged Barstool to #FreetheFathers, an affectionate name for the hosts, or "fathers." What had started as flirty, feminine fun was now devolving into something darker, but the internet wasn't sure what.
Daddy speaks
Dave Portnoy, 43, the CEO and founder of Barstool Sports, is the bad boy blogger the internet loves to hate. Portnoy sold a 36% stake in Barstool to Penn Gaming (PENN) in January, valuing Barstool Sports at $450 million.
Barstool has become a major force in the millennial marketing space. On May 17, Portnoy took over the Call Her Daddy feed and uploaded an incendiary play-by-play of all the Daddy Drama.
Calling Franklyn and Cooper "unprofessional, disloyal and greedy," Portnoy revealed the podcast had ground to a halt because of a messy contract dispute. The New York Times writes that "in his tell-all, Mr. Portnoy said that Ms. Franklyn and Ms. Cooper had each taken home nearly $500,000 last year, a figure far higher than many fans imagined."
Imagine getting paid $500,000 dollars a year for talking about period sex! Fans were livid. In one episode sponsored by Honey Science Corp.—which automatically applies discounts to online purchases—the girls read ad copy and ad-libbed about how awesome Honey is because "we're broke bitches so we already had that installed on our computer."
The Times writes that "Mr. Portnoy said the company was losing $100,000 per missed episode and said that he offered the hosts a guaranteed base salary of $500,000 a year, plus bonuses, among other incentives that he estimated would ultimately net them millions, to return to the show."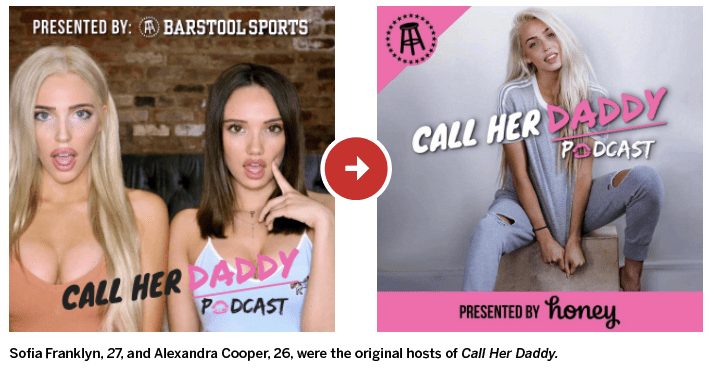 Absentee fathers
Cooper agreed to Portnoy's deal, but Franklyn, her partner and so-called "bestie," declined. It turns out that even though they were under contract to Barstool, the women were shopping the show around to other podcast providers at the behest of Franklyn's boyfriend, "Suitman."
What? DRAMA! "Suitman" is Peter Nelson, 38, the executive vice president of HBO Sports. (Do these chicks ever bang regular dudes?) He's been dating Franklyn for a year, and their sexual exploits are often fodder for the show.
"Suitman and I got into a fight because I wanted to go into great detail about his penis," Sophia mentioned on one episode.
According to Portnoy, it's Nelson who urged Franklyn not to take the deal—again, $500k a year for talking about how to send nudes. So, now the "daddies" are fighting with Barstool and each other.
It was revealed that the girls made the same salary when they started, and as the show gained fame they both got raises. But Cooper handles all of the editing of the show, so she got slightly bigger raises. Franklyn maintains that the duo should have a 50/50 partnership.
Fans complained that what was once a fun show about reclaiming female sexualtity has devolved into a hot mess because some chick took bad advice from her douchey boyfriend.
It seems Nelson wanted to aggressively negotiate for $1 million salaries as well as full intellectual property rights. The negotiations with Barstool ground to a halt and the ladies stopped coming into the office and eventually stopped recording the show—petulant millennials at their finest.
Two hot chicks walk into
a bar and walk out with
a podcast. No, seriously.
Founding fathers
Suitman, the millennial equivalent of Yoko Ono, is breaking up the once profitable and domineering duo. But the story provides important lessons about content creators and the media juggernauts they need.
The New York Times writes: "Media companies have long acted as talent incubators, providing content producers name-brand recognition and access to a larger audience. But, as that talent builds a following on social media, the balance of power shifts. Often, talent no longer needs the media company to operate as a middleman, and many realize they could monetize their own platforms more effectively by themselves."
Franklyn and Cooper tapped into the sexual zeitgeist in a way that hasn't been seen before. While some describe the duo as "Canal Street Kardashians" and candidates for "Pornhub thumbnails," they blazed a trail in podcasts by being unapologetically raunchy and risque.
Their youthful exuberance paid off but was also their undoing. As the Bible says, "Pride goeth before the fall."
Yet, they also forced the podcast industry to mature a bit. "The systems for monetization are also increasingly complex," Oren Rosenbaum, the head of emerging platforms at United Talent Agency, said of podcasting. "Most aspiring podcasters don't think of negotiating things like ownership of their back catalog, licensing agreements, platform exclusivity, intellectual property and more, upfront." After the Daddy publicity, that could change.
Daddy's home!
In a 30-minute video posted to YouTube on May 22, Cooper announced she would return to host Call Her Daddy solo. "I am so fucking excited to get the show back on the air and continue to talk about … shitty one-night stands," the host said. (Again, $500k a year for this?)
Her solo sessions of the podcast are still climbing the charts, but it remains to be seen whether the new format will be Daddy 2.0 or 50 Shades of Meh. Portnoy did offer Franklyn her own solo show on the network, but she declined. Guess she didn't need the $500,000 this year.
Vonetta Logan, a writer and comedian, appears daily on the tastytrade network and hosts the Connect the Dots podcast. @vonettalogan