Not the "Billions" Carl Sagan Was Referring To
Musk and Bezos square off in a lopsided showdown to determine who can build a bigger payload for phallic-shaped rockets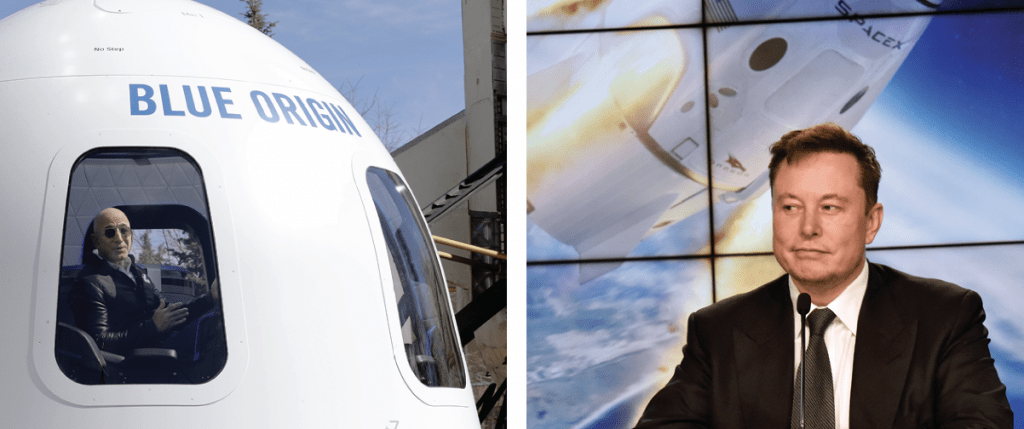 Amazon sold another $100 billion worth of Scrub Daddies, fitted sheet straps and other goods essential to life in the 21st century, the company reported in its fourth-quarter earnings statement. But that wasn't the big news—the world has been much more interested to learn that Jeff Bezos is stepping down from the lofty perch of Amazon CEO.
It was a mic drop that could've been heard in space if, indeed, there was sound in space. "Being the CEO of Amazon is a deep responsibility, and it's consuming," Bezos said. "When you have a responsibility like that, it's hard to put attention on anything else."
Bezos will still serve as Amazon's executive chairman and plans to remain engaged in company initiatives. But he also hopes to have time and energy to devote to the Day One Fund, the Bezos Earth Fund, Blue Origin and The Washington Post.
"I've never had more energy, and this isn't about retiring," Bezos wrote in a farewell letter to Amazonians. "I'm super passionate about the impact I think these organizations can have." Thus, he set up a rich guy showdown with Elon Musk to see which billionaire could build the best phallic-shaped space rocket.
Origin story
Blue Origin, which Bezos started in 2000 in Kent, Washington, now employs 3,500 people in manufacturing and launch facilities in Texas, Florida and Alabama, according to Reuters. "Its ambitious portfolio includes selling suborbital tourist trips to space, heavy-lift launch services for satellites and the lander—none of which is yet fully commercially viable," the wire service says.
Conversely, Musk founded SpaceX two years later but already "has launched its Falcon 9 boosters more than 100 times, launched the world's most powerful operational rocket—Falcon Heavy—three times, and transported astronauts to the International Space Station," Reuters says.
Bezos' ultimate goal: a spacetopian paradise where millions of people can reside in a space colony, sparing our precious Earth further destruction.
Musk's ultimate goal: internet trolling and enabling people to live on Mars.
Bezos has been working just one day a week at Blue Origin but has been cashing in $1 billion of Amazon stock every year to fund the privately-held company. Three years ago, he characterized Blue Origin as "the most important work that I'm doing," according to Reuters.
Meanwhile, SpaceX received a multibillion-dollar contract in 2008 to fly cargo to the International Space Station, or ISS, writes planetary.org. "The company was on the verge of bankruptcy and would likely have run out of money without NASA," according to the site. These days, SpaceX receives a significant portion of its funding from flying crew and cargo to the ISS, launching NASA science spacecraft and transporting payloads for the U.S. Department of Defense, the site notes. In February, SpaceX completed an equity funding round of $850 million, sending the company's valuation to a stratospheric
$74 billion.
Space beef
Just as Musk grew his hair plugs into a full head of hair, he has grown SpaceX into a lush and profitable enterprise. Bezos, known for steamy towel selfies, seems to be flexing his biceps more than his aeronautical engineering prowess. Reuters puts it this way: "Blue Origin has fallen far behind SpaceX on orbital transportation and lost out to SpaceX and United Launch Alliance on billions of dollars' worth of U.S. national security launch contracts which begin in 2022."
But the real fight comes in the form of teeny-tiny satellites.
"Musk's SpaceX rocket company, Amazon and other rich companies are working on networks of relatively small satellites that beam internet access to the ground," writes The New York Times. "These networks orbit at lower levels than conventional satellites and are cheaper to make and launch."
SpaceX has been sending Starlink satellites into orbit since 2019. Eventually, it expects to have up to 42,000 satellites circling the globe to provide internet access to even the most remote spots on the planet. "For 2021, in particular, it is planning up to two dozen Starlink launches that will add more than 1,500 satellites to its current constellation," writes Entrepreneur magazine.
Amazon is working on a similar endeavor called Project Kuiper. It hopes to place 3,236 satellites in low-Earth orbit, the lowest at 367 miles above the surface. Kuiper would compete directly with Starlink, as it works to deliver high-speed, low-latency broadband internet to paying customers, gizmodo.com notes. "Amazon has yet to launch a single Kuiper satellite, but the FCC authorized the project in July 2020," it says.
The fight brings to mind sharing the back seat with a sibling during a long road trip. "Moooooom, he's touching meeeee!" "Hahaha. I'm not touching you. Stop hitting yourself." But, you know, in fancy space terms. The New York Times writes that "SpaceX wants permission from the U.S. government to move some of its satellites to lower orbits. Amazon said that would interfere with its satellites. Musk got angry. Amazon said that SpaceX was trying to 'smother competition in the cradle.'"
"The facts are simple," Amazon declared in a statement. "We designed the Kuiper System to avoid interference with Starlink, and now SpaceX wants to change the design of its system."
In a recent presentation to the Federal Commerce Commission, SpaceX director David Goldman claimed that Amazon has organized "30 meetings to oppose SpaceX" but none to "authorize its own system," reports CNBC.
Is sending dirty space laundry into orbit really worth it? Or is this just a technocratic fever dream where the dude with the most billions and biggest space phallus wins?
Space streams
Bezos maintains that he witnessed first-hand how computing power and bandwidth combined to create multi-trillion-dollar markets for online businesses. "Once space is cheap and safe, entrepreneurs will rush to the market just like they did when they felt confident the internet was mature enough," writes ZME Science. Thus, a Bezos "hobby" company becomes an actual viable business.
And that means a lot. The space industry could grow by $1 trillion in the next decade, according to Ron Epstein, aerospace analyst at Bank of America Merrill Lynch. He foresees a turning point as technological improvements and capital combine to support space tourism and manufacturing in space.
As for Musk's Starlink, the company launched in beta last year, and its space internet service would cost $499 for the initial dish and setup, then $99 a month. Forbes estimates that Starlink could eventually be valued at around $30 billion. Here's what CNN had to say: "With the latest SpaceX launch last week, which carried 60 more internet-beaming satellites into space, the company's Starlink internet constellation grew to include about 1,000 active satellites—by far the largest array in orbit. SpaceX now owns about one third of all the active satellites in space."
Black holes
Commercial companies now account for about 80% of the $424 billion global space industry, according to Loizos Heracleous of Warwick Business School.
What could go wrong when private companies funnel billions of dollars into a single sector? "Silicon Valley's libertarian, technocratic ideals could extend the darker aspects of hyper-capitalism," says The Guardian. "SpaceX wants to shuttle settlers to Mars for $500,000 a ticket, with loans available that could be worked off." That sounds a lot like indentured servitude. "Indeed, just like other sectors of the economy during the global pandemic, we're learning that the whole of our future is being planned by the elite and wealthy few." The Guardian continues, "Ultimately, they will define how society functions." After all, Amazon Web Services, Facebook and Robinhood already control much of the economy.
Luckbox is all for heading off beyond the wild blue yonder, but we hope it benefits the whole of society and not just a select few. Watching villains compete to build the next "ethnic space laser" is only fun in movies and certain Facebook chat rooms.
Vonetta Logan, a writer and comedian, appears daily on the tastytrade network and hosts the Connect the Dots podcast. @vonettalogan