Drawing Comparisons to HBO's The Last of Us, CDC Says Real-Life Fungus Spreading Rapidly in U.S. 
Drawing parallels to HBO's The Last of Us series, the CDC recently warned about a real-life fungus known as Candida auris, which has been spreading in the United States and around the world. 
Prior to 2023, fungal infections rarely made front-page news.
However, a relatively small outbreak is currently grabbing added attention because of the parallels being drawn between this real-life development and the fictional narrative popularized by HBO's The Last of Us.
In the series, a mutated Cordyceps fungus transforms infected people into zombies, which ultimately throws human civilization into post-apocalyptic chaos.
In its inaugural season, the show focuses on a character that's seemingly immune to the infection, and her harrowing journey to locate a group of scientists that could potentially use her antibodies to create a treatment/vaccine.
The fungus featured in The Last of Us—a wildly popular video game before it became an HBO series—is based on the real-life Ophiocordyceps Unilateralis (Cordyceps), also known as the "zombie-ant" fungus.
In order to meet the unique challenge presented by invasive candidiasis, several pharmaceutical companies are currently working on new antifungal treatments, including Cidara (CDTX), Pfizer (PFE) and SCYNEXIS (SCYX).
When infecting a host (to date, only insects), the spores of the Cordyceps seize control of the brain and motor functions of the host and urge it to seek a higher physical location. That effort ultimately exposes the fungus to warmer and sunnier conditions, which in turn allows it to reproduce more efficiently. Once the insect dies, the fungal growth then erupts through the host's head, releasing a myriad of spores that can target new hosts.
Considering that terrifying sequence, it's easy to see why the creators of The Last of Us chose that particular fungal infection to feature in the narrative. In real life, the Ophiocordyceps Unilateralis has never been discovered in a human host.
That said, the concept has been a hit for viewers, as illustrated below, The Last of Us was the top streaming title during the last week of January, and has been amongst the top streaming shows throughout 2023.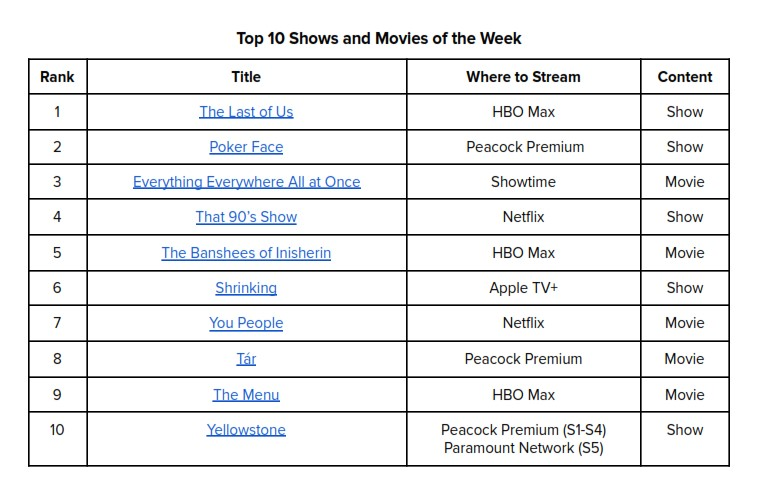 Source: HDGuru.com
The Real-Life Fungal Threat, Candida Auris
In real life, the recent spread of the Candida auris (C. auris) is far less fantastical, but no less frightening in terms of its ability to kill. The Centers for Disease Control and Prevention (CDC) estimates that between 30%-60% of the people that contract this fungal infection in their bloodstream (known as candidemia) ultimately succumb to it.
However, when it comes to C. auris, it should be noted that healthy people aren't easily susceptible to infection. According to an Dr. Paul Byers, an epidemiologist in Mississippi, the populations at greatest risk are those with weakened immune systems and patients in hospitals and other medical facilities—as reported by NBCNews.
Moreover, this fungus doesn't specifically target the brain. Instead, C. auris tends to be most dangerous when it successfully invades the bloodstream, an open wound or any vital organs.
One of the biggest problems with C. auris is that it's highly resistant to antibiotics, which can complicate the treatment process. In that regard, the fungus is considered an antimicrobial resistance (AMR) threat.
Antimicrobial resistance occurs when bacteria, viruses, fungi and parasites evolve over time, and no longer respond to medicines—making them harder to treat and contain.
At present, the number of Americans infected with C. auris is fairly minimal in absolute terms—last year, roughly 2,400 Americans were infected with it (e.g. clinical cases). However, the rate at which the fungus is spreading is causing some alarm. Back in 2016, only 53 people were known to have been infected with C. auris.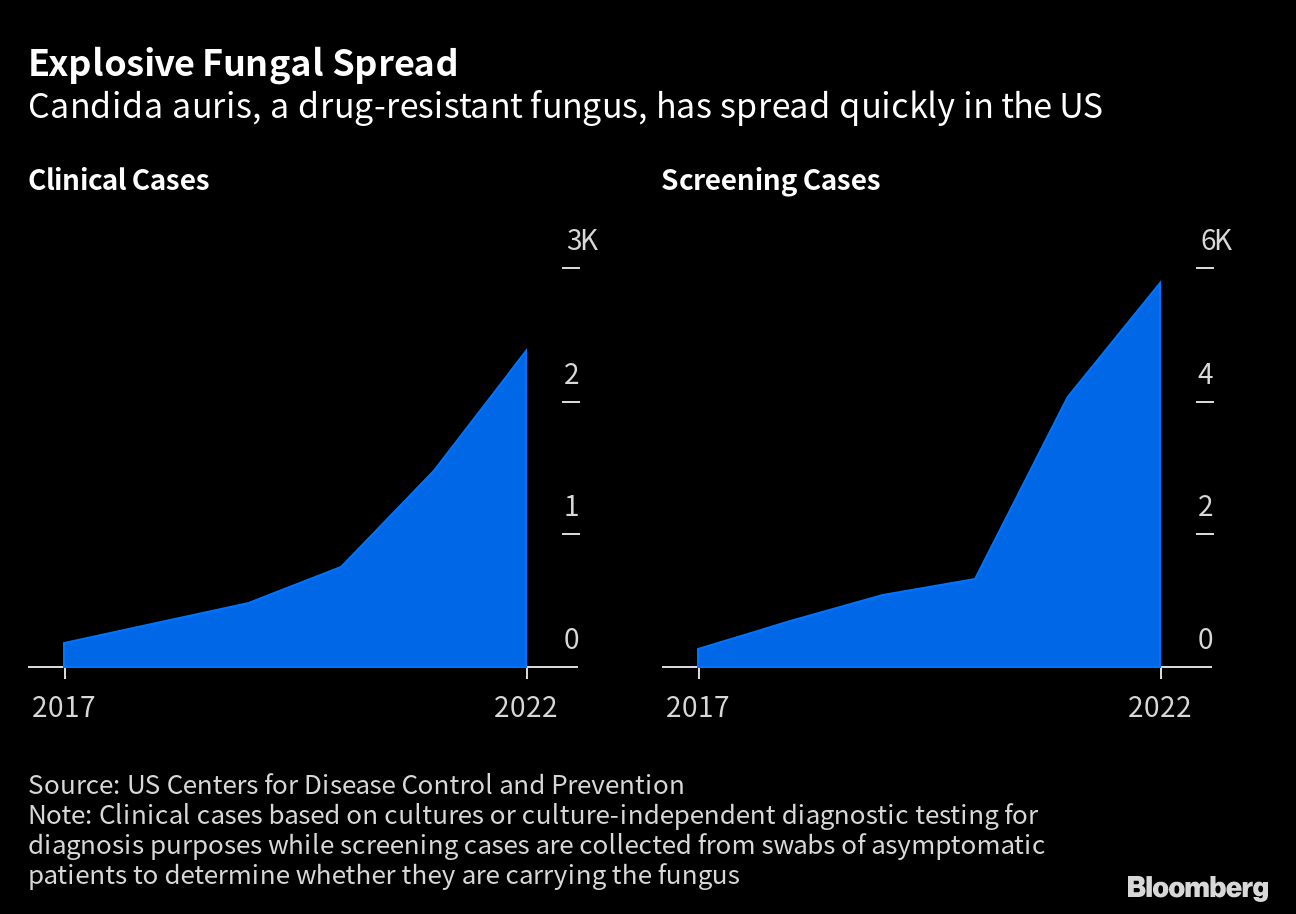 In a March 20, 2023 press release, the CDC said of C. auris, "The rapid rise and geographic spread of cases is concerning and emphasizes the need for continued surveillance, expanded lab capacity, quicker diagnostic tests, and adherence to proven infection prevention and control."
It's important to note that the overall risk presented by C. auris for healthy individuals is still considered extremely low.
Dr. Waleed Javaid, an epidemiologist and an infectious disease expert at Mount Sinai Downtown in New York, recently told NBCNews, "We don't want people who watched 'The Last of Us' to think we're all going to die. This is an infection that occurs in extremely ill individuals who are usually sick with a lot of other issues."
Candida auris was first identified in Asia back in 2009, while the first-known case in the United States was recorded in 2013. Since that time, C. auris infections have been recorded in 35 different states.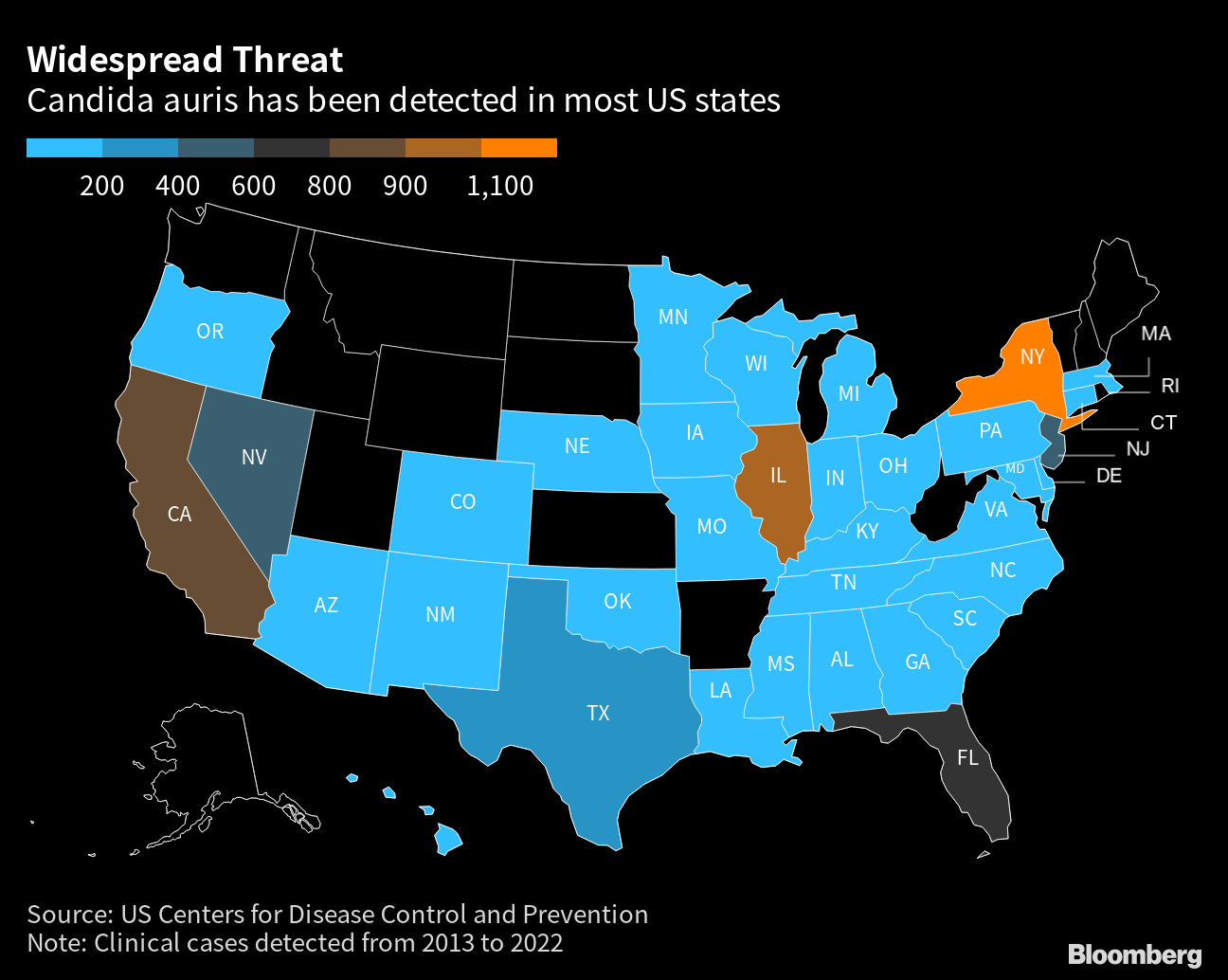 Unfortunately, the most common symptoms of this infection mirror those of many other ailments—a fever and chills. Infections are typically treated with a class of antifungal medications known as echinocandins.
However, due to the aforementioned rise in antimicrobial resistance), there've been an increasing number of C. auris infections that don't respond to existing medicines. Severe infections are known as "invasive candidiasis."
The pharmaceutical companies working on the treatments might make for good stocks to watch as this continues to unfold.
On March 22, the U.S. Food and Drug Administration (FDA) approved Cidara's drug—known as rezafungin—to treat severe fungal infections, particularly those affecting patients in hospitals and long-term care facilities. The approval specified that rezafungin could be used to treat severe infections in adult patients with limited or no alternative treatment options.
Hopefully, these new treatments will help reduce the spread of C. auris before it becomes more ubiquitous. As fans of The Last of Us know all too well, fungal infections aren't to be taken lightly.
To follow everything moving the markets—including the latest developments in the pharmaceutical and biotechnology sectors—tune into tastylive, weekdays from 7 a.m. to 4 p.m. CDT.
Sage Anderson is a pseudonym. He's an experienced trader of equity derivatives and has managed volatility-based portfolios as a former prop trading firm employee. He's not an employee of Luckbox, tastylive or any affiliated companies. Readers can direct questions about this blog or other trading-related subjects, to support@luckboxmagazine.com.