Looking to Invest in Oil Stocks? Consider the Permian Basin
The Permian Basin now accounts for nearly half of total daily oil production in the U.S., which has triggered increased M&A activity in the region, making oil stocks levered to the Permian an intriguing prospect for investors and traders
The United States is currently the world's largest oil producer, pumping out an estimated 12.75 million barrels per day.
The Permian Basin has become the country's most important oil region, accounting for nearly half of daily production.
M&A activity in the Permian has picked up in recent years, with an estimated 27 deals already in 2023, making it an especially attractive region for investors and traders seeking exposure to the energy sector. 
Crude oil prices have corrected by about 18% since late September, which means some investors and traders are likely looking to play this sector of the financial markets for a potential rebound.
Market participants seeking to play a short-term bounce in oil prices may prefer crude oil-focused futures or ETFs, such as /CL or the United States Oil ETF (USO).
However, investors and traders with longer time horizons are likely filtering for single-stock ideas in the energy sector. For that group, U.S. oil companies offer a strong value proposition, especially those operating in the Permian Basin.
The United States is currently the world's largest producer of crude oil, pumping out an estimated 12.75 million barrels per day (MMbpd). According to Statista, the U.S. has been the top producer of petroleum since 2018.
That's quite the paradigm shift, because for many years, the world's top oil producers were concentrated in the Middle East. But the pecking order has shifted, and the new global alignment in the energy industry may be here to stay—at least for the foreseeable future.
Looking outside the United States, Saudi Arabia and Russia are also highly influential in global energy markets—these two countries represent the second and third-largest global producers of crude oil, respectively.
But the United States is numero uno, and could sit atop the rankings for many years to come. Last year, the United States produced roughly 11.9 million barrels per day (MMbpd), which constituted about 12% of total daily production worldwide. Today, the U.S. is producing closer to 12.75 million barrels per day of crude oil.
As most are aware, America's resurgence as a top oil producer is due to the rise of fracking, which has allowed domestic oil producers to tap reserves that were previously viewed as unrecoverable.
Considering this backdrop, it's no great surprise that the largest oil producing region in the United States is now a fracking zone—the Permian Basin. This area straddles West Texas and southeastern New Mexico, and encompasses about 86,000 acres.
Earlier this year, the Permian Basin notched a new production record—about 5.7 million barrels per day. That's almost half the country's total daily production, and it's believed the Permian could pump out somewhere between 7.5 and 8.0 MMbpd by 2030. 
Daily production in the United States is actually forecasted to peak around the same time as the Permian's peak (2030), but is expected to remain above 12 million barrels per day through at least 2050. That means oil exploration and oil production will remain key parts of the U.S. economy for many years to come.
As such, investors and traders considering investments in the oil industry may want to consider companies operating in the Permian Basin, which has become one of the most strategically important regions of the overall U.S. energy sector.
The Permian Basin is Also a Hotbed for M&A Activity
As illustrated below, the Permian Basin notched a new production record earlier in 2023—about 5.7 million barrels per day. 
And with the Permian Basin emerging as such a critical region for oil exploration and production, it's no great surprise that many companies in the oil industry have also shifted their focus to this area of the map.
According to data compiled by Reuters, 2023 has already seen considerable M&A activity in the Permian, with 27 new deals announced through mid-October. That includes the largest Permian acquisition in history, which was Exxon Mobil's(XOM) recent takeover of Pioneer Natural Resources (PXD) for $60 billion.
Exxon and Pioneer were already a couple of the Permian's largest producers, so the combination of these two entities has created a true Permian juggernaut. And this deal helps illustrate the potential upside of investing in Permian-focused companies.
Prior to Exxon's purchase of Pioneer, there were plenty of other splashy M&A transactions involving the Permian. For example, Occidental's (OXY) purchase of Anadarko back in 2019 for nearly $40 billion. And back in 2021, when ConocoPhillips (COP) acquired nearly $9 billion worth of Permian assets from Shell (SHEL).
And M&A activity in the region isn't expected to slow down anytime soon. Some of the other frackers in the Permian that are often mentioned as possible takeout candidates include Diamondback Energy (FANG), Callon Petroleum (CPE), Civitas Resources (CIVI), Matador Resources (MTDR) Permian Resources (PR), SM Energy (SM) and Vital Energy (VTE).
Earlier this year, Permian Resources actually acquired Earthstone Energy in an all-stock transaction valued at roughly $4.5 billion, Permian Resources is currently valued at roughly $10.5 billion, with a stock price of about $13.50/share. Following on the heels of that transaction, Civitas Resources acquired $2.1 billion worth of Permian assets from Vitol in October.
Both companies are considered potentially attractive takeout targets by larger players in the industry.
Looking beyond the Permian Basin, there's also been some M&A activity this year involving other large fracking regions of the United States. In August, Chevron (CVX) acquired PDC Energy (PDCE) in a $6.3 billion all-stock deal.
PDC was primarily active in the Denver-Julesburg (DJ) Basin in Colorado, which also counts among the country's top ten oil producing regions. That said, the production disparity between the Permian Basin (Texas) and the Denver-Julesburg Basin (Colorado) is substantial, as illustrated below.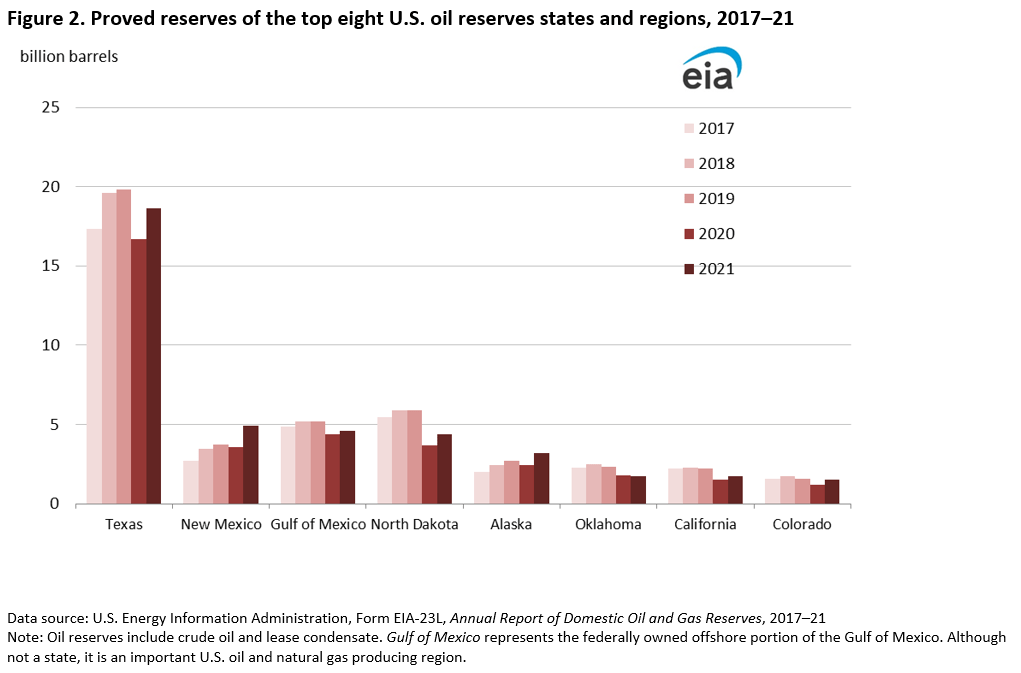 Looking beyond stock levered specifically to the Permian Basin, some other petroleum companies that are viewed as potentially attractive acquisition targets include Apache (APA), Coterra Energy (CTRA), Devon Energy (DVN), EOG Resources (EOG) and Murphy Oil (MUR).
To follow everything moving the markets, including the energy markets, tune into tastylive—weekdays from 7 a.m. to 4 p.m. CDT.
Andrew Prochnow has more than 15 years of experience trading the global financial markets, including 10 years as a professional options trader. Andrew is a frequent contributor Luckbox Magazine.
For daily financial market news and commentary, visit the News & Insights page at tastylive or the YouTube channels tastylive (for options traders), and tastyliveTrending for stocks, futures, forex & macro. 
Trade with a better broker, open a tastytrade account today. tastylive, Inc. and tastytrade, Inc. are separate but affiliated companies.