Record Surge in Cocoa Prices: Your Favorite Chocolate Bar is Now More Expensive
Cocoa prices have skyrocketed in 2023, and are now trading 40% higher than they were in October of last year
There were plenty of upside winners in the first half of 2023, but one of them was undoubtedly the global cocoa market.
Cocoa prices are up roughly 40% as compared to October of 2022, and recently settled at $3,300 per ton—the highest price on record since 1977.
Cocoa is a key ingredient in chocolate, which means the epic rally in the cocoa market has rippled through to the chocolate industry, as well. According to research conducted by Circana, chocolate prices are up roughly 20% per unit since 2021.
Not surprisingly, spiking cocoa and chocolate prices have also affected retail prices. For example, Nestle raised the price of its well-known KitKat chocolate bar by 10% during the first quarter of this year.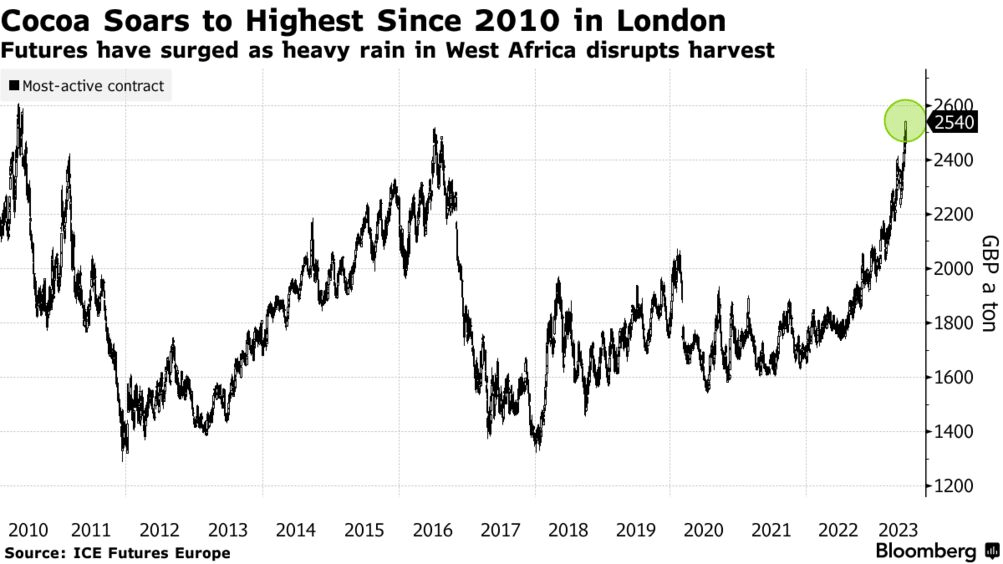 In the case of cocoa, the recent price spike appears to be linked to continuing supply shortages.
Cocoa is somewhat unique because production is heavily concentrated in two small African countries. Last year, Ghana and the Ivory Coast combined to produce more than 50% of the world's total available supply.
That means the health of the global cocoa supply chain hinges heavily on growing conditions in those two countries. And recently, conditions haven't been ideal.
One of the biggest challenges in recent months has been too much precipitation in West Africa, which has made drying the cocoa beans—a critical part of the process—more difficult. However, the region has also experienced reduced harvests due to the opposite problem in recent years, due to drought.
The onset of El Niño is expected to make growing conditions even harder to predict in the coming months, which has contributed to the recent rally in cocoa prices. In addition to the weather, cocoa trees in West Africa have also been fighting the fast-spreading "cocoa swollen shoot virus disease (CSSVD)," which can kill the trees.
Beyond Ghana and the Ivory Coast, some of the world's other largest growing regions include Ecuador, Cameroon, Nigeria and Indonesia. That means two other key producers—Cameroon and Nigeria—have also been impacted by the aforementioned headwinds.
The International Cocoa Organization (ICCO) recently projected that demand will outstrip supply by roughly 142,000 metric tons in 2023, which is roughly equivalent to 350 million pounds of chocolate bars. Previously, the ICCO had projected that the 2023 supply shortfall would amount to only 60,000 metric tons.
That's the second year in a row that cocoa production has failed to meet demand, as highlighted by Lenoardo Rosseti, a cocoa analyst at StoneX. Rosseti recently told Reuters, "It is the second consecutive season with a supply deficit."
One of the positives from the recent price spike has been the net benefit to global cocoa farmers. Critics have long argued that cocoa prices were too low because they didn't provide an adequate income for the average cocoa farmer in Africa.
In that regard, the recent price spike has likely been a welcome reprieve for smaller growers that have faced skyrocketing production expenses linked to record inflation. For context, about 400 cocoa beans are required to make a single chocolate bar, and the average cocoa tree produces about 2,500 beans per year.
Like cocoa, sugar and coffee prices have also rallied in strong fashion in 2023, which means that prices are still rising in some pockets of the economy, despite the recent cooling in global inflation figures.
To track and trade the global cocoa/chocolate markets, readers can add the following symbols to their watchlists:
Chocoladefabriken Lindt & Sprüngli AG (CHLSY), +11%
Hershey (HSY), +8%
Mondelez International (MDLZ), +8%
Nestle (NSRGY), +2%
To learn more about trading commodities futures, check out this installment of Splash Into Futures on the tastylive financial network. To follow everything moving the markets this summer, tune into tastylive—weekdays from 7 a.m. to 4 p.m. CDT.
Andrew Prochnow has more than 15 years of experience trading the global financial markets, including 10 years as a professional options trader. Andrew is a frequent contributor Luckbox magazine.