Toyota Claims it Has Reached EV Holy Grail, but the Race is Far From Over
Toyota recently announced it made significant advancements toward the development of a commercialized, solid-state battery for fully electric vehicles (EVs), but other manufacturers and battery producers have also made big strides
Toyota announced recently that it was on track to produce a commercial-grade, solid-state battery by 2027—a technological advancement in the EV industry that's akin to the discovery of the holy grail.
Solid-state batteries are poised to raise the EV sector to the next level of adoption because they are expected to offer greater ranges on a single charge, faster charging times, and reduced weight, as compared to their traditional lithium-ion counterparts.
The current market leaders —Tesla, BYD, Volkswagen and General Motors—are also working hard to develop new battery technologies.
Toyota (TM) has long been the king of hybrid vehicles—those powered by the combination of an electric motor and a traditional combustion engine.

The Toyota Prius is the best-selling hybrid of all time, and since its introduction, Toyota has sold over 15 million hybrid vehicles.

However, Toyota is currently on the opposite end of the spectrum when it comes to fully electric vehicles—known as battery-electric vehicles (BEVs)—which are those that run exclusively on battery power. Last year, Toyota sold only 20,000 BEVs, which represents a small fraction of the BEVs that companies like Tesla (TSLA) and BYD Company (BYD) sold in 2022.

For example, BYD sold roughly 1.8 million EVs in 2022, while Tesla sold around 1.3 million EVs. Clocking in behind those two companies were Volkswagen (VWAGY), General Motors (GM) and Stellantis (STLA), which sold 800,000, 600,000, and 500,000 EVs, respectively, in 2022.

In terms of the existing fleet of EVs on the road, Tesla still holds the edge, with nearly 3 million vehicles currently on the road globally, as illustrated below.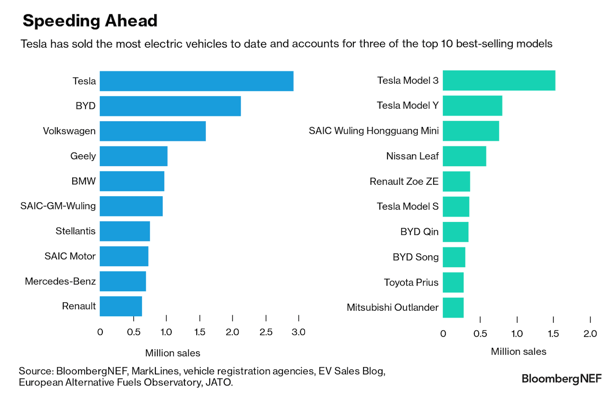 However, based on recent reports, Toyota may be poised to seize a much larger share of the BEV market during the latter half of this decade.

In June, the Japanese automaker announced that it was on track to produce a commercial-grade, solid-state battery—a technological advancement in the EV industry that's akin to the discovery of the holy grail.

Solid-state batteries are poised to raise the EV sector to the next level of adoption because they are expected to offer greater ranges on a single charge, faster charging times, and reduced weight, as compared to their traditional lithium-ion counterparts.

As part of its announcement, Toyota revealed plans to introduce a new BEV by 2027 that boasts a range of nearly 750 miles. Due to the company's recent battery advancements, Toyota estimates its forthcoming BEV will be able to be fully recharged in less than 10 minutes.

Compared to the top offerings in today's market, those stats certainly appear attractive.

Currently, Lucid (LCID) holds the record for the greatest range in the BEV category, at about 520 miles on a single charge. And in terms of rapid charging, the Tesla Model Y can be charged for a range of 200 miles in about 15 minutes, using a Tesla Supercharger. In comparison, Toyota's existing BEV offering—the bZ4x—has a range of about 320 miles, and can be charged in roughly 30 minutes.

Beyond the top-line statistics, Toyota's announcement is also pivotal because it should help improve battery safety. Solid-state batteries have been highly anticipated in the market because they are theoretically less susceptible to accidental combustion, which has long been a complaint with traditional liquid/gel-based lithium-ion batteries.

For example, in the first half of 2023, there were 108 fires caused by lithium-ion batteries in New York City alone, according to the New York Fire Department. Looking at this issue more broadly, AutoinsuranceEZ estimates that roughly 25 EVs catch fire, for every 100,000 units sold.

If Toyota delivers on its plans, and does deliver a safer and more efficient EV battery during the latter half of this decade, there's every reason to believe the longtime Japanese vehicle manufacturer will become a major player in the BEV market.

In its announcement, Toyota noted that the company plans to incorporate its new solid-state batteries into some of its hybrid vehicles before the release of its new fully electric model in 2027.

Moreover, Toyota hopes to introduce its next-generation lithium-ion battery by late 2025 or early 2026, which it says will provide up to 620 miles of range, and allow for recharging in around 20 minutes. The next-generation lithium-ion batteries are expected to serve as a bridge while the company scales up production of its solid-state batteries.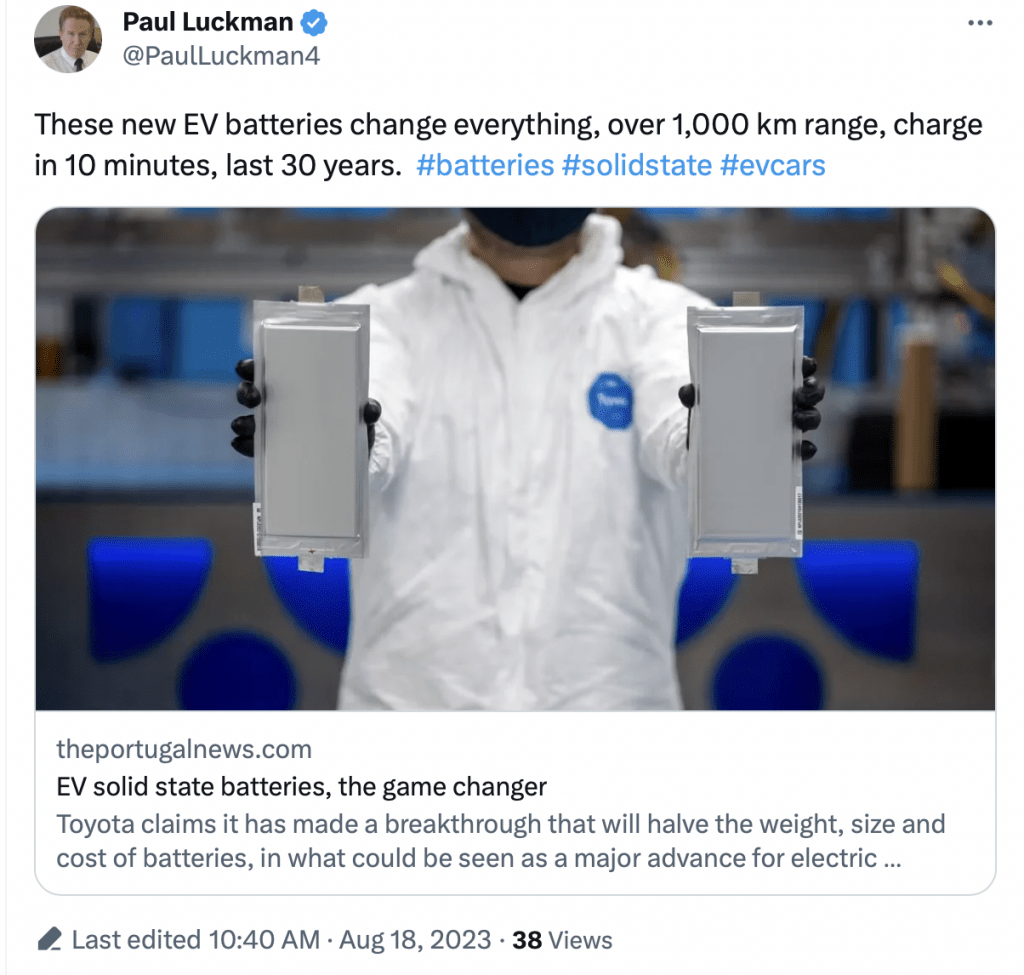 The Broader Competitive Landscape for EV Batteries

While Toyota's recent announcement is certainly promising, the arrival of a commercially viable solid-state battery has been "a few years away" for quite awhile now.

And in that regard, there's no guarantee that Toyota will meet its expected milestones, at least not according to the ambitious timeframe it laid out in its June announcement.

Much like Toyota, Nissan (NSANY) has also announced ambitious plans to incorporate a solid-state battery into its own EVs by 2028, and has boasted that it will offer "twice the energy of current lithium-ion batteries."

Having introduced the fully-electric Nissan Leaf in 2010, the company does arguably have more experience manufacturing BEVs as compared to Toyota. In July of this year, Nissan passed a key BEV milestone, selling 1 million all-electric vehicles since the introduction of the Leaf.

However, the bulk of those BEVs were Leafs—roughly 65% of the total—which means Nissan hasn't had much success introducing new models of BEVs in recent years.

Another unique aspect of the Nissan BEV story is that the company is part of the "Renault–Nissan–Mitsubishi Alliance," which is a strategic partnership involving Renault (France), Nissan (Japan) and Mitsubishi Motors (Japan), which together sell more than 1 in 9 vehicles worldwide.

Together, that alliance sold roughly 283,000 BEVs in 2022, which is significantly more than Toyota, but far less than the likes of Tesla and BYD.

As part of its recent battery announcement, Nissan noted that one of its oldest and most iconic factories—which was also the first mass production facility in Japan—will be transitioned to manufacture specialized motors for electric vehicles. That plant is located in Yokohama, and was integral in manufacturing BEV engines for the Leaf.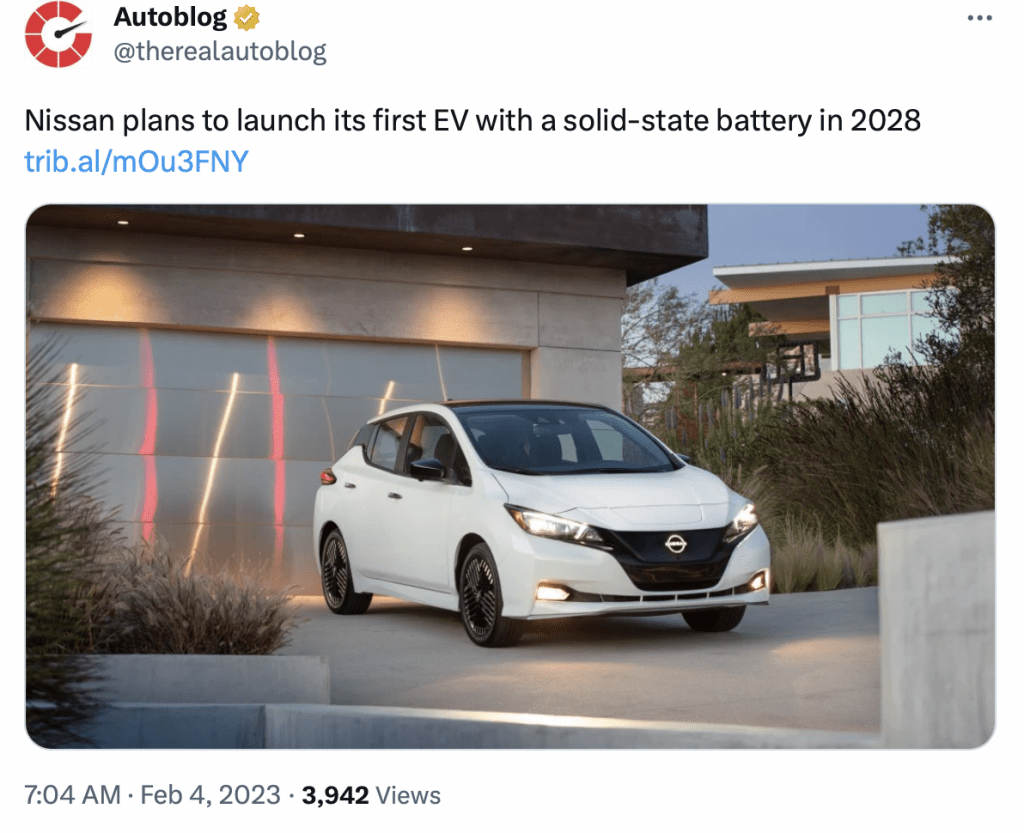 Interestingly, another large, well-known Japanese manufacturer—Honda (HMC)—is also targeting 2027-2028 for the introduction of an advanced battery for BEVs. Honda hasn't released many specifics regarding its research or plans, but has said that a polymer fabric could help the company attain solid-state superiority.

In the meantime, however, Honda will be launching a new, fully electric SUV known as the Prologue, which will be available starting next year. Honda's forthcoming BEVs—like the Prologue—will leverage a battery technology developed by General Motors, known as Ultium.

Honda plans to launch a BEV version of its popular Acura SUV later in 2024 using the same platform.

Of course, in addition to the aspirations of Toyota, Nissan and Honda, the current market leaders—Tesla, BYD, Volkswagen and General Motors—are also working hard to develop new battery technology.

Tesla, for its part, appears to have eschewed the notion of solid-state batteries, and is instead pursuing a new standard it refers to as "4680 battery cells," which the company claims will offer five times the energy and 16% more range (on average).

In an April update, Tesla revealed it was "part way through building and commissioning and installing and operating" a 4680 factory in Texas.

BYD, on the other hand, appears to have bought into the concept of sodium-ion batteries.

BYD announced in mid-July that its battery unit—known as FinDreams—had established a joint venture with Huaihai Holding Group in order to "establish themselves as the world's largest supplier of sodium-ion batteries for small EVs."

Interestingly, the successful development of this type of battery could help alleviate future lithium shortages, as highlighted below.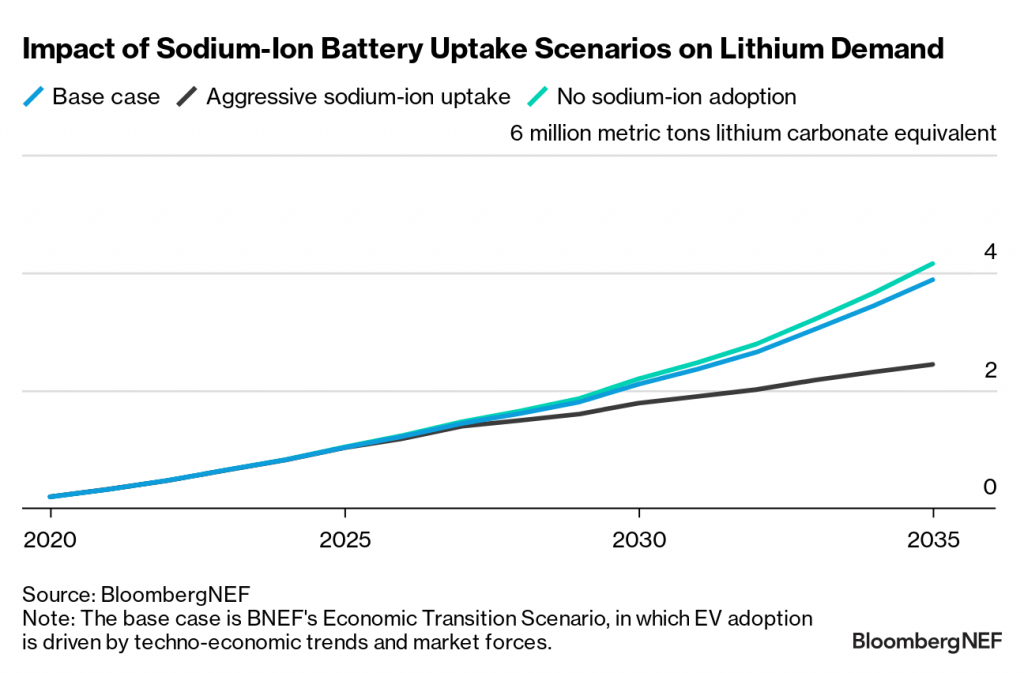 Sodium-ion batteries offer less energy density than traditional lithium-ion batteries, but they are theoretically less expensive to produce because sodium is more abundant and less expensive than lithium. Last year, the world's largest battery producer—Contemporary Amperex Technology Co. Limited (CATL) in China—announced it would begin mass-producing sodium-ion batteries.

Both BYD and CATL could put sodium-ion batteries in BEVs as soon as next year, but this would be in tandem with lithium-ion batteries, not on their own. Either way, that would be a huge development in the race toward a cleaner, safer EV battery.
Other Competition

Much like Nissan and Honda, General Motors also indicated at the start of this year that it had experienced a major breakthrough on solid-state batteries. However, there haven't been any meaningful updates on that technology—or GM's plans—since February.

For its part, Volkswagen is partnered with solid-state battery specialist QuantumScape (QS). According to Electrive.com, in December of 2022 QuantumScape "shipped the first prototypes of its 24-layer solid-state cells to automakers for testing—including Volkswagen."

Much like Toyota, Volkswagen has been promising that its solid-state battery will arrive "in a few years" for awhile now, which means it's extremely difficult to predict when (or even if) they might actually become commercially viable.

In addition to the aforementioned EV manufacturers and battery producers, the following companies are also heavily involved in EV-related battery research and commercialization:
Kandi Technologies (KNDI), +71%
Fluence Energy (FLNC), +60%
EnerSys (ENS), +45%
Luminar (LAZR), +41%
Livent (LTHM), +40%
QuantumScape (QS), +35%
Amplify Lithium & Battery Technology ETF (BATT), +11%
EVgo (EVGO), -4%

To follow all the latest updates in the financial markets—including those involving the EV sector—readers can tune into tastylive, weekdays from 7 a.m. to 4 p.m. CDT.
For daily financial market news and commentary, visit the News & Insights page at tastylive or the YouTube channels tastylive (for options traders), and tastyliveTrending for stocks, futures, forex & macro.
Trade with a better broker, open a tastytrade account today. tastylive, Inc. and tastytrade, Inc. are separate but affiliated companies.
Andrew Prochnow has more than 15 years of experience trading the global financial markets, including 10 years as a professional options trader. Andrew is a frequent contributor Luckbox magazine.