Trading the Biggest Losers From China's 2023 Stock Rout
One of China's major stock indices—the CSI 300—recently slumped to a 4.5-year low
China's CSI 300 index recently dropped to a 4.5-year low.
There have been some big winners in the Chinese markets this year. But there have been plenty of losers as well—particularly China-focused ETFs.
In response to increasing pessimism in the financial markets, the Chinese government recently announced a fresh round of economic stimulus.
A key gauge for stocks in China recently slumped to its lowest level since 2019, triggering concerns that negative sentiment in China's reeling property sector had spilled over into the broader financial markets.
On Oct. 24, the CSI 300 Index dropped to 3,450—its lowest point of the year—before rebounding on October 25. Dropping in kind with the CSI 300 was the heavily followed iShares China Large-Cap ETF (FXI), which is likewise trading at the lower end of its 52-week range.
Year-to-date, the CSI 300 Index is down around 10%, while the large-cap-focused FXI is down closer to 13%. In comparison, the tech-heavy KraneShares CSI China Internet ETF (KWEB) is down more than 17%.
Interestingly, the recent lows in Chinese stocks mark a fairly epic reversal of fortune, considering that the Chinese niche of the global financial markets was one of the top-performers at the end of 2022, and during the first quarter of 2023.
Looking at an example of that trend, investors and traders might recall that Baidu (BIDU) was trading for under $80/share last October, but proceeded to rally all the way up to $160/share by March 2023. Today, shares in Bidu have slumped all the way back down to about $108, illustrating the gravity of the current downtrend.
Twelve months ago, Chinese stocks got a boost from the reopening of the Chinese economy after the COVID-19 pandemic. At that time, optimism in the financial markets was palpable, with most projecting that China's economy would return to the halcyon days of robust growth observed before the pandemic.
Unfortunately, however, the economic rebound in China was short-lived, as consumer confidence dipped amidst the ongoing property crisis.
At present, anxieties amongst Chinese consumers and businesses remains high, which probably helps explain why the President of China—Xi Jinping—moved quickly to shore up sentiment in the financial markets on Oct. 25.
One day after the CSI 300 marked its 4.5-year low, the Chinese President made an unexpected—and unprecedented—visit to the People's Bank of China (PBOC). According to multiple reports, it was the President's first known visit to the Chinese central bank since taking power over a decade ago.
And while the purpose of the visit hasn't yet been publicized, the move was widely interpreted as a net positive by the financial markets. Chinese stocks moved sharply higher on Oct. 25 and 26.
As part of Xi's visit to the central bank, the Chinese government indicated it would deploy a fresh fiscal stimulus package to help shore up the domestic economy. Additionally, the government appointed a new Minister of Finance—Lan Foan—to help guide the economy through the current bout of turbulence.
Additional details on the forthcoming stimulus should be revealed in the near future.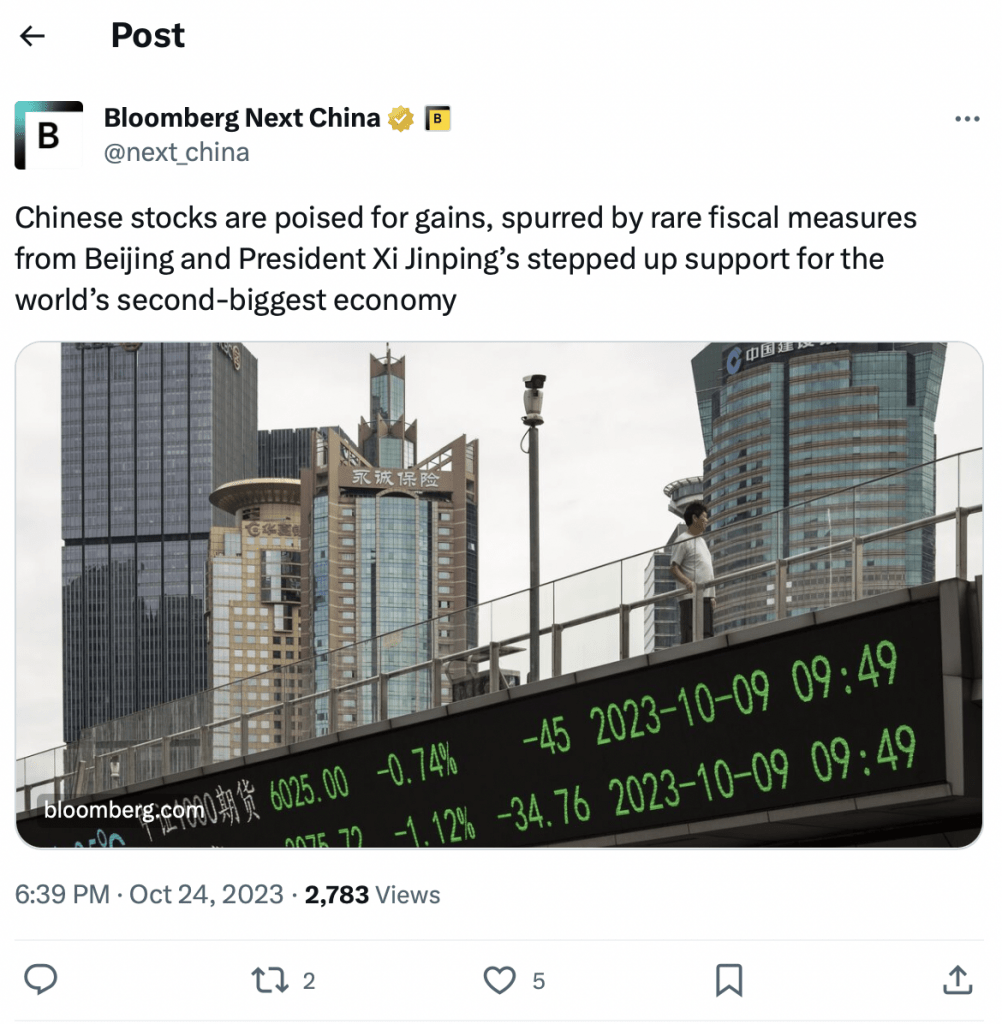 Trading the Major Chinese Single-Stocks and ETFs Listed in the U.S.
Considering how far Chinese stocks have fallen in 2023, there's no doubt some contrarian investors and traders out there looking to play a rebound.
The Chinese financial system isn't easily accessible to foreigners, which is why so many active investors and traders look to the U.S. market for exposure to Chinese stocks. Along those lines, some of the largest-capitalized single stocks from China that trade on U.S. exchanges are highlighted below.
As of January 2023, there were roughly 252 Chinese companies listed on U.S. stock exchanges with a total market capitalization exceeding $1 trillion. Additionally, there are more than 50 ETFs listed on U.S. exchanges that are focused on the Chinese markets.
Listed below are 20 of the highest-capitalized Chinese single stocks listed on U.S. exchanges (sorted by year-to-date return):
New Oriental Education (EDU), +89%
Li Auto (LI), +65%
Xpeng (XPEV), +44%
NetEase (NTES), +38%
TAL Education (TAL), +29%
Pinduoduo (PDD), +28%
KE Holdings (BEKE), +4%
Vipshop (VIPS), 0%
Trip.com (TCOM), -2%
Yum China Holdings (YUMC), -7%
Baidu (BIDU), -9%
Alibaba (BABA), -10%
ZTO Express (ZTO), -14%
Tencent Music (TME), -17%
iQIYI (IQ), -19%
Nio Inc. (NIO), -20%
Full Truck Alliance (YMM), -22%
Kanzhun (BZ), -31%
Bilibili (BILI), -51%
JD.com (JD), -55%
What's most interesting about the above performance figures is that despite the pullback in the major Chinese stock indices, there have been plenty of big winners in 2023, as well.
On top of that, there's no discernible trend when it comes to sector classification. For example, JD.com is a retail-focused internet company that's seen its shares plummet by more than 55% in 2023. On the other hand, another internet focused company—NetEase—has seen its shares rally by nearly 40% this year.
That same divergence has also been observed in the electric vehicle (EV) sector, with LI and XPEV rallying in 2023, and NIO slumping. Depending on one's outlook, approach and risk profile, there might be opportunities for pairs trading some of these divergences—especially with underlyings that historically share a strong, positive correlation.
For investors and traders that prefer to access exposure to China using exchange-traded funds (ETFs), there's also a wide range of listings to choose from. Highlighted below are some of the U.S.-listed ETFs with the largest amount of assets under management that are focused on the Chinese market (sorted by year-to-date return):
Invesco Golden Dragon China ETF (PGJ), -10%
iShares China Large-Cap ETF (FXI), -13%
Xtrackers Harvest CSI 300 China A-Shares ETF (ASHR), -13%
Global X MSCI China Consumer Discretionary ETF (CHIQ), -14%
Franklin FTSE China ETF (FLCH), -15%
iShares MSCI China A ETF (CNYA), -15%
iShares MSCI China ETF (MCHI), -15%
SPDR S&P China ETF (GXC), -15%
KraneShares MSCI China Clean Technology Index ETF (KGRN), -16%
KraneShares CSI China Internet ETF (KWEB), -17%
KraneShares Bosera MSCI China A 50 Connect Index ETF (KBA), -17%
WisdomTree China ex-State-Owned Enterprises Fund (CXSE), -21%
KraneShares SSE Star Market 50 Index ETF (KSTR), -22%
Invesco China Technology ETF (CQQQ), -24%
iShares MSCI China Small-Cap ETF (ECNS), -28%
Unlike the single stock universe, which features a variety of both winners and losers in 2023, virtually all of the major Chinese ETFs are trading in negative territory, as illustrated by the year-to-date returns highlighted above.
Due to the different holdings of these products, the losses vary, with the small-cap focused ECNS suffering the sharpest losses so far this year. For contrarians that are bullish on the future of the Chinese stock market, one or more of the above ETFs may therefore represent an attractive opportunity over the medium or long-term.
To learn more about trading country-focused ETFs such as iShares China Large-Cap ETF (FXI), readers can check out this installment of Options Jive on the tastylive financial network. For more background on pairs trading, this episode of Small Stakes is also recommended.
To follow everything moving the markets, including the options markets, tune into tastylive—weekdays from 7 a.m. to 4 p.m. CDT.
Andrew Prochnow has more than 15 years of experience trading the global financial markets, including 10 years as a professional options trader. Andrew is a frequent contributor Luckbox Magazine.
For daily financial market news and commentary, visit the News & Insights page at tastylive or the YouTube channels tastylive (for options traders), and tastyliveTrending for stocks, futures, forex & macro.
Trade with a better broker, open a tastytrade account today. tastylive, Inc. and tastytrade, Inc. are separate but affiliated companies.
Hungry for more? The next issue of Luckbox is food-focused looking at new growth opportunities and trading ideas in food, beverage, agricultural, hospitality and grocery stocks. Not a subscriber? Subscribe for free at getluckbox.com.