RIPE AND JUICY TRADE IDEAS
Most investors own one or more of the Dow Jones, S&P 500, Nasdaq or Russell 2000 indexes. Common ways to buy into them are through exchange-traded funds, such as Dow Jones (DIA), S&P 500 (SPY), Nasdaq (QQQ) and the Russell 2000 (IWM).
But drill into those indexes and it becomes apparent that the sectors within each index differ. The Nasdaq is 39% tech stocks. The Russell is full of banks and healthcare. The Dow and S&P 500 are similar with regard to sector makeup.
Participating in those few ETFs could also mean not owning an asset that is on its lows—energy—and another that provides above average stability and high relative dividends—utilities.
To participate in those sectors, investors could choose from among the following ETFs. The returns are strong for utilities (XLU), but they're weak for the two energy ETFs (XLE and XOP). For more exposure in these sectors, consider the bullish trade ideas, below."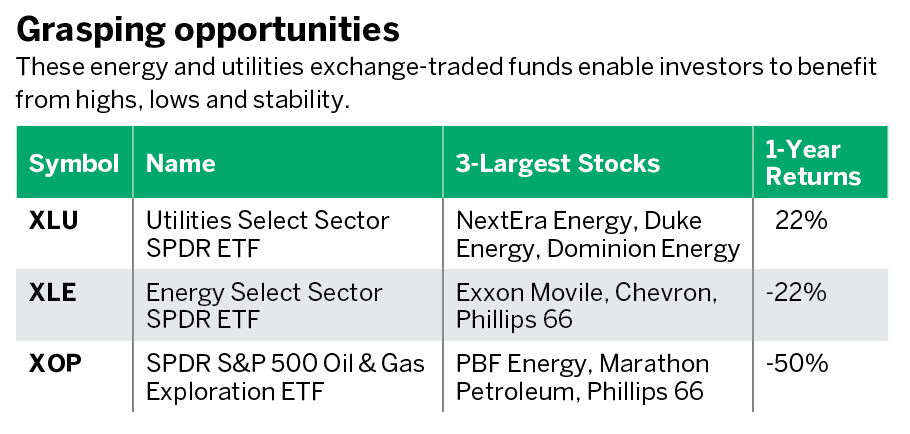 Trade IDEA #1
Buy 100 shares of XLU. Sell the first out-of-the-money call. Owning the ETF enables one to receive the dividend (currently around 3%) while also receiving credit for the call. Each month, buy back the call and sell another.
Trade IDEA #2
Sell one put in XLE and one in XOP using the first out-of-the-money strikes. That's a bullish strategy that requires less money than owning the ETF outright in a margin account. An additional advantage is that the credit received from selling the put means the ETF can also go considerably lower before a loss occurs.
Sign up for free cherry picks and market insights at
info.tastytrade.com/cherry-picks