Pandemics and travel bans are no match for Atlas Obscura: The Second Edition by Joshua Foer, Dylan Thuras and Ella Morton. But that's no surprise. The first edition, published in 2016, became an instant phenomenon, and the second edition continues the trend. Both books offer versions of the ultimate traveler's bucket list, laced with photos, maps and descriptions of hundreds of the most curious destinations in the world.
Museums cited in the second edition are devoted to bordellos, the CIA, counterfeit goods, purgatory, male genitalia, neon signs, potatoes, voodoo, tooth fragments and medieval torture. Readers are invited to visit cemeteries for neon signs, pirates and spacecraft. They can marvel at the 18th century, rococo-style Palace Library in Mafra, Portugal, where each night for hundreds of years a colony of bats has been protecting the more than 36,000 valuable leather-bound volumes from page-eating bookworms, moths and insects.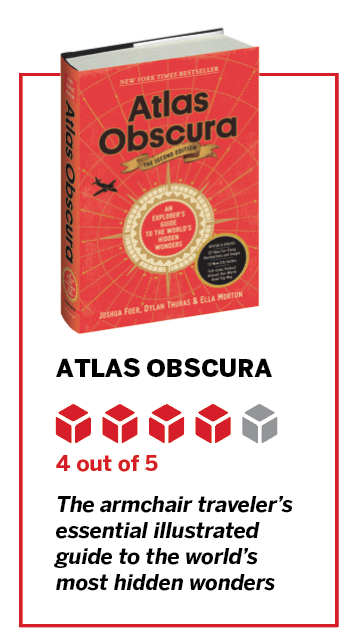 And don't forget the Witches' Market in La Paz, the Devil's Swimming Pool in Zambia or the Museum of Death in Hollywood.
The second edition, a New York Times best seller, offers many more entries than its best-selling predecessor—from the bizarre to the beautiful.
It's the ultimate host or housewarming gift book that you hope someone will buy for you. Atlas Obscura would have our highest rating, if not for the hard-to-read beige paper stock they choose for this otherwise perfect edition.
—Jeff Joseph