OpenAI's Valuation is Poised to Triple with Forthcoming Tender Offer
OpenAI is expected to conduct a tender offer, which would bump the company's valuation from roughly $30 billion to somewhere between $80 and $90 billion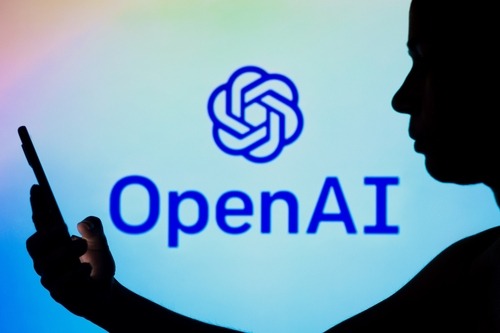 The creator of ChatGPT—OpenAI—is expected to conduct a tender offer in the near future.
The tender offer, which won't involve the issuance of new stock, is expected to bump OpenAI's valuation from roughly $30 billion to $80-90 billion.
OpenAI is not expected to conduct an initial public offering (IPO) anytime soon.
The creator of ChatGPT—OpenAI—isn't yet publicly traded, but the company's valuation is poised to triple as part of a forthcoming tender offer.
OpenAI is expected to conduct a share offering in the near future which would bump the company's valuation from roughly $30 billion to somewhere between $80-90 billion, according to a recent report by The Wall Street Journal.
The purpose of the tender is to allow employees and other existing shareholders the opportunity to monetize their holdings. One of the world's other best-known private companies—SpaceX—conducted a similar tender offer back in June.
One of the biggest winners from the forthcoming OpenAI tender will be Microsoft (MSFT), which owns 49% of OpenAI. Microsoft purchased its stake in OpenAI back in January, when the AI pioneer was soliciting capital to scale-up its operations to meet surging demand for ChatGPT's services.
That means Microsoft's stake in OpenAI will be worth $40-45 billion after the tender offer, rising from the current level of about $15 billion.
As most investors and traders are aware, the sky-rocketing popularity of generative AI-models like ChatGPT has been one of the key narratives in the 2023 financial markets.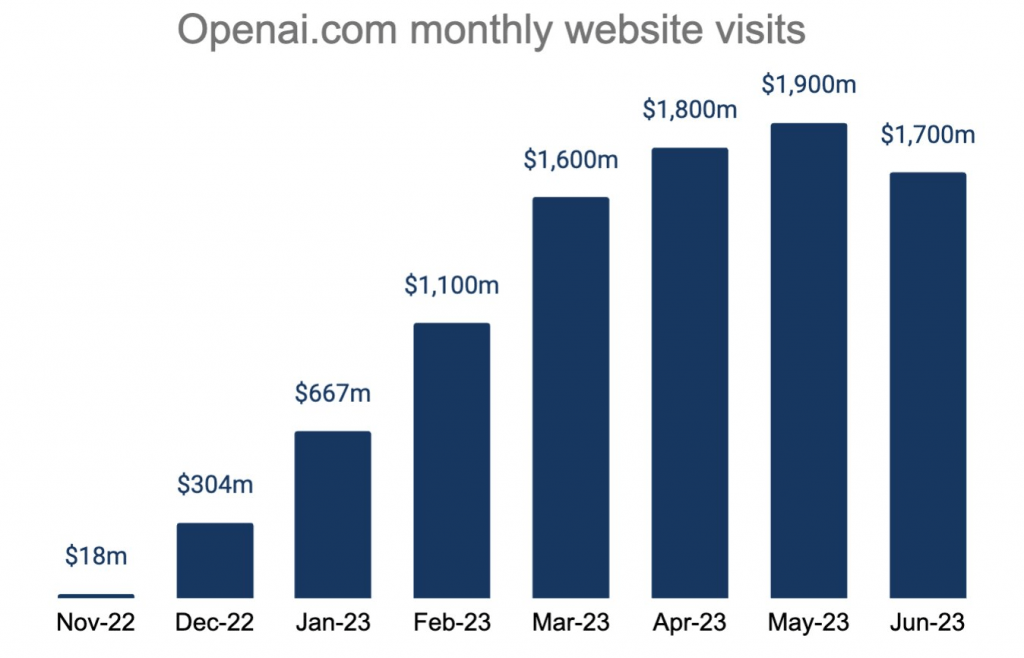 So far this year, the Nasdaq 100 is up over 30%, and much of those gains are attributable to AI-fueled optimism in the tech sector.
In fact, investor exuberance in the AI-sector has gotten so intense that the combined valuation of the top five companies in the S&P 500 has reached a historic level. Five stocks—Alphabet (GOOGL), Amazon (AMZN), Apple (AAPL), Facebook (META) and Microsoft (MSFT)—now account for 24% of the S&P 500's total market capitalization.
That's even higher than the 19% concentration observed back in the year 2000, amidst the "dot-com" bubble.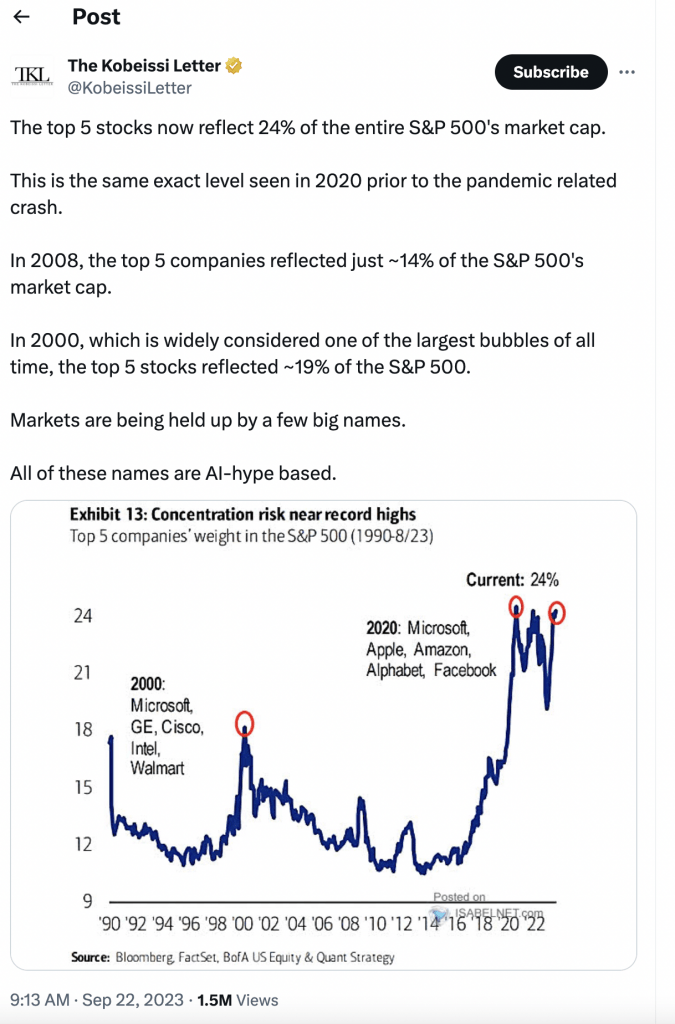 One of the other big winners from the 2023 AI revolution has been Nvidia (NVDA) which has seen its shares rise by nearly 200% year-to-date. Maybe not coincidentally, that's the same amount by which OpenAI's valuation has increased this year.
Nvidia produces chips and software that have come to represent the gold standard for training and running AI models like ChatGPT. Most estimates indicate that Nvidia now controls at least 80% of the market for AI chips. As noted by analysts at Susquehanna, "It looks like the new gold rush is upon us, and [Nvidia] is selling all the picks and shovels."
Due to booming demand for AI-focused computing power, Nvidia has seen spiking demand for its products. Nvidia shares rose by a jaw-dropping 24% in the wake of its Q1 earnings report.
However, shares in NVDA have come back down to earth in September, as political partisanship in Washington D.C. has contributed to increasingly negative sentiment in the financial markets.
That said, the current market environment doesn't appear likely to derail the forthcoming OpenAI tender offer.
Once the offering is complete, Open AI will be one of the world's top-valued tech "unicorns," along with the likes of SpaceX and ByteDance (also private companies), which are valued at $150 billion and $220 billion, respectively.
Why is OpenAI Conducting a Tender Offer and Not an IPO?
Tender offers are often associated with potential takeovers, but as evidenced by recent market activity, that's not always the case.
In a takeout attempt, a company or individual typically proposes to buy all outstanding shares for a specified price—the latter of which generally represents a premium from the target company's current valuation.
In such cases, the entity buying the shares might make the tender conditional, which means it can only be executed if the buyer is able to purchase enough shares to gain a controlling stake in the target company.
In addition to the aforementioned scenario, a company may also elect to conduct a tender offer in order to provide liquidity to existing shareholders—particularly employees and early investors. In such cases, a secondary goal of the tender is usually to try and boost the company's valuation.
In the case of OpenAI, an initial public offering (IPO) isn't expected any time soon, and this may help explain why the company elected to conduct a tender in 2023, to provide insiders with a chance to monetize some of their holdings.
This type of tender is commonly known as a "structured liquidity event," whereby existing shareholders sell their shares to other individuals and institutions that are vying to own a piece of the company. In this regard, a tender offer effectively rewards early investors and longtime/loyal employees with a chance to sell a part of their holdings.
For the aforementioned reasons, this type of offering may also be referred to as a "third-party" tender, because it involves the sale of existing shares from existing holders to new investors, as opposed to the direct issuance of new shares by the company. The latter occurs when a company conducts an initial public offering (IPO), or a direct listing.
OpenAI's situation is somewhat unique because the company originated as a not-for-profit enterprise. When the current CEO took over—Sam Altman—he steered the company away from its non-profit roots, in order to secure the capital necessary to build a competitive generative AI model (e.g. ChatGPT).
As part of its original mission, OpenAI was working altruistically to advance AI technology for the benefit of humanity. And while the company's pivot toward the for-profit world required concessions, the company has maintained some of its idealistic roots.
For example, OpenAI capped the potential returns for its first group of investors at 100 times their initial investment. That approach allowed OpenAI to access the capital it needed, while also allowing the company to internalize a greater degree of the company's future potential.
Down the road, that may allow OpenAI to offer some of its retained value to the public, as prescribed by its original mission. For example, OpenAI could make ChatGPT available to those that can't afford the monthly subscription fees. Or offer its services at a discount to some segments of the population, such as students and educators.
The company's CEO has been steadfast in his assertion that the company will not sell itself, nor offer its shares publicly via an IPO. This sentiment ties back to the company's mission to develop AI-focused technologies for the benefit of humanity, rather than focusing purely on shareholder returns.
Speaking to the unique nature of OpenAI's organizational vision, Altman said at a June 6 conference in Abu Dhabi, "When we develop super intelligence, we're likely to make some decisions that public market investors would view very strangely."
Moreover, if OpenAI was to go public via a traditional IPO, it would arguably be a lot more difficult for the company to adhere to the charitable part of its vision.
Will OpenIAi ever go public?
Does that mean that OpenAI will never officially "go public" via an IPO or direct offering? For now, that's difficult to predict.
The only certainty is that it will be increasingly difficult for OpenAI to adhere to its altruistic roots in a for-profit world, especially in the field of AI, which will undoubtedly be a key focus in the investment community for many years to come.
For the time being, it's a safe bet that OpenAI stays the course, and conducts another tender offer in 2025 or 2026. Unfortunately, that means the vast majority of investors will be locked out of owning a piece of OpenAI.
On the other hand, companies such as Nvidia are publicly traded. The list below highlights some of the other AI-focused companies in the tech sector, and is sorted according to which companies made the biggest single-day moves in the wake of Nvidia's jaw-dropping Q1 earnings:
Nvidia (NVDA), +24%
Monolithic Power Systems (MPWR), +17%
Advanced Micro Devices (AMD), +11%
Arista Networks (ANET), 11%
Cadence Design Systems (CDNS), +10%
Synopsys (SNPS), +10%
Broadcom (AVGO), +7%
Adobe (ADBE), +7%
Applied Materials (AMAT), +7%
Dish Network (DISH), +7%
Digital Realty Trust (DLR), +7%
Lam Research (LRCX), +6%
KLA Corp (KLAC), +6%
Oracle Corp (ORCL), +6%
ServiceNow (NOW), +6%
Micron Technology (MU), +5%
The bad news is that most investors can't participate in the forthcoming OpenAI offering, and won't likely be able to own a part of this company for at least the next several years, if not longer.
The good news is that there are plenty of other publicly-traded companies operating in the AI niche. And the above list provides further insight into which companies are most highly correlated with Nvidia—a company that's at the forefront of AI innovation, much like OpenAI.
To follow everything moving the markets this year, including the options markets, tune into tastylive—weekdays from 7 a.m. to 4 p.m. CDT.
Andrew Prochnow has more than 15 years of experience trading the global financial markets, including 10 years as a professional options trader. Andrew is a frequent contributor Luckbox Magazine.
For daily financial market news and commentary, visit the News & Insights page at tastylive or the YouTube channels tastylive (for options traders), and tastyliveTrending for stocks, futures, forex & macro.
Trade with a better broker, open a tastytrade account today. tastylive, Inc. and tastytrade, Inc. are separate but affiliated companies.
Hungry for more? The next issue of Luckbox is food-focused looking at new growth opportunities and trading ideas in food, beverage, agricultural, hospitality and grocery stocks. Not a subscriber? Subscribe for free at getluckbox.com.