Sad Summer Fest: Pop-punk's Having a Moment
Bands like Mom Jeans and Taking Back Sunday are bringing their energy to cities across the U.S. with the traveling festival. Think of it as a smaller, more pop-punk driven Warped Tour.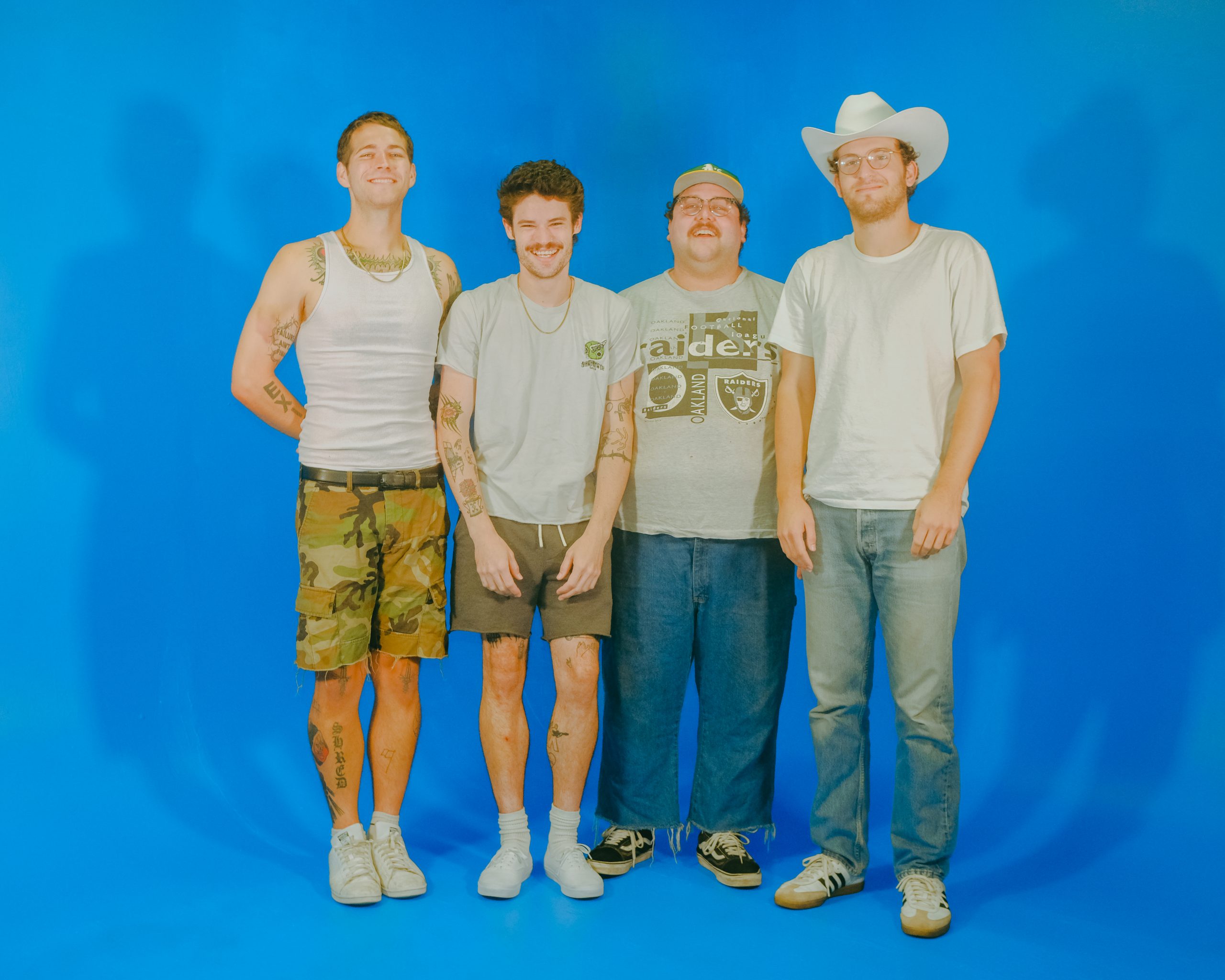 Fresh off the stage of their first set for the Sad Summer Festival, Eric Butler of Mom Jeans says it was good to get all the jitters out—though there are still some kinks for them to iron out for future sets.
It's the band's second time playing the traveling U.S. festival since Sad Summer kicked off in 2019. While the event is produced similarly to the inaugural fest, Butler says it feels different for Mom Jeans members. That's mostly because they feel like a different band than they were four years ago.
"We have a lot more experience now. It's a lot less stressful and chaotic because we have the right resources and feel more confident," Butler says.
Since their first album in 2016, Best Buds, the California band has grown up alongside their fans. Their 2022 album Sweet Tooth is a direct reflection of that.
Butler says the band members all knew they wanted a more produced and big-sounding record.
"As individuals and musicians, we all felt we'd spent a lot of time touring and writing songs together and built a nice career for ourselves. We really wanted to see what we could do next and were put in a position to make something that sounded produced and polished, and put together cohesively," Butler says.
Before releasing Sweet Tooth, Mom jeans were always a tad insecure about releasing an album like that, because their prior releases were more mixtapes than complete albums. And while Mom Jeans has garnered the guitar-driven angst of the Midwestern emo genre, the band took a more pop-punk approach with Sweet Tooth. It marked a shift.
Butler says the band tapped into late '90s and early 2000's alternative pop-rock/punk groups like Green-Day, Weezer, Blink-182, Oasis and Third Eye Blind—a super radio-friendly alt sound. Other band members including Bart Thompson and Sam Kless had more of an influence on songwriting, which Butler says played a huge role in Mom Jeans' sonic shift.
The band's maturity and latest creative endeavors solidifies what Mom Jeans means to Butler—it has always been a safe space to be creative.
"I feel like I had a voice again, being part of the music community and to be a part of the people who grew up loving this music," Butler says. "That's why we are in this band. That's our contribution. It's our way to connect with people. And everything we do together is very much an extension of ourselves."
To do that, Butler says the band is honest with themselves as members get older. He says that as they get older, they try to be real about what they want and what kind of music they're interested in. And that changes quite often, he notes.
"As you grow and get older, you change your priorities, interests and tastes. And this band over time has reflected that," Butler says. "Our music is always going to be a mirror of our lives and what we're going through and experiencing. The music will evolve, and I should hope that's what happens."
Thankfully for Mom Jeans, that sense of growing up has been easily accepted in their music community. Festivals like Sad Summer offer a niche approach to festivals, providing a safe space for fans to connect and indulge in the music they love.
Blair Aldour, director of touring for Sad Summer Festival, says the idea behind the festival was to start something that artists and fans would be excited about. She notes that every person involved in the festival has been a fan of the music for a long time, and she hopes people recognize that passion.
The traveling festival kicked off on July 6 and will run through the end of the month, hitting major cities across the country. With acts including Taking Back Sunday, PVRIS, The Maine, Motion City Soundtrack and Andrew McMahon, Butler says it's rare to get that many people together for a tour.
It's a soft approach to replacing beloved fests like Warped Tour, a traveling rock tour that toured the U.S. and Canada annually up until 2019. Sad Summer, which highlights alternative rock and pop-punk groups, provides bands like Mom Jeans space to establish a community with other musicians and fans.
"Music doesn't always feel tangible—it doesn't feel real. What even is music? It's not something you can touch or hold on to. But the relationships that people take away from these types of gatherings are very tangible and have a real impact on all our lives," Butler says.
The members of Mom Jeans met years ago while at Warped Tour, so they hope to provide that environment for other people.
"Pop-punk is special in that it has this community around it. I grew up in the scene and can't tell you how many friends I made going to shows, and I think that social aspect of this genre is what makes it unique," Aldour says. "A festival like Sad Summer is an opportunity for fans to spend the day listening to music and be around people who get why music is so sick."
Sad Summer fest aside, pop-punk has been having a moment. With the resurgence of bands like Blink-182, Paramore and My Chemical Romance, it feels like punk is back—though it never went away.
Aldour says this has pushed the genre back into mainstream pop culture, and she hopes it's an opportunity for people to be exposed to the music and inspire young people to start their own band or just be part of the community.
Butler notes how cyclical music culture is and that there has been more of a desire for punk music lately. For many who listen to and enjoy punk music, it's cathartic and comforting, and Butler notes that society is at a point where that's what people are searching for.
It's exciting for smaller punk or alternative acts, as more people are seeking out their music. But bands like Mom Jeans have to keep in mind if the wave of interest is sustainable.
"We want to continue doing this as long as it's possible, as long as it makes sense for us. It's a matter of keeping ourselves happy, comfortable and excited," Butler says.
He adds how valuable it is for fans and artists to continue seeking out and investing in music they love, and music that makes them feel good. He says some people might think that running around the country and playing silly songs on a stage in front of a bunch of people isn't useful or worthy—but it's what makes Mom Jeans happy.
"As more kids get into music and get older, I hope they can let themselves enjoy things and use that as their guiding force to build their identity, and find a community," Butler says.
__
Self-titled
Sad Summer Festival headliner, Taking Back Sunday is soaking in each moment. "We're just getting started," says bassist Shaun Cooper.
The festival is set up slightly different than what most of the bands on the lineup are used to—the larger venues hold rows of seats in addition to a general admission standing area.
If you know Taking Back Sunday, it's hard to imagine jamming out to MakeDamnSure in a seat. But Cooper says it doesn't have an enormous impact on the performance. The festival day is long, and it gives people the opportunity to enjoy it how they wish to.
"It's a little more relaxed than playing in crazy clubs, but it's fun to play these big venues and have a big production," Cooper says. "We made our set a bit more theatrical to accommodate."
The Long Island natives tend to keep their live performances diverse, but Cooper says the niche-ness of the festival is appreciated, as it gets "cool bands out from a lot of different walks of life."
In their 24th year as a band, Taking Back Sunday hope to give fans a bit of an escape from life during their shows.
"We want to make it fun and carefree and create a healthy environment for people to get lost in," Cooper says.
The band has a similar approach to making music, though they set out to satisfy themselves first. Cooper says when the four of them work on an idea, it takes on a life of its own. There's never a particular mindset to write a hard rock song, or a slower ballad, it just happens.
Cooper says it's a natural process for the band, without trying to overthink it.
"What we get from our music when we listen—it's all escapism and brings us to a certain moment and reminds us of a place in time. If our music could do that for people, that's just a bonus that goes along with it," Cooper says.
Last year, the band celebrated the 20th anniversary of their album Tell All Your Friends with a career-comprehensive 20-year album. When they first released the album in 2002, the band had no idea anything would come of it. Cooper says he expected to tour that summer and then get back home and must get a "real job"—waiting for that shoe to drop.
"When the band started, there was no idea. The more we got into it, and the harder work we put in, we started thinking, 'Hey, maybe we can get another 20 years out of this,'" Cooper says. "Now we're on to bigger and better."
For their anniversary, Cooper says they purposefully didn't rerecord any songs, because there are so many flaws that they could not possibly recreate—it gives it a certain charm. He notes that he might have been embarrassed of how flawed it is, but he's grown to love that about the music. It displays a direct progression of their growth as musicians throughout the years.
For the first time in four years, Taking Back Sunday released a new single, The One. And the nerves that come with releasing new music never quite goes away.
"There has been so much time in between releases that it's very intimidating," Cooper says. "And we've changed our sound significantly with this one. We weren't sure what people were going to think, especially since our last full-length album came out in 2016."
It was the band's first time working with producer Tuschar Apte, and he brought so much to the table musically that he took their sound to a different level. Cooper says that the band has such different personalities, ideas and tastes, but they all agreed that Apte was perfect for getting them the sound they wanted. He says at first, they were worried they took it too far, but the response has been a positive one.
"If our music is connecting with us, we like to think that it's going to connect with people who enjoy our band and beyond," Cooper says.
Kendall Polidori is The Rockhound, Luckbox's resident rock music critic. Follow her reviews on Instagram and Twitter. @rockhoundlb