Taipei Houston Bring Alternative Influences To Punk Metal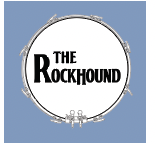 The Beatles, Stones and Zeppelin were awesome—but rock lives on. Why not break out of the classic rock cocoon and give new rock a chance? Rockhound is here to help. Think of it as a bridge from 1967 to today
and beyond.
Breaking into their own angsty punk metal songs, the Ulrich brothers—sons of the legendary Metallica drummer Lars Ulrich—ignited the screaming fans bunched around a Lollapalooza Chicago stage facing Lake Michigan. They played a full set of originals despite having only one single streaming.
Bassist-vocalist Layne Ulrich has a rapid, raspy voice. He sings energetically with quick facial expressions and tongue movements (similar to Lars) in between lyrics. The other brother, drummer Myles Ulrich, puts his entire body into percussion, his long curly hair flopping about in different directions. They are Taipei Houston.
If you didn't already know they were the sons of Lars, you'd be able to tell after watching two seconds of their live set. But, they're also much more than that.
"We know that stuff is obviously going to come up. The only way out of it, is through it," says Myles backstage at Lollapalooza the morning after their July festival performance. "We just want to find our own voice and are trying to shape Taipei Houston as having its own identity and its own kind of creative atmosphere."
The two grew up in a musical environment with their dad but also came of age experiencing San Francisco. Myles says it's an intensely creative community, where they went to school with musicians and found their interest in music by playing with friends.
"I was never pushed by anybody to do music," Myles says. "I feel like I discovered it myself, which is a great thing because then when I really got into it, I felt like it was something that was my own."
Layne adds that despite growing up around influential music and musicians, it has always been a separate thing for them. It's been more about finding their own way.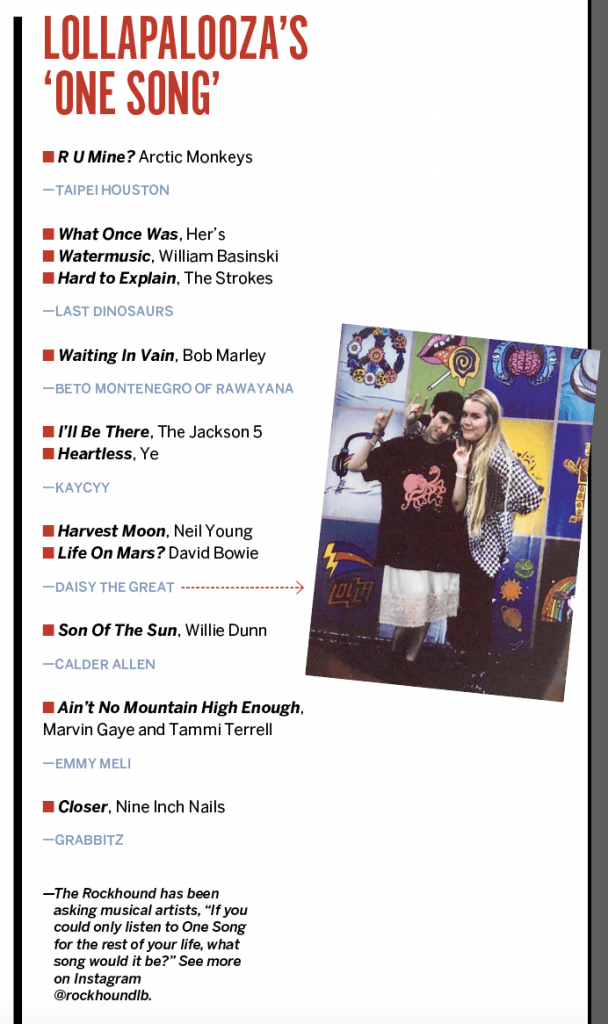 Much of that can be credited to their favorite band, Arctic Monkeys. Layne and Myles vividly recall hearing Arctic Monkeys' first album Whatever People Say I Am, That's What I'm Not when it first came out in 2006, when they were just 5 and 7 years old—and more specifically, the song From The Ritz To The Rubble. Although not as apparent in their own music, the brothers say Arctic Monkeys have had the most influence on them as musicians, mainly because each of their albums feels like a new era.
"With them, and also Radiohead and Jack White, each thing they do is so distinct, and they really are not afraid of [not] getting stuck in the things they do," Layne says. "That's one of the main things we think about—especially right now being a duo—not being afraid of pushing boundaries and branching out in different ways."
In their latest single As The Sun Sets, Layne's fuzzy, heavy bass is reminiscent of Jack White's guitar work. But Myles says they come from a multifaceted place where their music is inspired by performers like Billie Eilish and Kendrick Lamar, and they hope to show more of those influences in their future work. The key is to keep listeners engaged.
Taipei Houston was born in the pandemic, when Myles and Layne were in lockdown together at home. They've played music together for years, but the time inside allowed them to really focus on sitting down to play, sing and mess around on different instruments together. They also had more time to listen intently to music that spoke to them but also to the music they were creating.
"It's definitely exciting to finally share with people the recordings because we've been playing our songs live for [over a year now] but haven't had anything recorded. So it's a breath of fresh air," Myles says.
In the recordings, their modern take on punk metal shines through with loud and heavy instrumentation despite having only one bass and drums—similar to Royal Blood. But their live performance is where their character truly shows. For them, it's about keeping music experimental, energetic and, ultimately, fun. The smiles on their faces on stage are the proof.
Start with
Taipei Houston's single As The Sun Sets, and you might hear a fuzzy guitar sound similar to Jack White's style. That's the key to experimentation—it's all in what pedal and equipment you use.
Pay attention to …
how layered the song sounds with only two instruments. The duo uses every inch of their gear and builds off one another. Layne's vocals also add to the energy of the song because he's essentially screaming—but in a controlled way that doesn't overpower.
Lollapalooza Honorable Mention: IDLES
Joe Talbot's face burns a fiery red. The veins in his neck protrude, and sweat trickles down his temples in a consistent stream. He leans forward, talk-like singing and screaming in his own British-punk way, looking straight into the crowd as though he's talking directly to them. The lead singer of British rock band IDLES doesn't look mad though—he's amped up.
An IDLES show is like attending an intense CrossFit workout with nonstop movement, only a bit angrier and more emotional. The first song of their Saturday night Lollapalooza Chicago in July set sent fans into a massive mosh pit frenzy. Some felt the music compelled them to move, but others couldn't help but just stand in awe, watching the wildly exuberant production on stage. Every single member of the band never once stops moving.
The guitarists stomp around on stage, flipping their long hair and running into the photo pit before jumping into the barricaded crowd. Talbot, on the other hand, whips and twirls his microphone around like a jump rope and shakes his hips to the high-speed rhythm.
IDLES are live musicians at their best. They not only know how to play aggressive heavy punk rock but also know how to do it in an inviting way. Their shirts are soaked in sweat, and their floral dresses are falling off their broad shoulders. Yes, floral dresses are punk.
With lines like "Fuck the queen," IDLES take punk to a different level. But at the core, they celebrate music through community, pleasure and, above all, love—making note of the power of being a lover, which Talbot says is "being open to offering a shoulder to someone else."
In short, IDLES rock hard and play their instruments as though they won't get a chance to play ever again. They also know how to deviate and sing Since U Been Gone by Kelly Clarkson because it's catchy and why the hell not sing it.
Kendall Polidori is The Rockhound, Luckbox's resident rock music critic. Follow her reviews on Instagram and Twitter @rockhoundlb.