Fiverr connects freelancers and gigs with Amazon-like efficiency, one of the reasons so many new freelancers aren't looking back.
Amid a harsh economic landscape, where Covid-19 jeopardizes lives and livelihoods around the world, freelancing has emerged as a much-needed beacon of hope for skilled workers.
In the United States alone, tens of millions of people are without work following what the World Bank forecasts will go down in history as the deepest global recession since World War II. Nearly 32 million people claimed unemployment benefits for the week ending July 4, according to the Department of Labor. That number was less than two million for the comparable week in 2019.
Still, many refuse to accept the newfound hardships, instead turning to freelancing sites, such as Upwork, freelancer.com and Fiverr, to put their skills and talents to work.
Freelancer.com reported an increase in the number of jobs posted between Q1 and Q2 of 2020 to the tune of over 25%. An Upwork study indicated an estimated 50% rise in freelancer sign-ups since the pandemic hit. Fiverr, too, set record numbers in past months for freelancers joining its platform and creating new gigs.
But the growing workforce of freelancers predates the pandemic. According to Upwork and Freelancers Union's sixth annual Freelancing in America study, the share of full-time freelancers was 17% in 2014, and by 2019 it had grown to 28%. A total of 57 million Americans freelanced in 2019, or 35% of the U.S. workforce.
Those who have spent a considerable amount of time freelancing know that no two platforms are the same, each with its own advantages and drawbacks. Fiverr's approach, namely its service-as-a-product model, sets it apart from the competition in ways many users of the site, both buyers and sellers, find beneficial.
"We've productized these services," said Brent Messenger, vice president of public policy and community engagement at Fiverr. "And so there's a catalog of services that you could go through, and it's like shopping on Amazon."
Essentially, freelancers on Fiverr create listings for their services detailing exactly what they're willing to do, how long it will take them to do it and what they charge for completing the job. Many listings feature packages or add-ons to custom tailor the services further.
Unlike many other freelancer-hiring platforms, Fiverr's bases prices on providing flat totals for completed work, as opposed to hourly rates, simplifying the process for businesses.
"It's starting with a scope of work up front, and you can work backwards from that," Messenger told Luckbox.
Structuring the platform that way makes hiring freelancers a straightforward process. Instead of posting jobs, waiting for proposals, sifting through them and ultimately negotiating with the best applicants, business owners can search for exactly what they're looking for, compare rates and book a gig all in the same day.
For the freelancers, gone are the days of searching through job listings, applying to a handful that match their expertise and hoping they'll be lucky enough to be selected for the gig. On Fiverr, the jobs come to them.
It's not surprising then that along with the shift to working from home came a growing shift to freelancing, a business model built upon working remotely, customizing rates and choosing to take on as much or as little work as one's schedule allows. While Fiverr doesn't track the number of part-time versus full-time workers, anecdotal evidence suggests it's more than possible to earn a competitive full-time wage freelancing.
"We can see in our data that there are many people on the marketplace who've earned more than a million dollars," Messenger said. "There are people who start a gig, and six months later they've earned $100,000—and there's just a lot of volume."
But with so many workers flocking to freelancing sites in recent months, one can't help but wonder if market saturation is becoming an issue. Is there room for new freelancers to find success on a platform like Fiverr? According to Messenger, the number of buyers has been growing along with the number of sellers.
"As companies were experiencing the shelter-in-place, they still continued to have needs, and frankly, many more businesses are finding that they have needs that they didn't know," he said. "It's been a pretty balanced growth process."
Messenger added that as new people join the platform, Fiverr tracks their behavior to see if it differs from other cohorts on the site. Buyers who came on during the early stages of the pandemic, he said, have been behaving in the same ways as previous buyers in terms of site visits, repeat buying patterns and the amount of time between visits.
Of course, making the shift from traditional nine-to-five work to freelancing can be a daunting undertaking, especially for those with no prior experience in the freelance market. For potential freelancers looking to get started, Messenger recommended exploring the site and taking a look at the opportunities.
"People don't realize how many of their side talents are being monetized by other people on Fiverr," he said. "There are thousands of things being done, and I know for sure, it's almost like everyone I know has a skill that could be sold."
Secondly, and probably more importantly, he added, is taking full advantage of the platform's onboarding training.
"Not everyone takes advantage of it, but there's a training program that's available that shows you exactly what you should do," Messenger said. "It even gets into the details of the advantages of using headshots, what kinds of graphics you should use, how you should craft your descriptions of your services and all the details that would set you up for success."
As the shift to freelancing continues, freelancers willing to do everything in their power to succeed will set themselves apart. As with any job market, competition on Fiverr—and other freelancing sites—exists on a spectrum. For those seriously considering freelancing, Messenger offered the following parting wisdom:
"Be prepared to be responsive—it's really important. It's like a lot of other gig platforms: You want to respond as quickly as you can, you want to have clear communication, you want to be friendly. Write with a smile on your face when you're responding to things because it really comes through."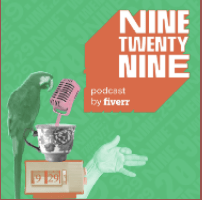 Fiverr's Podcast
Called Ninetwentynine, because each episode runs exactly nine minutes and 29 seconds, Fiverr's podcast is geared toward entrepreneurs and businesspeople looking to learn from others who have found success in their respective fields. Each episode features a different guest, or guests, and explores a rule they abide by for their success. From "Hire the right people" to "Be kind to yourself," the rules may seem straightforward, but take it from the guests, that doesn't make them any less important. The entire first season of the show, comprising 15 episodes, is available for listening now.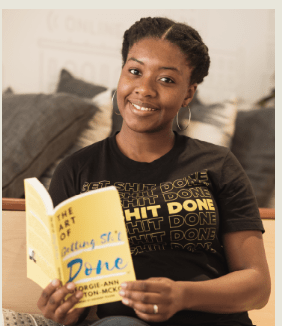 A Fiverr Buyer
In 2014, Georgie-Ann Getton-McKoy needed a logo for one of her early startups. She liked the work of a designer she followed on Instagram, and when she reached out to commission him, he asked her to book the gig on Fiverr.
That was Getton-McKoy's introduction to the platform she says has seen her through her career.
Getton-McKoy, 25, of Freeport, N.Y., works as a virtual event strategist at GSD Solutions, helping clients produce virtual events and build out virtual content. On any given day, she could be building landing pages, managing graphic design work, creating social media posts or executing virtual events.
"Before Fiverr, I was doing all these tasks on my own and just kind of figuring it out," she told Luckbox. "But Fiverr was the first place I hired external freelancers."
Now she finds herself using the platform at least once or twice a month, oftentimes more when steady client work is coming in. She said her favorite part of booking gigs on Fiverr is how easy the whole process is.
"It's very clear and concise, from the pricing model and structure to how you reach out to folks that are freelancers on the platform," Getton-McKoy said. "You can see the reviews they had, you can see feedback they've received, samples—so it's just a really clear, easy one place to handle everything."
Besides hiring freelancers for her business, Getton-McKoy has used the platform to format her book, The Art of Getting Sh*t Done.
"That was a really powerful moment for me because that was the final stage in self-publishing," she said. "It just really felt like somebody else took my work that I've put so many years and so much time into and just really added the icing to the cake."
Getton-McKoy said that for established businesses or entrepreneurs just starting out, the Fiverr platform can grow along with them.
"I'm able to go in and work with somebody and then build out relationships with the people that are working there," she said. "So it's just been a great experience from early stage to now using Fiverr folks."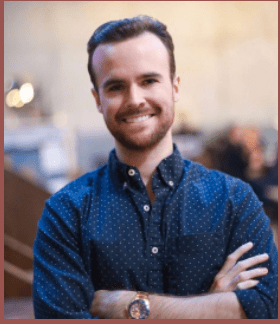 A Fiverr Seller
When Billy McIntyre graduated from college, he found himself at a crossroads. His degree was in English literature and classics, and he was working for a major life insurance carrier—a job he wasn't too enthused about continuing.
"It was kind of the situation where, 'OK, now I can go back and I can go get my Ph.D., or I can figure something else out,' " he told Luckbox. "Fiverr was something else."
Based in Las Vegas, 30-year-old McIntyre has been doing freelance writing work on Fiverr since 2015. In that time, he's earned over $300,000 selling his services, which he says account8f0202s for well over 95% of his income.
Having completed over 10,000 orders, McIntyre, who has "Pro Verified" status under the username Bingeclock, has explored many different genres of writing. From articles to whitepapers, short fiction to ghostwriting clients' memoirs, "You name it, I've written it," he said.
"Writing was always the end goal," McIntyre added. "That's my passion—that's what I love to do—so it all really worked out very quickly."
He fulfills between 30 and 40 writing gigs a week, each paying between $90 and $1,000, depending on what the job entails. Having fulfilled orders in many different countries, McIntyre said he likes that Fiverr caters to a global community.
"It's making the big world a smaller place," he said. "I think that's the wonder of the internet: It's a democratizing force, and I think that Fiverr is leading the way in that sense."
For new freelancers looking for advice, McIntyre stressed the importance of jumping into it and loving their work.
"The No. 1 thing that people should realize if they want to get into creative work, freelancing, anything like that, is that you are working with people on something that is their heart, this is what they love," he said. "If I'm working with you, and you're having me write something about it, that is my passion. As long as you and I are working together on it, then that's my passion."
The resilience of the platform, he added, is all the more reason for would-be freelancers on the fence to give Fiverr a shot.
"It can be there for people when the old ways of doing things are not necessarily working out," he said. "It's worth people getting involved in it—it's worth people supporting it because I think it's the way of the future."
Fiverr's Options
After the initial shock of the coronavirus smashed the equity markets in February and March, sending them crashing and putting tens of millions of people out of work, the quarantine economy that followed provided obvious benefits to stocks that leaned toward the internet, such as Amazon (AMZN), Facebook (FB) and Apple (AAPL), to name a few.
But while some of those stocks are higher now compared with before the coronavirus, none has yet matched the performance of Fiverr (FVRR). After its IPO in June 2019, Fiverr noodled around the 20 handle until early 2020. Then, when people realized they could monetize their time and talents while staying home through Fiverr's platform, the stock surged from $22.94 on April 3 to $80.60 on July 28, an increase of over 250% in less than four months.
In statistical terms, that rally was the equivalent of 4.67 standard deviations, based on Fiverr's implied volatility on April 3. Looking forward from April, that massive rally would have had a teeny-tiny probability of happening, on the order of 1.5e-6. But Fiverr managed to pull it off.
The question now is where it will go from here. While it has had a big run up, the past is not prologue when it comes to stocks. It could continue to rally or drop back down.
Fiverr's options can offer a clue about what the market might be thinking. Looking at out-of-the-money calls and puts in the October 2020 and January 2021 expirations, calls are trading over the value of equidistant out-of-the-money puts.
That means the market sees more risk to the upside in Fiverr. That's somewhat unusual in equity markets, which usually fear a big drop in price rather than a big rally. That's not to say Fiverr will keep its rally going, but the options markets are indicating it might happen. —Tom Preston