Norm Pattiz built Westwood One, the nation's largest radio network, before turning podcasting power player at PodcastOne
In 1976, National Radio Hall of Famer Norm Pattiz founded a radio syndication company that grew to become Westwood One, the nation's largest radio network. He started Launchpad in 2012, which a year later became PodcastOne. His podcast network offers more than 300 shows, with stars that include Adam Carolla, Kaitlyn Bristowe and Shaquille O'Neal. Luckbox sat down with Pattiz to get a better understanding of what's transforming radio into podcasting.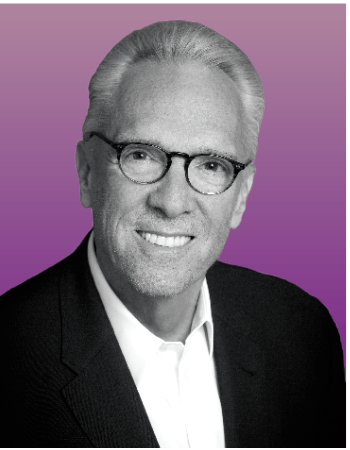 Why is radio evolving into podcasting?
It's a logical evolution. Before the advent of television, radio was the medium for programs.
Radio had to alter its programming because television became the dominant medium of programs. The programs that people listened to were now programs that they would watch. And that prompted the advent of formatic radio—much more narrowly focused, much less network oriented, more locally oriented, with styles of music that appeal to a particular audience. Really, with the advent of "narrowcasting" radio began to thrive.
As a local medium, radio grew every single year for 30 years. My background was not radio. My background was television—television as a medium of programs. So, in starting Westwood One as a syndication company, I didn't know the rules, and I couldn't be limited by them.
For instance, you don't put a radio show that's focused toward blacks on white Top 40 radio stations. My first radio program was a 24-hour special called The Sound of Motown.
Now, to me, Motown was pop music. I didn't look at this as particularly ethnic, but a lot of people in the radio business did. But because I didn't know what you don't do, I did it anyway.
Fifty percent of the radio stations that carried The Sound of the Motown were big honkin' Top 40 AM radio stations at the time. I managed to get three major national advertisers whom I knew from television interested in the project, and they sponsored it. And then, after the conclusion of that particular project, I thought, "There's a business here."
Each of the three national advertisers liked its experience in The Sound of Motown, so we set about producing individual syndicated radio shows for each of those three advertisers. One program led to another, and we basically found a formula for providing radio stations with special programming and the kinds of things that differentiated them.
We had a pretty open playing field at the time,and made a point of developing programming in every category that advertisers wanted—which is something that we've carried through today with PodcastOne.
How large did Westwood One become?
Westwood One had gone from grossing $200,000 a year off of the single program, The Sound of Motown, to a company that was approaching $600 million in annual revenue. So, it grew rapidly and became a public company. And at its peak market cap of that company—and remember, this is 30 years ago, right—was approximately $4 billion.
After that extraordinary success in terrestrial radio at Westwood One, you have returned with PodcastOne. What caused you to sit out of the satellite radio boom?
I didn't think that satellite radio's moment would last very long. I saw what was going on in general and in the very, very early stages.
Satellite was primarily a music service, and I just didn't have a lot of confidence that the satellite delivery of programs was going to be as potentially successful as the satellite delivery of music. And I think that turned out to be pretty right.
You certainly turned out to be right. What explains the plateauing of satellite radio?
Competition. There are now more and more platforms where you can get satellite listening. And then, of course, there's competition from digital platforms. Satellite radio in cars was a help, but if you've got Bluetooth, it's way easier than navigating the entertainment unit in your car.
What's your forecast for satellite radio five years out, particularly Sirius XM?
Well, I think we see the handwriting on the wall—they realize that the markets they have been serving are declining, and that a lot of that audience is moving over to digital delivery of different types of programming, especially programming that's either live or on-demand.
When did you decide to apply your experience to digital podcasting?
In 2011. I had retired as chairman emeritus of Westwood One, and I had no plans of getting back into the business. But Westwood at that time asked me if I would maintain a consultancy or a boutique radio operation so that talent so closely associated with me over the years would have a better chance of staying at Westwood One.
It was a company that I had founded, and I wanted to do things that were right for the company. While I was doing that, a mutual friend, Eric Weiss, who's a lawyer in the entertainment business, introduced me to a young man named Kit Gray, who is the president of PodcastOne now, and we had a conversation about podcasting.
He was representing several broad podcasters to advertisers from his apartment in Marina Del Rey with his dog. And it was a very, very nice dog. I've met the dog. I'd be happy to throw the ball to the dog or play with the dog. But the dog was really not producing anything else.
So, after my conversation with Kit, I thought, "Well, geez, this is just Westwood One for the digital age without having to filter your programming through a radio station," which meant eliminating thousands of radio station program directors! That sounded good to me.
So you saw this as a more efficient, streamlined way to deliver the same product with lower cost?
Well, not only the same product, but much more product. I mean, you look at podcasts today, some of the most successful would never find their way into a format on a radio station.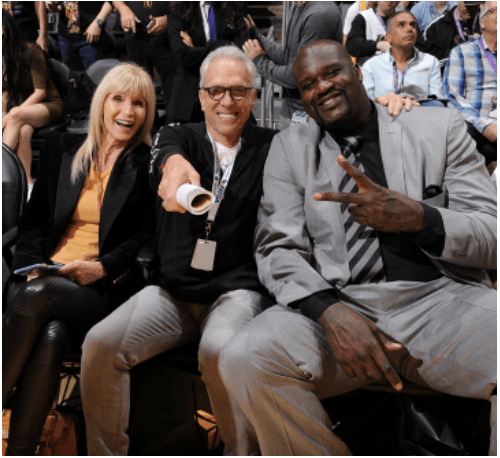 So, in a week, Kit and I had formed PodcastOne. I didn't need anybody to fund it. Westwood One had been very good to me as a public company. So, I funded it myself, and it was just the two of us, but we were in business. And, a large part of the story of PodcastOne was telling the story of Westwood One, and we went out and explained it to a lot of people.
We made sure that before we went to a single advertising agency that we had programming in every category that you can find on what was then iTunes, now Apple Podcasts, so that when we went in to present the medium—because the medium in so many ways sold itself—we didn't want to have them ask for a category of target audience that we couldn't reach.
We spent a good amount of time making sure that we either produced or represented programming covering every category, and the growth has just been exponential ever since.
What does PodcastOne look like today?
We've got over 300 premium podcasts. On the PodcastOne site we have nearly 1,000 podcasts on our free service to small podcasters called Launchpad, and last year we were downloaded in excess of 2.1 billion times. That is not unique listening, but it's tens of millions of unique listeners, in all categories.
So, our reach is tremendous. We have the right to promote anything that's on the network in our network programs and unsold inventory. So, for a podcast partner, it's a big plus to be promoted to the podcast's specific audience we reach. I mean, it's probably safe to say that anybody who's ever listened to a podcast is listening to something on PodcastOne.
What can you tell us about revenues?
In the acquisition of PodcastOne by LiveXLive, which just closed a couple of weeks ago, they announced that there was about $27.5 million in revenue.
Where do you see the current podcast industry relative to the development of Westwood One in terrestrial radio? Where are we now?
Oh, maybe the second inning.
About 75% of Americans have heard of podcasts, and 55% have listened to at least one. That implies a lot of upside.
Correct, and I don't think podcasting has hit its inflection point. Let me speak to it from the standpoint of advertisers' support. We won't hit our inflection point until podcasting is a line item on every major advertiser's budget for the year. When network radio finally became a line item among most of the major national advertisers, the size of the business tripled overnight.
We liked doing this deal with LiveXLive because they're a video streamer of mostly music events. And in spite of Covid-19, they have really grown significantly because they've been doing concerts and performances from people's homes and digitally.
Another reason we like this deal is because it puts us in a different place relative to our podcast competition. It puts us in a space that we like to call my "vodcasts" because now we're going to be able to provide streaming and on-demand content with both audio and video to our consumer base, which is not something at present that any of our competitors do. That's third inning, and it may even put us in a different ballgame—evaluating the growth of our podcast business versus the growth of our vodcast business. We may be evaluating them differently, if you get my drift.
Look, this is the digital age. It's just moving so fast. I thought when I launched Westwood One that I was going to get my track shoes on and really start moving. You know, this is moving quicker, and in many ways it's much more exciting.
Where did all these new podcast listeners come from? What form of entertainment was the loser?
Well, I think the easiest way to define the loser is what were traditional broadcasters, traditional networks and even traditional local stations, be they radio or television.
But Gen X, Gen Z and millennials weren't really listening to either terrestrial or satellite radio. And, we all have only so many hours of entertainment time that we can allocate.
That's a very astute comment, and not one that I've heard from very many people. Podcast audiences really grew organically. And it was podcasters talking to podcast listeners, and more and more podcast listeners finding more alternative programs they would like to listen to in addition to their favorite podcasts. That's really responsible for the growth of podcasting.
So the medium has changed consumer behaviors, and created new listeners?
Well said.
What about the price of The Joe Rogan Experience acquisition?
He is getting all that money, and he's not even selling the program. So it's a great deal for Rogan. And it turns out to be a great deal for Spotify if what you're concerned about is stock price, because the stock went way up on that announcement.
It signaled that Spotify was no longer going to be totally dependent on music and formatted subscription business by bringing in a top podcaster. I'm not sure that it's going to turn out to be profitable, but when you're a big company like Spotify, stock price has a lot to do with it.
Ad spending on podcasts is around $500 million, and it's more than $17 billion for radio. What do you expect radio to look like in three to five years?
Well, radio is not going away, but I don't think it's going to continue the way it has. If in three to five years radio is still doing what it is doing today, they will consider that a success.
There is no reason why podcasting by itself can't become a multi-billion-dollar space—no reason at all. It's really hard to predict because of the nature of digital, but I'm very obviously bullish. The deal that we did with LiveXLive is all stock, and the value of the stock has already doubled.
And are you staying in your role after the acquisition?
Yeah, the last time I looked I was the second largest individual shareholder in the company, not counting institutions and so forth. And part of the deal was me signing a two-year contract to remain, which I was happy to do.
What do you think of the mess with Barstool Sports' Call Her Daddy?
That's not a mess. That's the format. That's a format that everybody wishes they could duplicate. That's the best marketing you could possibly have.
We had exclusively represented Barstool Sports for several years—controversy is the name of their game. So yeah, it may look like a shitstorm to a lot of people, but to their core listeners, this is their meat. They know how to make lemonade out of lemons better than anybody I've ever seen in this business.
We'll close on that note. We wish you continued success.
Well, it's been a joy to talk to you guys, and we will be talking again, I assure you!
PodcastOne Teams Up with LiveXLive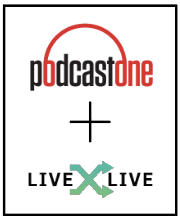 LiveXLive (LIVX) finalized its purchase of PodcastOne in July, and the two entities are planning to launch a vodcast network called "VodcastOne" to produce and market video podcasts.
When the two entities announced the upcoming acquisition in May, they were already collaborating on two special vodcasts featuring Adam Carolla. Both shows generated record-breaking viewership of more than 1.1 million live streams per event.
LiveXLive operates a platform for live streaming and on-demand audio, and it offers video and podcasts devoted to music, comedy and pop culture. It maintains a live events business and offers branded entertainment, content development, advertising and merchandising. PodcastOne, a subscription and advertiser-supported podcast network, provides a home for star-studded podcasts in genres that include sports, comedy, celebrity culture and entertainment.
PodcastOne's founder and executive chairman, Norman Pattiz, is joining LiveXLive as a significant shareholder and will remain in his role at PodcastOne.