No End in Sight
Movie Theaters Bounce Back
Movie tickets are expensive, and alternatives are plentiful, convenient and cheap. But the year 2018 became a banner year for the American movie theater industry just the same, with the number of movie tickets sold increasing 9.8% from the year before to 1.35 billion tickets, according to movie data provider The Numbers.

That represented the largest increase in the number of tickets sold since 1996, and It felt like a glorious triumph for the industry. Still, ticket sales a year earlier, in 2017, had been the worst since 1995.
And that 9.8% bump in 2018, relative to the previous year's anemic ticket sales, failed to bring the industry back to 2012 levels. Sales remained 15% below 2002 and still fell short of 1997.

In terms of per-capita ticket sales, the industry sold 5.4 tickets per person during the record-breaking year 2002, when the U.S. population was 288 million. By 2018, when population reached 327 million, per-capita sales had declined 24% to 4.1 tickets. That's the brick-and-mortar meltdown for the movie theater industry, which is losing out to digital competition.

When it comes to dollar sales, the industry introduced a truly novel concept in 2018, one it hadn't tried in at least 22 years: Theaters didn't increase the average ticket price!

Maybe someone finally figured out that if you keep jacking up prices, sooner or later people will switch even more rapidly to digital alternatives. The average ticket price remained at $8.97.
Movies, by the numbers
Average ticket prices are in red, and ticket revenue is in black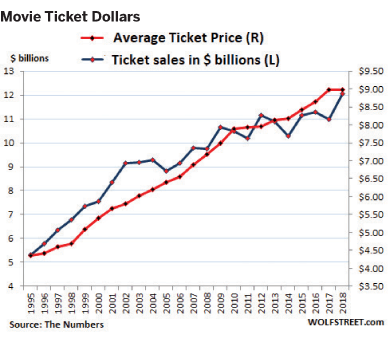 Buy Me a Ticket
By 2018, per-capita sales had declined 24% to 4.1 tickets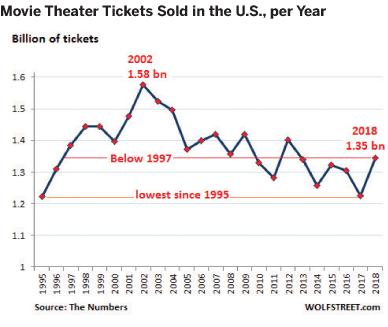 A Matter of Geography
Depending upon where people go to the movies, results vary. For example, a typical movie at an AMC theater in San Francisco might set a moviegoer back about $14 a ticket. But members benefit from "$5 Ticket Tuesdays" and other discounts. In other parts of the country, movies offer a much better deal even without discounts.
If a family of four goes to the movies and pays the average ticket price, it cost roughly $36, not including the transportation and snacks. Compare that with the nominal cost of watching digitally via any one of numerous platforms on a laptop or big-screen TV at home.
Despite that price differential, the industry could take solace in one fact. With last year's 9.8% increase in the number of tickets sold, compared with the previous year, flat ticket prices resulted in a 9.8% rise in revenue to an all-time record of $12.1 billion.
Even though the number of tickets sold in 2018 was down 15% from 2002, dollar sales were up 32%. That's because the average ticket price had soared 54%, from $5.81 to $8.97. Hallelujah, inflation! In dollar terms, inflation covers up a lot of sins.
Winners Save Face
People still go to the movies. And in a year with a few big winners, the whole industry looks better even though many studios are still limping along.
In 2017, the top four movies grossed $1.82 billion. In 2018, the top four grossed 32% more: $2.4 billion — or 20% of total ticket revenues.
Ultimately, whether the industry has a good year or a lousy year depends on just a handful of flicks. This year Disney's "tentpole" releases could make or break the stats for the industry as a whole despite the structural decline that saw per-capita ticket sales plunge 24% since 2002.
---
Wolf Richter
, editor in chief of
wolfstreet.com
, writes about business and financial issues with an eye toward exposing shenanigans, entanglements and opportunities. @wolfofwolfst