The Forex FAANG Trade
Intraday declines on tech giants can indicate a short dollar-to-yen trading opportunity
FAANG stands for a collection of popular tech and communication companies that have changed the way most people live. The acronym comes from Facebook (FB), Amazon (AMZN), Apple (AAPL), Netflix (NFLX) and Alphabet (GOOG).
These companies, with the exception of Netflix, rank among the Top 10 most-valuable publicly traded companies in the world. Apple, Amazon and Microsoft, which is not a FAANG member, have recently rotated in and out of the No. 1 spot. In August 2018, Apple became the first U.S. company with a $1 trillion valuation and the world's most valuable publicly traded company. On Dec. 3, 2018, Amazon surpassed both Apple and Microsoft for the title before yielding it back to Microsoft.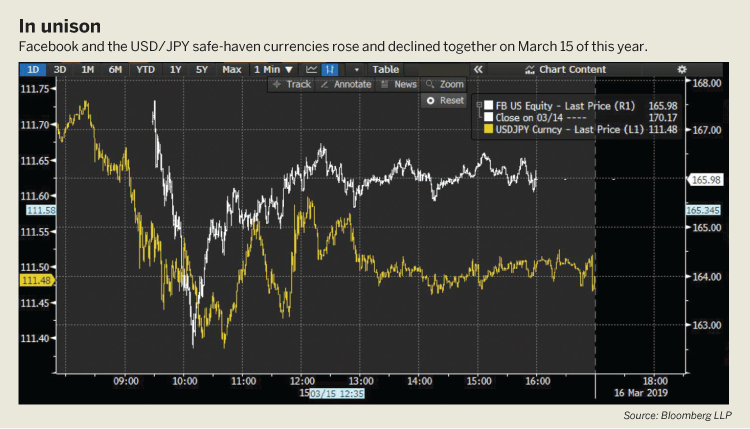 Because of their popularity and market capitalizations, FAANG stocks can individually or collectively set the trading-day tone for U.S. equity indexes. Take the example of March 18, 2018, when news of Facebook's Cambridge Analytica scandal led equity markets lower. The same thing happened with Apple's Nov. 1, 2018 announcement of a disappointing holiday season forecast and news that it would stop reporting how many iPhones it sells.
This is where macro trading comes into play. Moves lower in U.S. equity markets can affect safe-haven currencies – the U.S. dollar (USD), Swiss franc (CHF) and Japanese yen (JPY). Safe-haven currencies tend to strengthen in times of risk-off sentiment. Looking at the charts, USD/JPY has responded to intraday moves lower in FAANG stocks. The safe-haven JPY can appreciate versus USD when FAANG stocks fall intraday.

In a recent example of this phenomenon, Facebook shares fell 2.46% on March 15, 2019, as Facebook announced leadership changes caused by a shift in strategy. USD/JPY moved lower as well – in other words, JPY strengthened versus USD. (See "In unison," below.)
On Dec. 4, 2018, Apple shares fell approximately 4.4% as market participants fretted about iPhone sales. USD/JPY moved lower as well – meaning that JPY strengthened versus USD. (See "Twins," right.) Notice that toward the end of the New York trading day session on the chart – selling seems to accelerate for Apple into the close, but USD/JPY stalls, trading mostly sideways. That's because FX trading usually slows ahead of Asia open, as liquidity is lower until Singapore starts its trading day.
When a FAANG stock is down heavily at the trading session open, investors should monitor USD/JPY intraday price action for opportunities to short USD/JPY.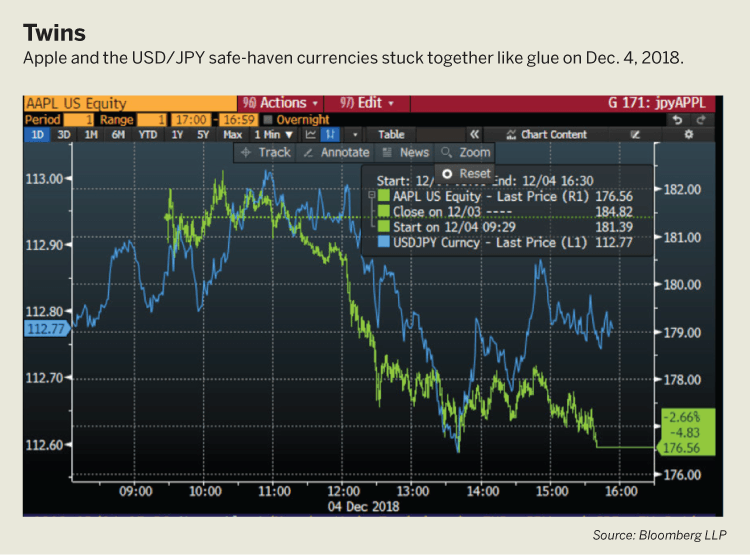 ---
Amelia Bourdeau is CEO at marketcompassllc.com, an advisory firm that provides global macro education and trading strategy to investors at every level. @ameliabourdeau