Streaming Goes Mainstream
A ghostly silence prevails in most of the nation's bars, stadiums, theaters, museums, nightclubs and amusement parks. Americans are staying home in droves, attempting to curb the spread of Covid-19.
And to fill the resulting void in their lives, many are turning to their favorite streaming services. Luckily for those sheltering in place, there's never been a better time to be overwhelmed by the volume of streaming content that's available.
During the past year, new contenders have proliferated in the streaming industry, spoiling viewers and listeners with a staggering volume of possibility. Would-be subscribers could hardly keep up with the choices.
But consumers can do more than just subscribe—they can invest. Public firms own and operate most major video streaming services, providing a chance to partake in the profits of favorite content providers.
Note that larger companies own most streaming services, and their streaming divisions represent only a fraction of the total business. Thus, any investment in those firms serves as a partial, indirect investment in the streaming service. That's not inherently negative, given that potential profits (and losses) are tied to the success of a larger portfolio of the company's business and not just the streaming division.
Netflix
Conversely, any capital allocated in Netflix (NFLX) is a direct investment in their streaming platform. After an initial slump along with the rest of the market in early 2020, Netflix shares soared back to all-time highs, over $200 billion in market cap.
Nextflix reached those lofty heights by pivoting from mail-order DVDs to streaming and then pivoting again to produce original movies and series. But nothing's guaranteed.
While investors pile into Netflix, new contenders are trying to eat into its market share. Potential investors may want to wait for a pullback before jumping into Netflix given the number of industry analysts who believe the stock should be priced as low as $200.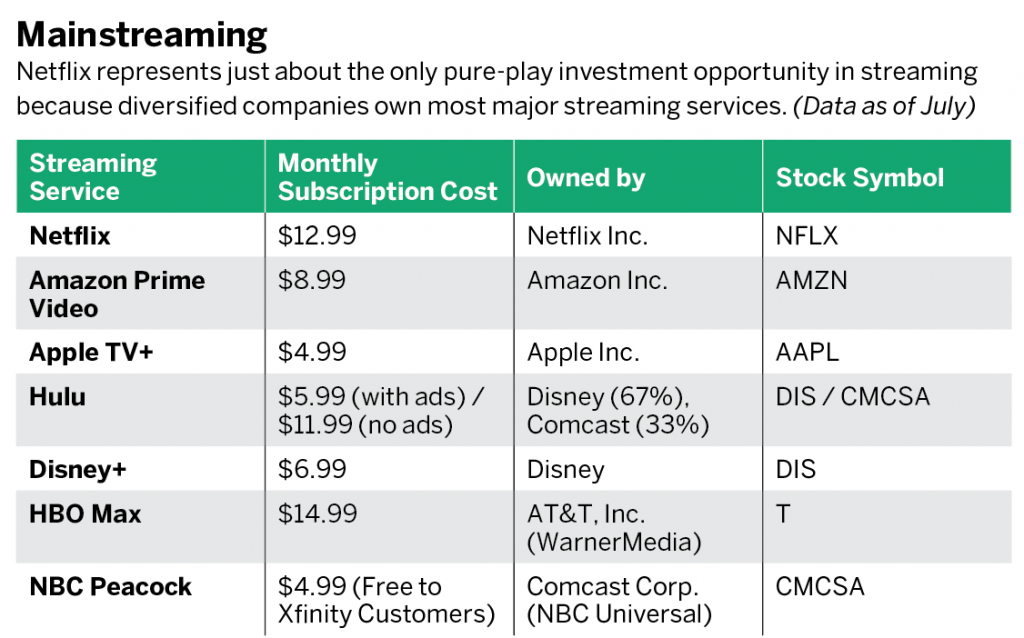 Amazon Prime Video
Meanwhile, Amazon Prime Video is only a miniscule component of the behemoth that is Amazon (AMZN). However, members cherish Amazon Prime and now total more than
100 million in the U.S. alone.
Like Netflix, Amazon stock roared higher after a small slump in February, surpassing $3,000 per share for the first time in early July. Given Prime Video's small contribution to the company, it's hard to make the case that purchasing shares is investing in streaming.
Amazon shares are, however, a broader investment in technology that makes streaming possible. Amazon Web Services, the company's cloud computing business, continues to contribute to Amazon's profits, and even Netflix uses it to host all of its content and analytics.
AppleTV+
AppleTV+, a new contender in streaming, costs less than other services, at $4.99 per month. What's more, AppleTV+ presents original shows and content, which is currently sparse.
As with Amazon, Apple (AAPL) makes just a microscopic portion of its income from streaming. However, Apple currently gives away AppleTV+ for free with purchases of Apple devices.
That could be a deciding factor for some consumers in choosing between an Apple TV box versus an Amazon Fire TV or Roku. Like Netflix and Amazon, Apple shares reached new highs at the beginning of the summer, crossing $350 per share for the first time.
Disney+
Investors contemplating Disney (DIS) stock are gravitating toward a purer entertainment play. Disney not only owns some of the largest movie franchises and studios, including Marvel, Star Wars and now 20th Century Fox, but also major TV networks that include ABC and ESPN.
By the end of 2019, Disney was also the majority owner of two of the most popular streaming platforms. Its main platform is Disney+, which the company launched in late 2019. Disney+ famously unlocked the Disney "vault," playing host to all the movies and TV shows from the company's long history. On top of the Disney movies were the Marvel and Star Wars films, all in one streaming location for the first time.
By the beginning of May, Disney+ amassed 54.5 million subscribers. While Netflix has 182 million subscribers, Disney+ was launched just eight months ago. Given the price of the service ($6.99/month, $70/year), Disney will likely see more than $3.5 billion in revenue from Disney+ this year.
Disney also holds the majority stake in Hulu, a popular streaming platform that houses more mature content than Disney+. Disney originally owned 33% of Hulu but picked up an additional 33% in the acquisition of 20th Century Fox. Comcast (CMCSA) owns the other 33%.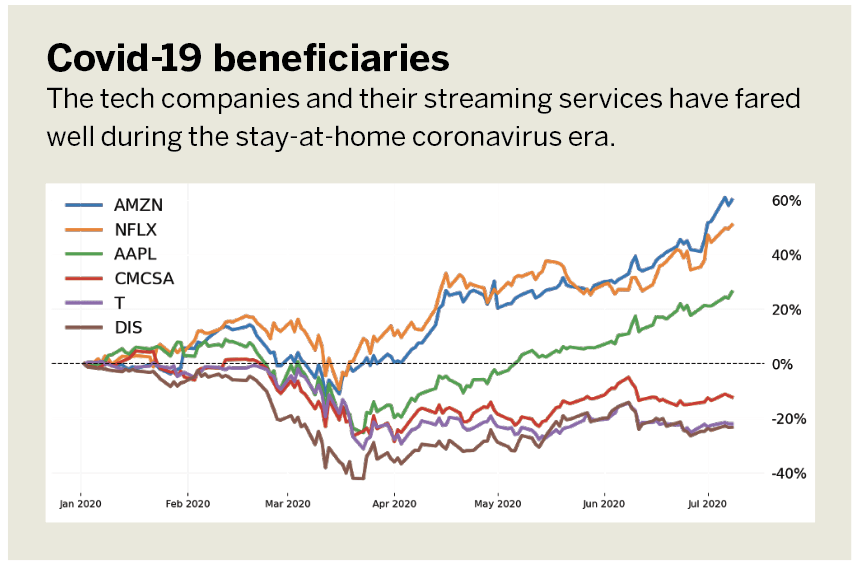 Hulu
By April, Hulu had more than 32 million subscribers. Hulu also generates ad revenue from users who opt for Hulu's less expensive "with ads" plan. In a year where theme parks were closed and summer blockbusters were postponed, Hulu and Disney+ remained reliable revenue streams for Disney. Investors can rest assured it's likely Disney will continue to invest in and expand both streaming platforms.
HBO Max
New to the streaming stage in the early summer was HBO Max, a platform that hosts all of HBO's original content archives, coupled with movies in the WarnerMedia library. Both HBO and WarnerMedia were acquired by AT&T (T) in its deal with Time Warner in 2018.
While current cable HBO subscribers can access HBO Max for free, it may attract more consumers who already cut the cord or never had cable. As an investment, AT&T is now a fairly diverse portfolio of telecoms and entertainment. By early July, AT&T was trading around $30, still far off its 2019 all-time high of $38.66. AT&T is also known for its higher-than-average dividend yield, at 6.8% currently, which stands out in such a low interest-rate environment.
Buying into streaming
Overall, it's tough to invest directly in streaming platforms, with the exception of Netflix. However, investors can build up portions of their portfolio around tech, entertainment and telecoms to gain exposure to the streaming services.
Investors looking to jump into Netflix may want to hold off until after an earnings announcement. A knee-jerk reaction that causes some selling activity could create a buy opportunity for patient investors.
For an all-around entertainment investment, Disney could provide some opportunity. The company's revenue has been stable the last few quarters, despite the interruptions from COVID-19. When it's again able to open parks and release record-breaking movies to theaters, its profits could continue to climb.
Regardless of how investors achieve portfolio exposure to streaming services, they should consider the impact, or lack of impact, that streaming has on the company's bottom line and, as always, do their due diligence.
James Blakeway serves as CEO of Quiet Foundation, a data science-driven subsidiary of tastytrade that provides fee-free investment analysis services for self-directed investors. @jamesblakeway
Click here to see how to evaluate any portfolio with Quiet Foundation.