Better B-Ball Bettors
Daily fantasy sports wagering algorithms are nailing the tangibles, but missing some intangibles
James Harden brings the ball past half-court with five seconds left. He dribbles once, twice, moves left and crosses back right to give himself space for a game winning jumper—he lets it fly as the buzzer sounds and drains it! The crowd goes wild, and the Houston Rockets win! The bucket brings the total game score to 250 points, just above the projected over-under, and Harden's fantasy point total of 55.2 beats his projection of 45.
It's not surprising given the opponent's high-paced offense and weak overall defense against opposing ball handlers like Harden. Those factors give Harden the perfect landscape to crush not only his projection, but his salary, too.
The exhilarating world of daily fantasy sports (DFS) is relatively new compared with the traditional over-under bets that fans have been placing for years. DFS provides online games where participants assemble imaginary teams of real professional players to compete based on statistical performance in actual games.
Sites like FanDuel and Draft- Kings offer daily tournaments that DFS players can enter for a chance to win thousands of dollars for a small $5-$10 entry fee for most large guaranteed prize pool (GPP) tournaments. People don't see that type of return on capital on a regular basis even in the tournament poker world, and it's why so many are drawn to DFS. DFS also gives players an emotional tie to the game they're watching, which is part of the reason it's exploded in popularity recently.
DFS also gives players an emotional tie to the game they're watching, which is part of the reason it's exploded in popularity recently. DFS also requires that its participants become more knowledgeable. Now, players care about the individual player stats rather than just who wins the game. Online DFS betting is also legal in most parts of the United States—something that can't be said about online poker.
With so much opportunity out there, readers might assume that people are crunching numbers left and right, and they're correct— plenty of sites that focus on projecting player points have come to light, and plenty of them project very accurately—there's something to be said about intangible pieces of the puzzle, though, and that's the topic at hand— how do players use these projections, and are they the be-all-end-all?
Basketball tangibles—MPG
Basketball's popular in the DFS community, not only because games are played almost every day during the season but also because the outcomes are very predictable. Data's abundant in the sport, and it's spliced on a per-game basis to deter- mine projections like pace, minutes played per player and fantasy points per player. The list goes on and on. With basketball, many DFS players are in the same camp, agreeing that minutes played is a high-tier stat. A fully healthy Harden playing 35 mpg is different than if he were coming off a fresh injury and was limited to 15 mpg to 20 mpg for the next few outings. The more time a player is in the game, the more opportunities arise for points scored, rebounds, assists, steals and blocks, which are the main categories that contribute to a player's total fantasy output.
Not only is Harden's fantasy point ceiling much higher when playing more minutes, but his fantasy point floor is higher too—he's much more of a "safe play" playing a full complement of minutes, compared with a 15- to 20-minute restriction (see "The minutiae," above). To exceed his salary on a restriction, he'd have to have an insane game with a massive fantasy point-per-minute output.
Basketball tangibles—pace
Pace can be huge for individual players and contributes to their fantasy floor and ceiling, similar to MPG. If a team is projected to see a 5% increase in their average possessions per game, that means more opportunity for players to score more fantasy points—simple as that. Typically, games with the highest over-under draw the most attention from DFS players, but players have ways to deviate from the "norm."
For example, if Harden is projected as the highest-owned player on the slate, how can a player take a contrarian stance while still getting exposure to that game? Chris Paul might provide the answer. If Harden has a horrible game or has to leave the game because of foul trouble or injury, Paul is likely first in line to pick up the slack. If Harden is projected to be 60% owned in the tournament, but Chris Paul is projected to be only 10% owned, he makes a fine play to deviate from the norm. In DFS, fading "the chalk," or the highest projected percentage-owned player can make the difference between winning and losing.
Basketball intangibles— hometown advantage
When the Westbrook-Durant feud began after Durant left the Oklahoma City Thunder to join the Golden State Warriors, it created such a rivalry that even fair-weather fans were tuning in for Durant versus West- brook games. We know that analytics are largely historical in nature, and projections are based off historical data but projections seldom account for motivation. DFS Players flocked to both Westbrook and Durant during many of these games, because they believed one, if not both players would exceed their projections and outperform their salary for the day because of heightened motivation.
In a similar sense, DFS players may choose hometown games to exploit motivation. In other words, they may select players from teams that are returning to their hometown to play a game. We might assume that plenty of the player's family and friends would attend the game, pushing that player to perform. That's another intangible aspect of the game, but one that many players hang their hat on. In all honestly, who isn't going to perform their best in front of his mother, father, sibling or high school coach? DFS players always look for an edge, and when analytics falter, external motivation's the next best bet.
In other sports, the same data analytics would apply. With Golf, most data analysis is based on the actual course—does the course play into the hands of golfers with long drives? Soft putts? And for the intangibles…well, where do the golfers live? Is this their hometown practice course in the offseason? Did they play this course frequently during their college years? DFS players can find plenty of intangibles in every sport, as long as they know where to look.
Big Data and the little guy
With all of the data there is out there and larger numbers of analysts risking thousands of dollars a day on large GPP tournaments, DFS players might start to wonder whether there's even a point in playing. Just like options trading and poker, it's crucial to remember one thing— variance is alive and well. In the case of DFS, variance is nothing more than the deviation of results from what is expected. In the probability world, a short-term scope doesn't tell much, but a long-term scope does. Flip a coin five times and it lands on heads every single time, but the more it's flipped, the more the results normalize to 50/50.
With that said, variance is always high in the short term—especially in a one-day tournament. A DFS player could conduct all the analysis in the world and still come up short that day. Maybe the narrative played a bigger role than the projection for specific players, or maybe a lesser-known player had the game of his career.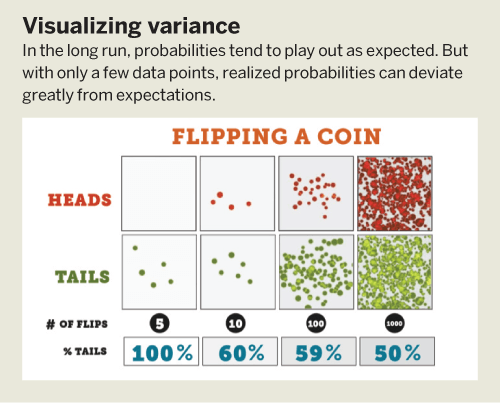 On April 9, 39-year-old Jamal Crawford of the Phoenix Suns scored 51 points off the bench. Many lineups were busted that day because of this single player. But over the course of the season, Crawford has just been a role player averaging 7.9 points per game. This single game represents a massive deviation from what many expected and provides a textbook example of variance seen in GPP DFS tournaments any day of the week.
In any case, robotic algorithms and stat projections are booming in the world of DFS GPP, but there will always be space for the little guy to compete and win, largely because of variance. The best algorithm in the world can't compete with that.
---
Mike Butler, a self-taught trader, serves as host of Mike and his White Board and co-host of Market Measures on the tastytrade network. @tastytradermike