Carlos Alcaraz is Seizing His Opportunity
As the sport's Big Three fade into history, a young player appears poised to enter the pantheon
A legendary sports figure's retirement creates a power vacuum for would-be successors to fill, and that could happen in triplicate in men's professional tennis.
The sport's "Big Three"—Roger Federer, Rafael Nadal and Novak Djokovic—are nearing the end of epic careers. Each has captured at least 20 major titles; six more than Pete Sampras, the next player in line.
Amazingly, all three emerged as stars in the early years of this century, making this the "golden era" of tennis history.
Fans view the trio as the Mount Rushmore of men's tennis, along with Rod Laver, the last male player to win the calendar Grand Slam.
Only one of the Big Three has officially hung up his racket—Roger Federer. He played his last professional match in September 2022 at the Laver Cup.
Federer, known widely as the "Maestro," was the first of the triumvirate to surpass Sampras' major record, motivating Nadal and Djokovic to do the same.
However, Federer was plagued with injuries during the twilight of his career, so his ranking and results slipped well before his retirement.
Moreover, both Nadal and Djokovic have eclipsed Federer in terms of major titles, which is one reason a true power vacuum didn't develop after Federer ended his professional career.
Djokovic is ranked No. 1 in the world and won the opening major of the 2023 season in Australia. Nadal won multiple major titles in 2022 and will be a top betting favorite this year—assuming he's fit to compete.
But with Djokovic and Nadal nearing the sunsets of their careers, and Federer now out of the picture, a partial power vacuum has developed. And in 2022, one player stepped in to seize the opportunity.
That player is Carlos Alcaraz of Spain, who finished 2022 ranked No. 1 in the world.
That's notable not only because Alcaraz did it with Djokovic and Nadal still active on the tour, but also because of his relative inexperience at the professional level. At 19 years old, Alcaraz became the youngest player ever to reach the No. 1 ranking.
Beginning in 2004, a member of the Big Three has claimed the year-end No.1 ranking every year except 2016, when Andy Murray achieved that distinction, and 2022, when Alcaraz did it.
En route to his historic accomplishment, Alcaraz won two Masters 1000 tournaments and the U.S. Open—the latter his first major title. The first of many, one would think.
Unfortunately, a hamstring injury forced Alcaraz to skip this year's first major tournament. But he returned to the tour in March and claimed his third and fourth career Masters 1000 titles (the level just under the majors) at the BNP Paribas Open in Indian Wells, California and the Mutua Madrid Open in Spain.
Alcaraz—along with Djokovic and Nadal—is one of the favorites to win the second major tournament of the year when the French Open begins May 28.
Like Nadal, Alcaraz hails from Spain. That's one reason his style of play has drawn comparisons to his fellow countryman's.
However, on court, the two aren't necessarily that similar. For starters, Nadal is left-handed and hits his forehand with a motion that calls to mind a cowboy lassoing a steer.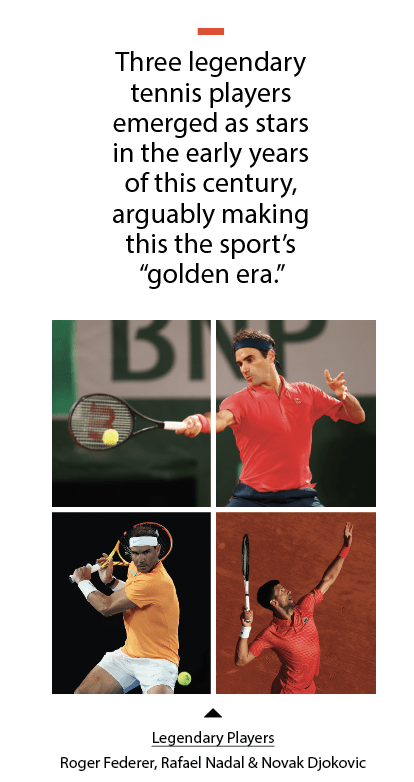 Both Spaniards enjoyed success early in their pro careers, but Nadal did it based on speed, consistency and defensive prowess—an approach that hinged on hitting one more ball than his opponent.
Alcaraz, on the other hand, leverages an aggressive style that's more akin to a boxer's—bludgeoning his opponents from the baseline with powerful ground strokes.
That's not to say Alcaraz doesn't possess variety and touch. The up-and-coming teenager is also known for his ability to deploy a well-disguised and, in many ways, indefensible drop shot.
The young Spaniard uses that drop shot to disrupt the rhythm of his opponents, much like a fastball pitcher who mixes in a nasty change-up.
Alcaraz was so impressive in 2022 that former tennis great Wally Masur praised him as "the most complete 19-year-old player that I've ever seen."
Early in his career, Alcaraz studied under his father's tutelage at the Real Sociedad Club de Campo. Since 2018, he has trained with former world No. 1 Juan Carlos Ferrero at the latter's Equelite Sports Academy. Both institutions are in Spain.
Ferrero hasn't tried to mold Alcaraz into a replica of himself. In his day, Ferrero was known for speed and a big forehand, and he was effective across the spectrum of surfaces—clay, grass and hard. However, his slight build earned him the nickname "Mosquito."
Alcaraz, on the other hand, sports a solid and chiseled physique more comparable to Nadal's build.
What's more, Alcaraz can pull off world-class moves, displaying not just speed but also the ability to change direction on a dime.
Most of the world's top players possess the world-class flexibility and mobility that's critical in the modern game. More than any other up-and-comer, Alcaraz is similar to the Big Three when it comes to those factors.
With Nadal currently sidelined, Alcaraz and Djokovic are arguably the best bets to claim the final three majors of the year. After those two, Daniil Medvedev, Casper Ruud, and Stefanos Tsitsipas round out the Top 5 in the world rankings.
Oddsmakers favor Alcaraz, Djokovic and Nadal to win the French Open—in that order. However, if Nadal gets a clean bill of health in time—which is entirely possible—he could climb to the top of that list.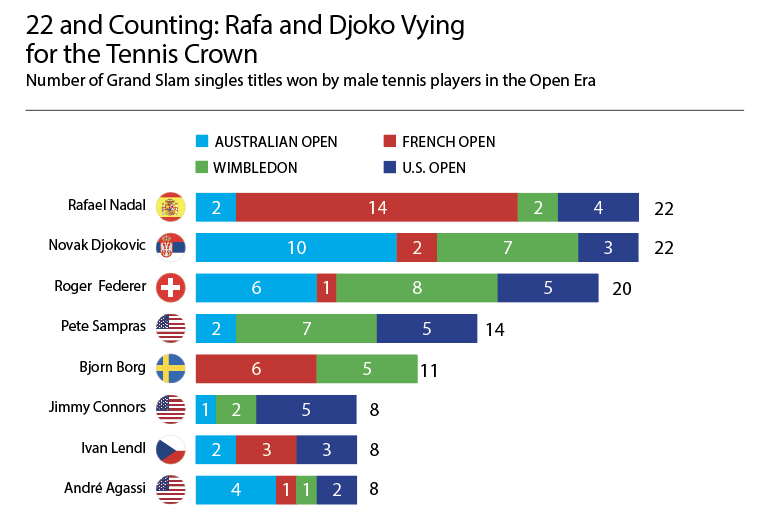 The fact that Alcaraz is grouped with Nadal and Djokovic on the short-list of favorites for the next tennis major proves how far he's come in a year's time.
One can only wonder where Alcaraz might be a year from now, or even two or three years down the road. He might sit atop the tennis mountain all by himself, having shed the mantle of heir apparent.
Andrew Prochnow, a sports writer and options trader, has contributed to Luckbox, Bleacher
Report and Yahoo! Sports.