Rockhound Review: Night Moves Transcends 70s Rock Nostalgia
The Beatles, Stones and Zeppelin were awesome—but rock lives on. Why not break out of the classic rock bubble and give new music a chance? Rockhound is here to help. Think of it as a bridge from 1967 to 2021 and beyond.
Music can feel like a favorite pair of jeans—too good to ever leave behind. But music runs deeper. It's personal. That makes it difficult to avoid getting trapped in a private music bubble, continuously replaying the same albums to get that familiar but still thrilling feeling. Yet that quashes exploration and expansion, and it certainly doesn't help the music industry flourish or provide any opportunities for young artists to become the next big thing.
Smooth, groovy chords ring out from a Minneapolis-based rock band, enticing listeners to sway to the music and disregard the loud vocals and vigorous guitar riffs emanating from another stage nearby.
Welcome to Riot Fest, a multi-day outdoor festival of punk, rock, alternative, metal and hip-hop in Chicago. It's the perfect place to discover up-and-coming bands, or bands that haven't broken the charts yet. But show up early to find the groovy, 70s-esque bands like Night Moves.
With big-name headliners like The Smashing Pumpkins, Run the Jewels and Slipknot, it's easy to skip smaller, "unknown" bands. But Night Moves mines every musical vein that fans love in the songs of classic rock bands like Led Zeppelin, Kiss and The Rolling Stones. Transcending nostalgia, it transports listeners to an earlier era. You could hear one of their recordings in a record store and assume they were from the 70s. They could be making music alongside Bob Seger, and their name pays homage to his 1976 studio album Night Moves.
Night Moves was formed in 2009 in the Twin Cities by high school friends after bassist Micky Alfano gave frontman John Pelant a copy of George Harrison's All Things Must Pass. In 2012, the group was signed to Domino Music, a UK-based label with notable artists that include the Arctic Monkeys, Franz Ferdinand and Real Estate.
Although members of the band don't view their music as a tribute to stars from the 70s like Seger, they acknowledge the inspiration they've felt from Zeppelin, Bob Dylan and Neil Young. Night Moves rocks with heavily driven instruments, but it's toned-down and smooth—a groovy kind of dance punk-rock that gets people's bodies moving whether they like it or not. Vintage-looking guitars are layered with synths and Casio keyboard notes, creating a rock-psychedelia sound.
Their look matches the 70s-inspired vibe, too, with shaggy haircuts, button-down shirts and funky sunglasses. They released their first studio album in 2012, titled Coloured Emotions, and since then they've matured, developing a more concise sound on their later albums. In 2019, they released the album Can You Really Find Me, which was produced by Spoon drummer Jim Eno.
Through it all, they have remained true to their mix of '70s rock and smooth Americana. And like most gritty rock bands, their studio work never quite measures up to how their live performances. And why does that matter? Because they make you feel like you are exactly where you are supposed to be at that moment. It's a feel-good sound that's certain to uplift anyone's spirits.
Start with their song Carl Sagan—close your eyes and you'll hear an early 1970s Neil Young and The Rolling Stones.
Pay attention to Pelant's unique twist on southern twang vocals.
The band's next show will be at Doheny State Beach in Dana Point, California, on Sept. 26. Keep up with them and their tour dates at their website here.
Marigold in the garden
Good music isn't just about how something sounds. It's also defined by its underlying style and the meaning of the lyrics. When it comes to style, Montclair, New Jersey-based band Pinegrove holds up an emo-Americana, alt-country sound. The band also features a lead singer, Evan Stephens Hall, whose lyrics express a vulnerability that makes the band a must-hear. Hall studied creative writing with an emphasis on poetry at Kenyon College, developing a passion for semiotics and modernist literature. His songs convey stories that resonate because he bases them on his own feelings and his own life. He finds a golden spot by half-talking, half-screaming at listeners.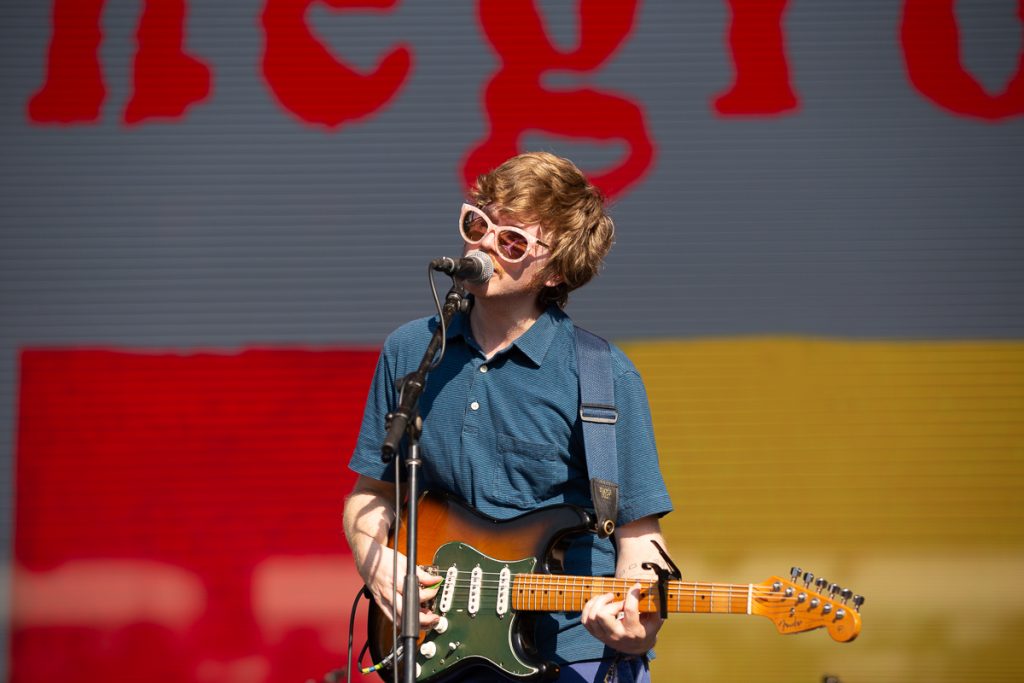 Bouncing up the charts
Chicago's indie pop-rock group Beach Bunny has been one of the city's most recent success stories in music. Formed at DePaul University to compete in a battle of the bands, the group has since stuck together and built a reputation for upbeat shows. With crisp, powerful vocals from frontwoman Lili Trifilio, the band projects the same in your face and I-don't-give-a-f***-attitude that Paramore did when it started. Much of Beach Bunny's recorded music is lyric-led, as Trifilio delivers lines that build off of her own relationships. With fast guitars to back it up, the band gets people going, often encouraging mosh pits and dancing. The band was recently ranked No. 2 on Billboard's Top Heatseakers albums, which highlights the sales of "breaking and entering" bands.
Kendall Polidori is Luckbox's resident rock critic. Follow her reviews on Instagram @rockhound_luckbox and on Twitter @rockhoundlb.