YouTube Music: By the Numbers
The streaming platform's music offerings have caught up with rivals
Everybody knows music is big business, but the numbers are staggering and only getting bigger for YouTube and other players.
The industry collected $15.9 billion in revenue last year, up from the previous record of $15 billion, according to the Recording Industry Association of America (RIAA).
Streaming accounted for much of the jump. It grew 7.3% to $13.3 billion last year and now accounts for 84% of U.S. recorded music revenue, the RIAA reported.
Meanwhile, paid subscription services, including YouTube Music, Spotify and Apple Music, brought in a record $10.2 billion last year.
YouTube is getting its share of that total. Last year, the platform contributed $6 billion to the industry—with 30% of its content generated by users, said Lyor Cohen, its global head of music.
Meanwhile, YouTube surpassed 80 million music and premium subscribers globally, up from 30 million in 2021, he noted.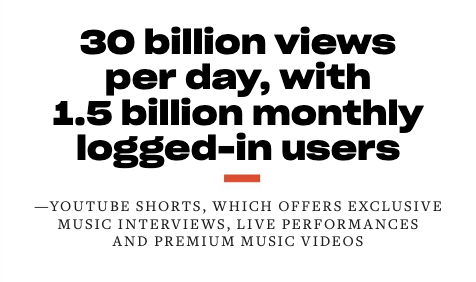 For seven years, YouTube Music has been striving to compete with streaming giants like Spotify and Apple Music. In 2016, the company brought on Cohen—a former Def Jam Records and Warner Music executive—in a move many hoped would quash any beef between YouTube and the three major record labels.
The friction with Universal Music Group, Warner Music Group and Sony Music had arisen because of copyright issues involving the platform's use of artists' music.
But Cohen seems determined to get past all that. "YouTube offers fans the ability to discover music, consume music and participate with music—all in one place," he wrote in a blog post last September.
In fact, Cohen indicated he hopes YouTube can "save the music industry." What the media platform is doing to accomplish that is listed below.