National Beer Day made this issue's calendar, so why not celebrate by ordering an ice-cold Corona with a wedge of lime when April 7 rolls around?
If that sounds like a refreshing idea, odds are you aren't among the 38% of beer-drinking Americans who supposedly told pollsters they wouldn't buy Corona under any circumstances in light of the novel coronavirus outbreak. Nor are you among the additional 16% who were confused about whether Corona beer is related to the virus.
"There is no question that Corona beer is suffering because of the coronavirus," said Ronn Torossian, founder and CEO of 5W Public Relations, the PR firm responsible for disseminating the survey results. He went so far as to call the virus "a disaster for the Corona brand."
Really?
No, not really. But that didn't stop respected news organizations from repeating Torossian's erroneous claims. CNN, for instance, enjoyed more than 19,600 retweets and 73,200 likes to its tweet citing the 5WPR survey results. The fake news may or may not have helped deflate Corona's YouGov Buzz score, which measures whether U.S. adults have heard negative or positive things about a brand. Either way, Corona's score fell from 75 in January to 51 in late February on a scale of -100 to 100.
But if Corona is truly in the midst of a disaster, then other beer companies can only hope a disaster comes their way, too.
Constellation Brands (STZ), which owns Corona, responded to the global headlines by saying in a press release that the company's dollar sales were up 5% in the four-week period that ended Feb. 16, nearly double the brand's 52-week trend.
"All business units supporting our beer business are seeing positive sales trends for the brand thus far this calendar year," the release went on to say.
But don't just take their word for it. Popular fact-checking website Snopes gave the claim that Corona beer sales dropped in the wake of the virus a "False" rating—not "Mostly False," not "Mixture," but just plain "False."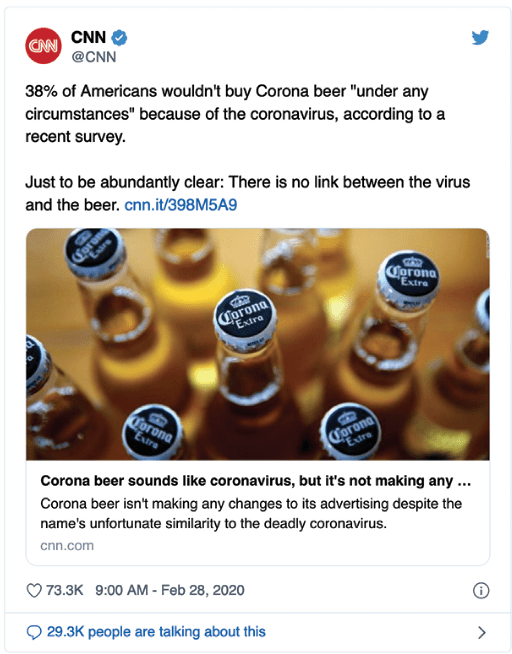 And it's happened before. It was only 11 years ago that the National Pork Producers Council felt compelled to release a statement calling for accurate reporting of the "swine" flu, officially called the H1N1 flu.
Despite the H1N1 flu not actually being linked to pigs, the council's statement was motivated by a very real threat to the U.S. pork industry, which at the time was nearing "the brink of financial disaster."
But that simply isn't the case with Corona, and that's why Luckbox decided to name the popular Mexican beer brand the honorary Luckbox of the Month for April. 5WPR doesn't list Constellation Brands among its list of clients, but it might as well at this point.
After all, what started as seemingly buzzworthy bad news for Corona turned into an opportunity for the brand to tout its record sales and explain its positive growth to an attentive global audience. If that's not lucky, we don't know what luck is. Cheers!