Zuckerberg's Still Lucky — For Now
To the casual observer, the past year probably looked disastrous for Facebook (FB) CEO Mark Zuckerberg. Yet, despite all the drama, Zuckerberg's actually been quite lucky. He's been fortunate enough, in fact, to earn the sobriquet of luckbox of the month.
Sure, Zuckerberg's net worth has declined of late, but it declined from a high of $55 billion. In a Forbes magazine list of the 10 richest people, the 34-year-old tycoon is the only one under 50. Besides, he became the world's youngest self-made billionaire at age 23, and no one seems likely to break that record anytime soon.
What's more, Zuckerberg usually walks away unscathed when he raises someone's hackles. At least one U.S. Senator expressed his ire when Zuckerberg broke his promise to stop sharing Facebook users' private thoughts with the highest bidder. But Congress didn't really do anything about it. And where's the sting in drawing criticism from a member of a body that has a 75% disapproval rating? Congressional unpopularity seems like a stroke of luck for Zuckerberg.
A (dis)loyal Mentor
It's also true that Zuckerberg's self-described mentor, Silicon Valley investor Roger McNamee, has accused Facebook of negligence. McNamee faults Zuckerberg and company for failing to stop bad actors from using the social media network to spread disinformation about the 2016 U.S. presidential election and the BREXIT referendum. Yet McNamee apparently still feels good enough about his protégé to continue calling him "Zuck." What's more, a survey of Facebook employees indicates they want Zuckerberg to remain CEO.
Facebook's 2016 election fiasco included the Cambridge Analytica data breach. That particular snafu delivered the personal information of 87 million Facebook users into the clutches of evildoers who used it to feed falsehoods to voters. But a majority of Facebook employees told researchers they didn't think such problems reduced the company's stature.
Then allegations arose that 50% of Facebook's two billion accounts were fake, meaning that the social media giant is taking advertisers for a ride. They're allegedly paying for clicks they're not getting. "Facebook has been lying to the public about the scale of its problem with fake accounts, which likely exceed 50% of its network," said Aaron Greenspan, a classmate of Zuckerman's at Harvard who wrote a 70-page report on the matter called Reality Check and posted it on the PlainSite website. The immediate reaction? The markets shrugged off the news as yet another boring scandal and the stock rallied.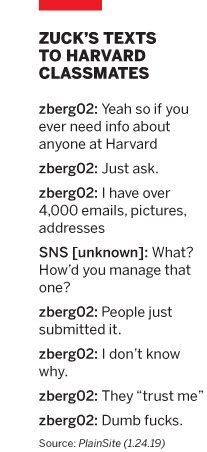 Next, accusations were leveled in a class action lawsuit that Facebook encouraged game developers to allow children to spend money online without their parents' permission. It cost families hundreds or even thousands of dollars. Was this act of "friendly fraud" enough to bring Zuckerberg down? Had his luck finally run out? Not likely. Zuckerberg isn't exiting the company unless it's by choice. His luck can hold because he owns enough shares to fend off any attempt to oust him. That's lucky.
Zuckerberg's had a wild ride lately, much of it his own fault. But he's still rich and still powerful. That's why he's lucky enough to get the nod as luckbox of the month.
Luckbox For Life?
In the end, however, Zuckerberg's seemingly endless supply of luck may run out. In other words, he may not remain a luckbox all his life. He doesn't deserve all his billions, but he could deserve a jail sentence. He's unfit to lead a publicly-traded corporation. Time and again he has shown himself unworthy of the public's trust.
---