The anxiety-related consumer products market is expected to grow to $7.5 billion by 2023.
In the Fall of 2016, two Kickstarter campaigns were launched with modest ambitions. The entrepreneurs hoped to raise around $20,000 to finance consumer products that could address anxiety—the most common mental health problem in America. A startlingly strong response brought in nearly $6.5 million to develop the Fidget Cube and set the stage for the ubiquitous Fidget Spinner. Meanwhile, the sleep-inducing Gravity Blanket raised $4.7 million and has since sold more than 70,000 units.
By May 2017, all 20 of the top-selling toys on Amazon were either Fidget Spinners or Fidget Cubes. "Anxiety consumerism" has since hit full stride with adult coloring books, aromatherapy vapes and oils, and meditation apps. The anxiety-related consumer products market is expected to grow to $7.5 billion by 2023. The always fidgety luckbox editorial team sifted through dozens of anxiety-reducing fidget toys to come up with this short list of favorites.
---
The Fidget Spinner
Various vendors and versions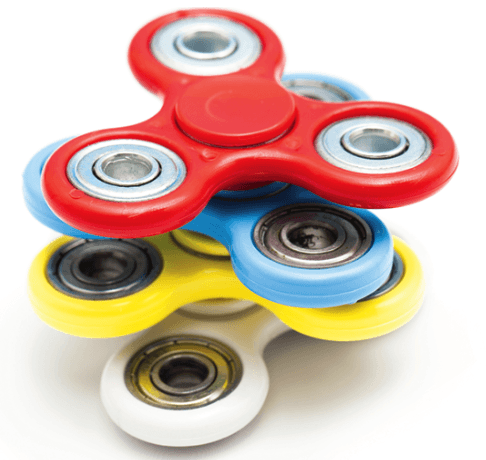 Fidget spinner prices range from as low as $2 for a basic model to $1,000 for an LED light-embedded limited edition collectible. Russian jewelry specialists Caviar created the world's most expensive fidget spinner, which has a 100-gram, gold-coated exterior and a value of about $17,000. An estimated 50 million fidget spinners have been sold.
Think Ink Fidget Pen
$24.95 thinkink.com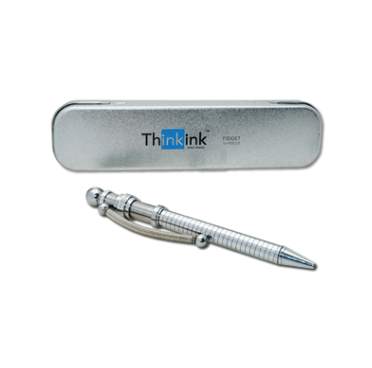 Launched on Kickstarter and made from durable titanium and steel with lots of detachable and reconfigurable parts, this pen can flex, spin, slide and twist. The pen barrel flexes like a spring, the magnetic clip can slide along the pen or detach altogether, the top has a spinnable magnetic sphere, and it writes well, making it the most practical toy on the list.
The Flippy Chain Fidget
Various vendors and pricing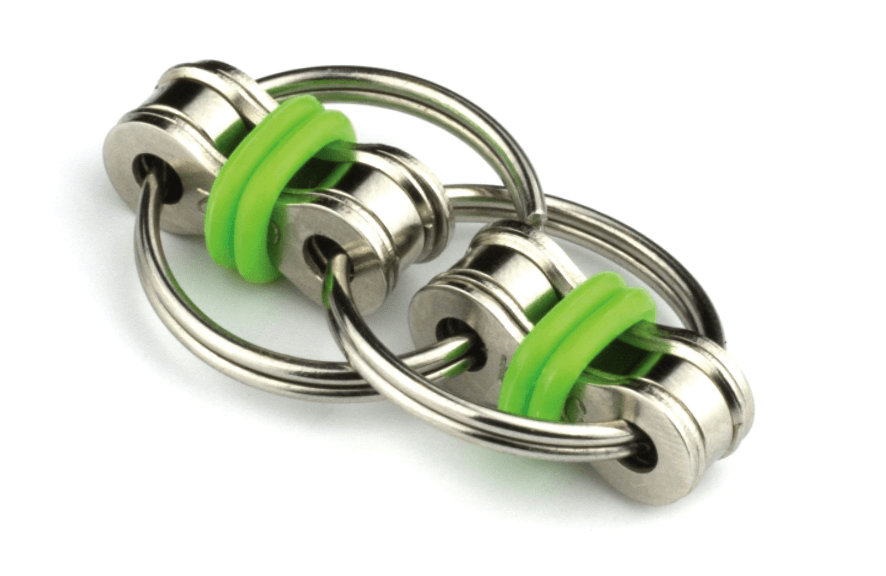 This toy is made from little more than two inches of stainless steel chain links and O-rings wrapped around durable silicone. The pieces interlock to "move the flippy chain into countless shapes and positions for hours of fun fidgeting," the maker says. The gadget is marketed to "relieve stress, help with ADHD, anxiety, autism or brainstorming." This one is hard to put down.
The Fidget Cube
$9.99-$14.99 antsylabs.com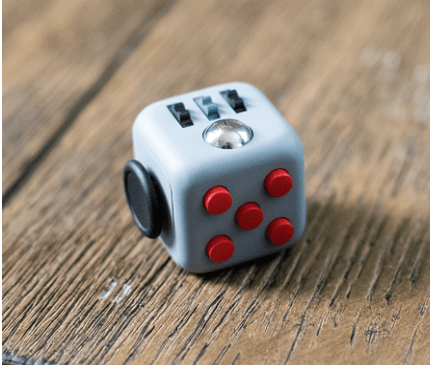 From the original inventors of the "desk toy for anyone who likes to fidget," the Antsy Lab Kickstarter campaign raised nearly $6.5 million despite only a $15,000 ask from designer brothers Matthew and Mark McLachlan—perhaps signaling the launch of a new toy industry.
The Orbiter
$49—$279 tecaccessories.com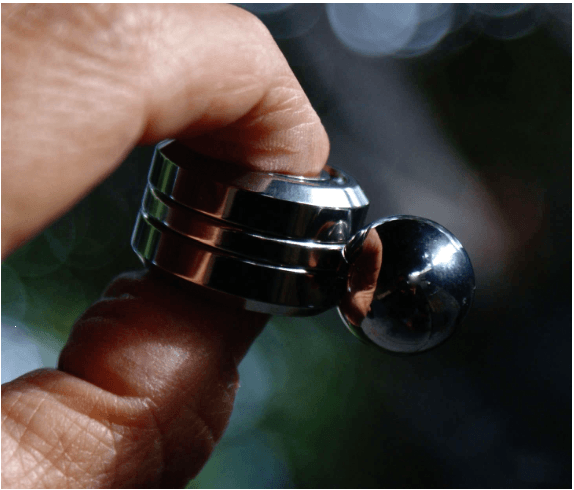 The Orbiter, one of the most unusual fidget toys, has two parts. It's made with a Grade 5 titanium base with a polished neodymium magnet slice in the center, and a frictionless steel ball bearing. Caution: This toy is so addictive it may be stress-inducing!
Pendulum Fidget Toy
$35—$79 rotablade.com
This toy, made of sturdy stainless steel with machined grips, has arms with bearings for friction-free movement. It's based on "Chaos Theory of a double pendulum and random motion where the motions are unpredictable for every spin," according to the manufacturer. It can even flick and spin to create random movements. It's the luckbox favorite.
Luxury Infinity Cube
$49.99 bastiongear.com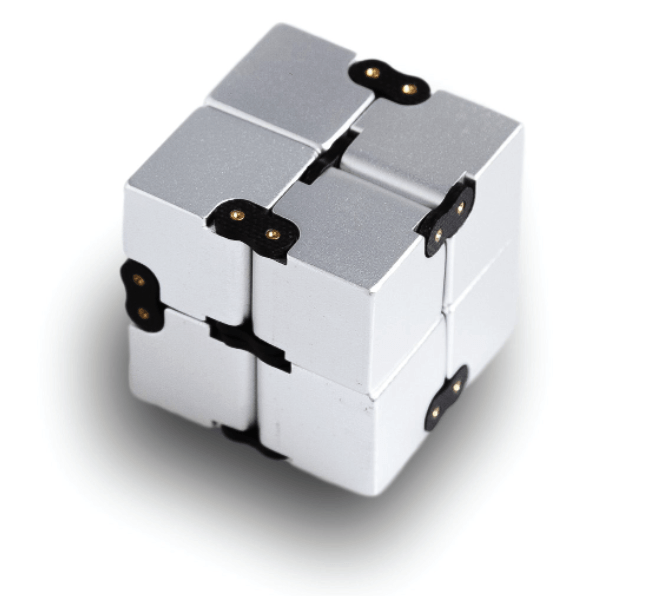 For higher anxiety, try this smart-looking luxury stress management toy that comes in two colors: anodized silver or matte black. It's made of aluminum and hand-finished with brass pins. Nudge or rotate the eight small cubes in any direction to form structures.
12-Sided Fube Fidget Cube Dice by PILPOC
$10—$14 amazon.com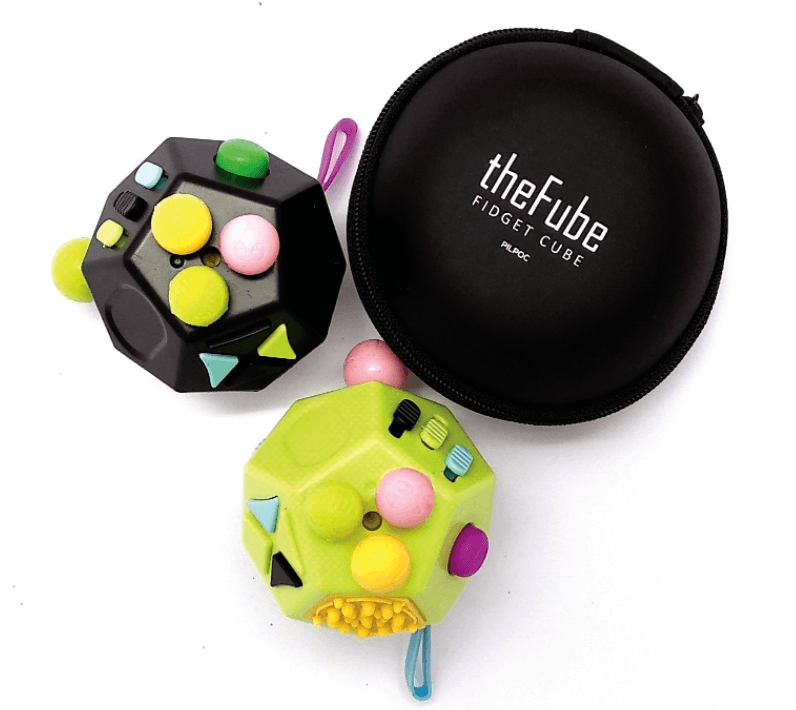 This next-generation, dodecagon anxiety cube can fidget in 12 different ways. That's because of its switches, sliders, squeezable rubber protrusions, knobby thumb-massaging side. Its spinning, clicking and pushing combine to create a great way to negate anxiety.
–Rocio Villaseñor