Two Gen Z TikTok influencers are learning the fine art of trading stocks and options
from a seasoned pro—and they're doing it in real time on the tastytrade network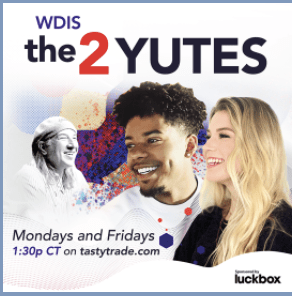 The April issue of Luckbox introduced readers to Kayla Kilbride and Errol Coleman, the beneficiaries of mentoring from legendary trader Tom Sosnoff, co-CEO of the tastytrade financial network. Their adventures in navigating the options markets are streaming twice a week on tastytrade. 
How has it been so far?
Errol Coleman: Well, considering it has only been a little over a month, my account is up roughly $400, but I am happy to be in the green with a small cushion.
Kayla Kilbride: The highlight of my week is the time I spend with Tom and Errol learning how to trade! It has been such an incredible experience learning the tastytrade mechanics. The amount of information felt overwhelming at first, but the more we traded, the more confidence I felt in what we were doing. As of today, all but one of my trades are in the red. But shockingly, it doesn't phase me because I know statistically, the odds are in my favor.
What have you learned?
Coleman: I have learned that holding multiple positions overnight is not that bad, especially if your portfolio is somewhat balanced.
Kilbride: I think Errol and I agree that this is a different form of trading than either of us has ever experienced. I thought buying options contracts, in general, was frightening, but selling options was something I would have never even considered before this. It would be impossible to summarize all the little things that I have learned, but my biggest takeaway so far is, "Don't be afraid of any type of trade—futures, options or crypto. Be diversified and take some risk."
What has been harder to learn than you may have thought?
Coleman: Understanding which indexes or futures are more suitable for your account size and risk tolerance.
What feedback are you getting from your followers?
Kilbride: People on Twitter, specifically, have been so engaged—it's hilarious! Some people even message me to let me know when to take profits. And a few people mimic my trades, too, if they like them—or do the reverse to compete. One guy recently tweeted me and said, "Bought and sold Kay's $X puts from yesterday and made big money." The position did poorly for me, but I'm glad it worked for him. I love the interactions.
Which instruments or markets do you most enjoying trading?
Coleman: Options, because I love how strategic and creative you can get.
Kilbride: Definitely futures, especially because it was the type of trade I was most nervous about before the show! I'm three for three on wins.
What was your biggest mistake?
Coleman: My biggest mistake was probably buying into strength.
Kilbride: My biggest mistake was when I decided to run along with the popular opinion and placed a bullish skewed iron condor on ARKK (the Ark Innovation ETF). It was one of my first trades and has yet to recover.
What are you looking at right now and why?
Kilbride: I was trained to start by looking at specific companies that I liked, but that has changed a bit with the way we trade with Tom. I have turned my attention to stocks that have made big recent moves with high options volume and a good amount of liquidity (which can be found really easily in the "high options volume" preset on the tastyworks platform). I then look for tickers I'm familiar with and go from there.
Any tips for other young traders?
Coleman: For any young traders watching me, I would say not to take any one trade personally. Follow your process, manage your risk and take the next trade. There's not much you can do after that, and you can't control what you can't control. Red trades are not your fault, but how you manage the trade is up to you. Don't put so much emotional energy into one trade. Look at the bigger picture.
Kilbride: Keep watching and learning! It takes time to learn these things, and it can be terribly overwhelming at first. Don't give up if you feel like things aren't clicking. Take a break and come back to it. It has been four-and-a-half months since I started learning about the stock market. I cannot believe how much I have learned simply by dedicating a few hours a week to these concepts. Thank you, Tom, and tastytrade! 
For more from Kilbride and Coleman, watch The Two Yutes, a Luckbox Presents show on the tastytrade network. Catch it live Mondays and Fridays at 1:30 p.m. Central.