GOP Insider: Begging Trump's Pardon, Breaking Blago & Some Big, Bold Predictions
Mark Vargas, the "mystery man" who helped broker commutations for Rod Blagojevich and Roger Stone, reveals how he accomplished the unlikely, as well as some shocking political predictions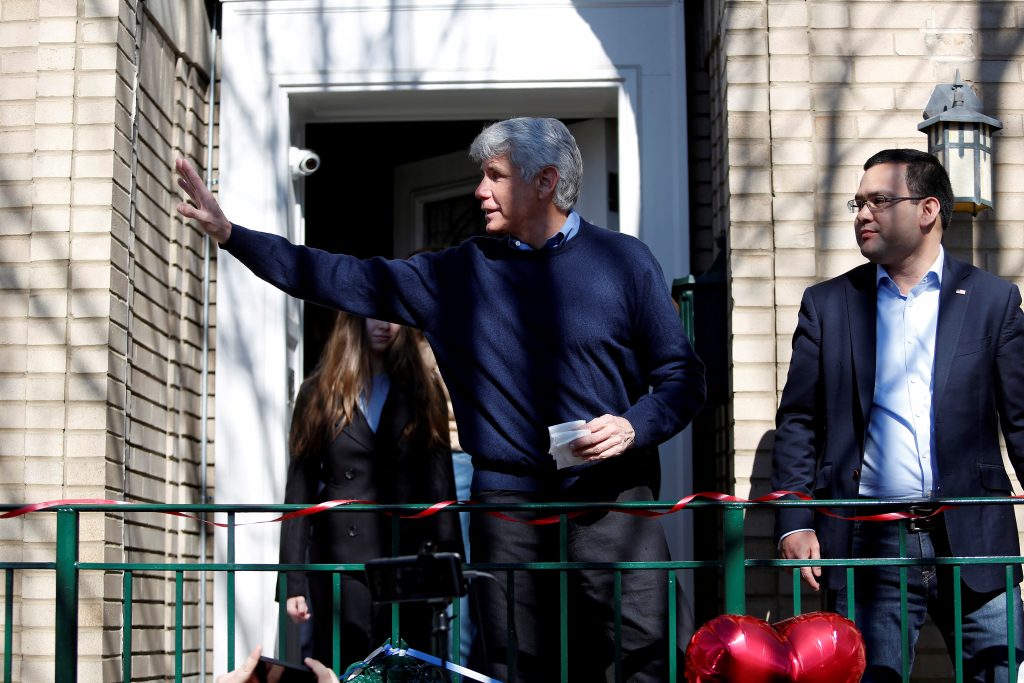 Donald Trump's 2016 presidential election victory came as a surprise to many, particularly those who closely followed the polls. Now, with less than three months before the 2020 election, Mark Vargas predicts it will happen again.
"I mean, everybody, all the polls had Hillary Clinton winning in 2016," Vargas said on The Political Trade, a political prediction markets-focused podcast. "In fact, Hillary didn't even prepare a concession speech—she didn't need to—because going into election day, she was winning."
Vargas, a tech entrepreneur and criminal justice reform advocate, found himself in the political spotlight after helping to secure former Illinois Gov. Rod Blagojevich's early release from prison, as well as playing a role in securing the commutation of Roger Stone.
He shared several political predictions during his appearance on The Political Trade, including whether Michael Flynn or Paul Manafort were likely to see clemency during Trump's first term. The prediction he was most confident making, he said, was the re-election of Trump in 2020 "without a shadow of a doubt."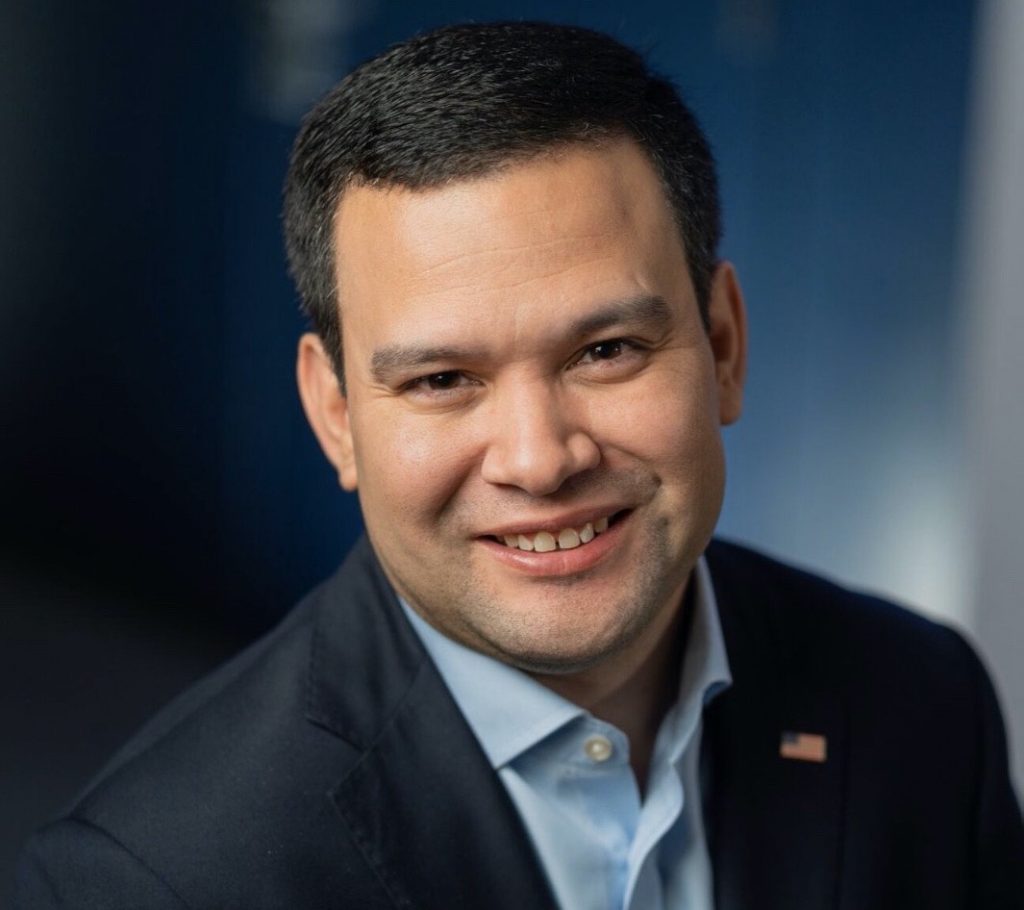 "A lot of it's the silent majority," Vargas said. "We saw the silent majority is kind of what pushed Donald Trump across the finish line in 2016."
FiveThirtyEight's polling averages put Democratic nominee Joe Biden 8.6 points ahead of Trump as of Aug. 21. Comparatively, Hillary Clinton polled as high as 14 points ahead of Trump only 12 days before the 2016 election.
Forecasters in the political prediction markets of PredictIt currently give Biden a 60% probability of winning the election to Trump's 44%.
In addition to sharing his political predictions (including the potential 2024 campaigns of Ivanka Trump and Mark Cuban), Vargas detailed what went into securing the commutation of Blagojevich's prison sentence.
The exclusive interview can be heard in full here.
Below is an edited excerpt from Mark Vargas' appearance on The Political Trade.
Jeff Joseph (Host of The Political Trade)
Tell us a little bit about your background and how you actually became engaged in politics.
Mark Vargas
It's a great question, and I talk about this a lot, my lightning bolt moment, and that was on September 11 2001. I was a student at Judson University, and my mother called my dorm room that morning and said, "Mark, turn on the television." So I stumbled out of bed and went to the main TV common area where my fellow college buddies were all gathered, and I walked in in time to see the second plane fly into the World Trade tower. Everybody was in shock and in disbelief. My initial gut reaction was, "I'm going to do something about this." And so from that point on, my life had purpose and meaning and direction. And I didn't know what that would mean, but I just knew that I needed to play a role in some way, shape or form.

And so fast forward. I'm interning for House Speaker Dennis Hastert, so I'm in Washington. I'm seeing world leaders and heads of state and people that I've only watched on television. I'm seeing them in real life, in person. It was an incredible experience. And I moved to Washington. Shortly after graduation, I made the last-minute decision. I didn't even have a job. I didn't really have a place to live. I only had $72 in my checking account. And I surprised, or shocked, my parents at dinner and said, "I'm going to move to Washington." "When?" "Tuesday." And this was a Friday. I remember it like it was yesterday. I didn't even have enough money to pay for my one way ticket. So my parents bought my ticket, expecting that in about four to seven days, I'd be calling them back asking them to fly me back home to Chicago, and I ended up staying in Washington for 12 years.

I got a job through divine intervention working at the Pentagon for the Office of the Secretary of Defense, and it was interesting. When you go into the Pentagon, you have to be escorted. Only those that have a security clearance and work for the Department of Defense, they're the only ones that are allowed to walk alone, otherwise, you have to have an escort. And so I went through security and my escort brought me into the office. And I was recommended to join a position on the Secretary of Defense Robert Gates' staff on a special task force to go to Iraq. And so I walked into the meeting and they essentially asked me one question, and I was intimidated. I mean, they were Marine colonels and all these guys in suits and all the flags of all the branches and all these seals on the wall, and it's an intimidating office. And they asked me, "You know where you're going. Why?" And this was a question that I had been preparing since 9/11 2001 as a student at Judson watching that plane fly into the second World Trade tower. And, without hesitation, without any preparation, I said these exact words: "I believe that we're waging the battle of my life in the Middle East, and particularly in Iraq, and one day, I want to look back and say that I was a small link in bringing stability to a war-torn country." They said "great answer." They got up and left.

I asked my escort, "What the heck happened?" And she's like, "I don't know. I've never seen this before." The following day, I got an email from the White House saying that I was hired and that I had to fill out my SF-86, my security clearance form, in three weeks. Later, I was on my first trip into Baghdad. I took a total of 14 deployments into Iraq as a civilian with the Office of the Secretary of Defense, and was embedded with our military. And our job was to help drive down unemployment because in areas where we saw extreme violence, high levels of violence meant high unemployment. And so we were part of this civilian team that worked alongside our military and our civilian contractors. And so we started to reopen factories and put people back to work because unemployment was over 60%, violence was high. And so we discovered that in areas where we would reopen factories and put Iraqis back to work, those areas would become secure and more safe. And so it was an incredible experience, an incredible journey. I learned a lot. But that was really my start getting into politics. And then I guess they could say the rest is history.
Jeff
What year was it?
Mark Vargas
So from 2007 to 2010. Yeah, it was still an active combat zone. So I deployed 14 times as a civilian between 2007 and 2010.
Jeff
Gates was originally appointed by President George W. Bush and then retained for service by President Barack Obama afterward, but you were working for a Republican Secretary of Defense and interning for Hastert. So far these are Republican. How is it that you find yourself in the odyssey of spending two years trying to release a Democratic governor from a prison sentence?
Mark Vargas
You know, the Wall Street Journal did a great job, I gave them the exclusive to write a story on this, but I just blindly reached out to Patti Blagojevich on LinkedIn shortly after, in April of 2018, when the United States Supreme Court had denied their request to review their case. And I remember listening and watching in the news that the only option left for the Blagojevich family was presidential clemency. And I had just made the decision right then and there: I'm going to get Rod Blagojevich out of prison. I'd flown back to Chicago, and my parents actually will tell you this story if you ever talked to them, that they picked me up at O'Hare Airport in the spring of 2018. And the first thing that I said when I got into the car was, "I'm going to get Rod Blagojevich out of prison." They thought I was crazy. "No, that's impossible." And so, I had reached out to Patti and said I'm going to help. I think that if there's a shot, it's going to take a Republican like me with Chicago roots who can get direct access to the President of the United States.
Jeff
What was the ideological connection? You are a self-proclaimed Republican, you were working for Republican interests. Rod Blagojevich was a very, very progressive Democratic governor. What was it about his case that attracted you to it and made you want to essentially cross party lines to engage?
Mark Vargas
The more that I read about Rod Blagojevich's case, the more I was convinced that he never should have gone to prison in the first place. And I began to connect the dots that the same people that were involved in the pre-dawn raid of the governor's residence in December of 2008 that we all remember, the same people: Robert Mueller, Jim Comey, Jim Comey's best friend and the godfather of his children Patrick Fitzgerald, the federal prosecutor in the Blagojevich case Patrick Fitzgerald was also the federal prosecutor in the Scooter Libby case, who President Trump pardoned. Patrick Fitzgerald was also the lead prosecutor in the Conrad Black case, who the president pardoned, and now we're seeing this connection with Patrick Fitzgerald and the Blagojevich case. And so I started to connect these dots, and I know Anthony Scaramucci was a guest on a previous episode. Anthony Scaramucci was very instrumental. He played an important role in this, and it was interesting, Scaramucci then connected those dots and went on Judge Jeanine and said "What they did to Governor Blagojevich was the firestarter for what they ended up doing to candidate Trump and President Trump." The same people, prosecutorial overreach. And they were emboldened. If they could take out a governor, why not set your sights higher? Why not try to take out the President of the United States?
And so I wrote an initial op-ed, "How Robert Mueller and James Comey's Best Friend Sent Rod Blagojevich to Prison." And I linked Laura Ingraham in it, and I was hoping it would catch her attention, and it did. And my op-ed was published like May 1, and on May 3, Patti and their lawyer Leonard Goodman were on Laura Ingraham's primetime show on Fox News. And Laura opened up her show talking about Mark Vargas, his op-ed in the Washington Examiner, and that really laid the groundwork and created the talking points for the same people that went after the governor, the same people that are going after the president. And I wanted to keep up the momentum. And so I asked Patti and Rod if—and I was only able to connect with Rod via email through Patti. I didn't have direct access to him. So I would send emails and give them to Patti, and then she would copy and paste and send them to Rod and vice versa. But I said, "We need to keep up this momentum. We need to write a bigger, provocative op-ed." And we did, called, "I'm in Prison for Practicing Politics." And I said, "I think I can get it published in The Wall Street Journal." And we did. It was published on May 27 of 2018. And on May 31, the President of the United States was talking about Rod Blagojevich for the first time on Air Force One. So it was a remarkable first month—historic.
Jeff
Well let's step back a little bit because Rod Blagojevich as governor has always been a fascinating story, particularly for those of us in Illinois. He has a natural charisma, he connects as a retail politician in a way that very few have. And he had a very consistent track record on progressive issues, whether it be from education funding to anti-discrimination laws for gays and lesbians. He was the first, really, to make an effort to implement universal health care in Illinois, and, and he was the first Illinois governor elected as a Democrat since 1973. So it's quite a story, his election in 2003. He was subsequently found guilty of public corruption for attempting to solicit bribes to occupy the U.S. senate seat vacated by then-President Elect Barack Obama, who, of course, was an Illinois senator. And there's a clip that we've all heard in Illinois many times. It was prominent at the trial brought forth by Patrick Fitzgerald, who you've acknowledged clearly was a very good friend and close to James Comey.
Rod Blagojevich Clip
"I mean, I've got this thing, and it's fucking golden. And I'm just not giving it up for fucking nothing."
Jeff
The key story about the governor and why he's attracted so much interest across party lines seeking his early release refers more to the excessive sentencing than the question of his actual criminality. But with respect to his criminality, because you made a statement earlier that you didn't think he should have been found guilty in the first place, could you provide some context for the clip that we just played and what the case for his innocence would be?
Mark Vargas
You know, I hope at some point, and I'm convinced that Rod Blagojevich is going to get full exoneration, and here's why: What the Seventh Circuit did—and this is what really caught my attention, and the press is— they're experts at creating this narrative. And these federal prosecutors, it's almost like they've hired a Manhattan public relations firm, but they control the narrative right from the very beginning, that "shock and awe" press conference after the arrest. And they come up with the saying, "sale of the senate seat." And we saw this with President Trump, "Russia collusion," right? It just, it fits. It's catchy. You can't forget it.
But in the Blagojevich case, it's very, very important to highlight a couple of key points that oftentimes aren't covered. Number one, he never sold the senate seat. Every time I ask, "Who did he sell it to? OK, and for how much?" They can't answer that because the senate seat was never sold, and what the governor at that time was talking about, he wasn't talking about "send me money or wire money to this offshore account." He was talking about legislative deals. He wanted to pass additional health care legislation, he had a capitals project, he had an infrastructure project. And so he was talking about deals. This was never about profiting. In fact, he's the only governor, I think, in Illinois that signed an executive order because Mike Madigan refused. This was in 2008, 2007. He signed an executive order, which I'm happy to provide to you as further evidence, but the executive order essentially prohibited his family from lobbying or making any money off the state of Illinois, either directly or indirectly, while he was governor, and he wanted Mike Madigan to pass that to legislation, but Mike Madigan denied that legislation. Why? Because Mike Madigan is making millions and millions of dollars from his private law practice. And Mike Madigan's family is making millions and millions of dollars from doing business with the state or those who currently do business with the state.
Jeff
The governor was convicted of those charges and sentenced to 14 years in prison. And although the Seventh Circuit reversed some of his convictions related to the sale of the senate seat, it did not alter his 14-year sentence. And he spent eight years in prison as a result of that.
Mark Vargas
Eight years, that's right. Before we get into your next question, here's the most important point that I want to hit. Here's why the Blagojevich case is so important: What the Seventh Circuit did is they changed the law, and this is why we wrote this op-ed "I'm in Prison for Practicing Politics," because under the Blagojevich standard, every elected official in the United States from local, state, all the way up to federal, they would all be in prison. Why? Because under the Blagojevich standard, if a candidate or an elected official accepts just one cent of a campaign contribution from a donor or business, that's dirty money. It's a bribe. And so they've politicized the routine practice of campaign fundraising.
Jeff
And, of practicing politics.
Mark Vargas
They're criminalizing politics. And you have to raise money. The governor never shook down the Children's Hospital. You know, if people knew what the conversations were behind the scenes, they'd be even more disgusted with politics. That's why dentists giving a root canal have a higher approval rating than a politician, but at the end of the day, the CEO of the Children's Hospital, he was head of the Chicago Hospital Association. By the way, they raise millions of dollars for candidates and elected officials. They're a political powerhouse. They've got a lot of money.
And so, going back to the tape that you played earlier, what they don't play is what happened, what's said afterwards, and the governor has always said "Play the rest of the tapes," but they haven't played the rest of the tapes. 99% of those tapes are the Blagojeviches and their lawyers are all under a lifetime gag order. They cannot share what's on the rest of those tapes. And there's a law, there's a law of completeness, and I'm not a lawyer, but I've studied this. The law of completeness says, Jeff and Mike, that if you're accused of something, and they use a clip, or an audio clip, or something written, that the rule of completeness means that you've got to provide the entire context. In the Blagojevich case, they did not provide the entire context. The law, the rule of completeness, was ignored by federal prosecutors and the judge in the case. And so they would taunt him during the trial and say, "Well the governor says that whatever he said was on the tapes. But ladies and gentlemen of the jury, we've played the tapes for you. And, I don't know, did you hear the governor say that on the tape?" Well, of course not, because they didn't play that on the tape. But they were taunting him by saying that, but we don't hear it because they were purposefully withholding the rest of the tapes to provide context.
What he also says is "I don't want to do anything illegal." And the reason why he's talking about deals is because the president elect Barack Obama wanted Valerie Jarrett to be appointed to the Senate seat. So it was coming from the president elect. What does governor Blagojevich want? Everything's on the table. Does he want an appointment? Does he want a cabinet secretary post? Or does he want an ambassadorship? Come back with some ideas, and so that's what the governor is talking about. It's golden. You've got the president elect of the United States who wants Valerie Jarrett, a close family friend, appointed to the Senate seat, and the president elect is saying "What do you want?"
Jeff
Blagojevich has always admitted that he wanted something in exchange for appointing Obama's replacement in the Senate. And he's never really denied that he tried to collect campaign donations from people who wanted some official act from him in return. But the question is not whether Blagojevich sought the quid, which is not in itself illegal, but whether he attempted to or did deliver the quo, which is illegal if delivered on condition of the quid. And that's the interesting point here because you refer to the "Blagojevich standard", there is a guy named Harvey Silverglate, a prominent Boston civil liberties defense attorney who sharply criticized the prosecution.
A quote from him was "Any idiot can indict a sitting governor. It's so easy because ordinary political acts qualify as federal felonies." He goes on to say, "Blagojevich was engaged in perfectly proper and very common political activity," referring to the quid pro quo, "and his actions were squeezed into the rubric of federal fraud laws. He was quite reckless, but recklessness itself is not criminal conduct." And I think that is the reason itself that, you know, seems to be a little broader consensus questioning his guilt or innocence in terms of asking for something in exchange, but I think that really just weighed heavily on what appears in many people's eyes to be very, very extreme sentencing. And ultimately, it's that extreme sentence that I think that allowed so many people to rally to his side.
Tell us a little bit about how you were able to start to accumulate support for his release and how it came from across the aisles and from so many different sectors.
Mark Vargas
Yep. Well just very quickly to close the loop for your listeners to understand this. What's very interesting is again, Governor Pritzker under the Blagojevich standard—it's no secret, the Chicago Tribune reported that Governor Pritzker has given Mike Madigan's campaign a total of $7 million, something like $5 million while he was running for governor and $2 million after he was elected governor. So, $7 million to Mike Madigan.
Why this is important is because Mike Madigan is the only state speaker in the United States that has the sole authority who can control what legislation and what bills go to the floor in the house for a vote and ultimately get passed. Usually it's a rules committee made up of a bipartisan group, and they decide collectively, in a bipartisan manner, what legislation goes to the floor for debate and for a vote. Mike Madigan has essentially eliminated that. It is only one person that decides. And so if Pritzker doesn't play with Madigan, if Pritzker doesn't put $7 million to Mike Madigan's campaign account, that means that Mike Madigan could totally screw up Pritzker's legislative agenda. So under the Blagojevich standard, you don't have to infer a quid pro quo. But the $7 million transfer of funds, transfer from Pritzker to Mike Madigan, under the Blagojevich standard is illegal and would put both Madigan and Pritzker in prison.
Jeff
Well, there is a subsequent judicial consensus that's emerged that essentially says that the Blagojevich standard that you're referring to would make criminals out of virtually every politician in America for the routine business of political deal-making.
Mark Vargas
Every single politician in the United States would go to prison. And so it was that standard that caused a lot of people to say, "Wait a second, 14 years." In fact, Judge Zagel, the judge in the Blagojevich case, before the Blagojevich case, gave a mafia hitman who admitted to murdering a handful of people a 10-year sentence. Yet Rod Blagojevich: No victims, first time, nonviolent offender, a 14-year sentence.
Jeff
I think you may be referring to the sentence mob hitman Nicholas Calabrese, who admitted to killing 14 people. Yet he was sentenced by Judge Zagel to 12 years and four months behind bars in May of 2009, not even one year for each murder committed. The same judge.
Mark Vargas
That's right, same judge. And thanks for highlighting that. It's very important for your listeners to see the stark contrast. But the unique bipartisan support was unbelievable. From the far left we had Reverend Al Sharpton and Reverend Jesse Jackson and Eric Holder, who was the Attorney General under President Obama at that time when Rod was put in prison. He came out in June of 2018 and said that "Rod Blagojevich's sentence just didn't make sense. It was extreme. And I support a commutation and a reduction of that sentence."
So we had those that are on the far left Democratic side of the political spectrum, and we had people on the far right, including David Kean, the former president of the National Rifle Association, and Rod Blagojevich when he was a U.S. Congressman used to brag about his F- grade with the NRA. It wasn't even an F, it was an F-. And yet, many years later, you had the former NRA president, a very staunch conservative, he was chairman of the CPAC from like 1984 to 2011. And he wrote a letter to the president at my request, I've gotten to know David personally and his wife, Donna. They're very good friends. But David drafted a letter which I got to the White House, and I thought, the line in this was so profound and it said, "Prison should be reserved for those that we are afraid of and not those that we're mad at. And Rod Blagojevich poses no threat to society. And already, nearly eight years in prison, he has paid a debt that probably nobody else will ever understand or comprehend."
And so I thought that was very, very powerful. And we had support from, Laura Ingraham came out publicly. Judge Jeanine came out publicly. Anthony Scaramucci came out publicly. Martha McCallum, who had Patti on her show four or five times, which was unbelievable. And so we just had this broad, unique bipartisan coalition. And I liken this to the support for the First Step Act, the criminal justice reform. It was unique. It was broad. It was diverse. It was bipartisan. And we saw that exact same unique support for governor Blagojevich's release, and everyone was questioning 14 years. Yeah, that just doesn't make sense.
Jeff
The Governor's fellow inmates also wrote letters in support of reducing his sentence.
Mark Vargas
A hundred of them.
Jeff
He clearly had a lot of support. How many names in all? Has that letter ever been released that was sent to the president?
Mark Vargas
We certainly had a lot of names on there that were sensitive, very influential people. So the White House has that, and we were going to allow the White House and the President to make that decision as to what names would be released. And I assured everybody that we personally would not release those names, that it would be up to the White House and to the president to release those. But yeah, I mean, we had very, very unique support. And it really was just humbling.
Jeff
And was that you who curated the signatures to that letter?
Mark Vargas
Yeah, you know, Patti and I were tag-teaming, and so together we were able to work hand-in-glove to make sure that we got all of the names and signatures so that we could reiterate to the president that he's got some very unique support. And what was interesting is Rod Blagojevich got in at the Chicago mayoral debates. I remember the NAACP Chicago had a debate with all of the candidates there, and it was interesting, even Paul Vallas, and I've gotten to know Paul Vallas personally, the former CEO of Chicago Public Schools, ran for governor against Rod Blagojevich in 2002. They had a real tough campaign. He ran for mayor this last couple of years ago. Certainly not friends, but Paul Vallas met with me and said, "Listen, I'm no friend of Rod Blagojevich, but that just did not make sense, his 14 year sentence." So he was supportive of it.
Even Toni Preckwinkle, I'll never forget this, Toni Preckwinkle during the NAACP Chicago event said, "Paul Vallas and I were talking backstage," and this is on record, it's in the Chicago Tribune, they printed this. Said, "Paul Vallas and I were talking backstage, Rod Blagojevich. Rod Blagojevich got 14 years and he never took a dime." And that was absolutely correct. Fourteen years. Even George Ryan, former governor George Ryan. Craig Wall from ABC 7 interviewed George Ryan and, you know, I loved his comment. He said, "Clearly Rod Blagojevich and I are not friends, right? We're on opposite sides of the political spectrum. But he got a raw deal. And I'm happy to see him come home." And so it was really unique, the support that we had, there's no other way to describe it.
Jeff
Well, the pardon powers of the president are based on Article Two of the U.S. Constitution, which is Section Two, Clause One. And of course there's a distinction, which I think is often lost to many, between a pardon and a commutation—a commutation being synonymous with clemency. That's the mitigation of a sentence for someone that's currently serving a sentence for a crime or conviction without cancelling the conviction itself, whereas a pardon is an executive order that grants clemency for a conviction. In this case, the governor's sentence was a commutation, is that correct?
Mark Vargas
That's correct.
Jeff
Or, the governor received a commutation by executive order. Do you expect he'll receive a pardon?
Mark Vargas
I'm confident that there will be vindication. I'll just leave it at that.

Listen to the full episode here to catch all of Vargas' insights, as well as other episodes of The Political Trade.