Uncertain Political Futures
The Commodity Futures Trading Commission withdrew its longstanding no-action letter for political prediction market platform PredictIt. Luckbox asked its co-founder what that means for the future of political forecasting.
A lot has happened since the Commodity Futures Trading Commission (CFTC) granted no-action relief to Victoria University of Wellington to operate a political event contracts market in 2014. The resulting platform, predictit.org, has served as the foundation for a community of forecasters, researchers, journalists and politicians eager to glean insights into—and profits from—event outcomes.
In addition to the academic research resulting from PredictIt's market activity, spanning topics from market theory to trader psychology, successful traders have managed to supplement their incomes thanks to their prognostication prowess. Others have ditched their day jobs entirely in favor of pursuing full-time prediction market forecasting.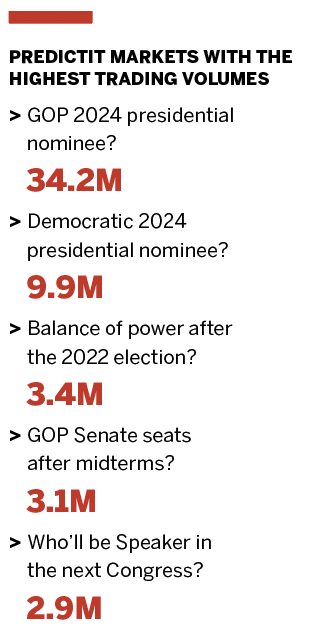 However, PredictIt's future, and the future of the community banded around it, seems as uncertain as some of the market questions featured on the site. On Aug. 4, the CFTC's Division of Market Oversight withdrew its no-action letter and gave PredictIt until Feb. 15, 2023 to close out or liquidate all of its remaining listed contracts and positions.
"DMO has determined that Victoria University has not operated its market in compliance with the terms of the letter and as a result has withdrawn it," the CFTC's release said.
Yet John Phillips, the co-founder of PredictIt and CEO of Aristotle, a political data, consulting and software company, said he didn't know what spurred the commission to take action against the prediction market platform. Steven Adamske, director of the CFTC's Office of Public Affairs, said via email that the commission was "unable to talk specifics about the compliance issues other than to say that the university was not in compliance with the previously issued No-Action Letter."
"Any and/or all violations," Adamske wrote, "were communicated directly to Victoria."
Phillips maintains that all of the active markets on the site are not only within the terms of the no-action letter but also consistent with commission interpretations conveyed to PredictIt over the past eight years.
"We disagree with the CFTC's action," Phillips said via email. "Over the past eight years, PredictIt built a thriving political trading community and [has] been a good actor in an industry rife with bad ones."
Despite the CFTC action, trading continues to be fully operational on PredictIt for the time being—albeit the site is halting the addition of any new markets, according to an Aug. 4 notice to traders. But if the CFTC action isn't amended or reversed by Feb. 15, trading on PredictIt will officially cease.
That deadline has some concerned because it falls before the natural resolution of some of the site's most widely traded markets. Who will be the next Republican and Democratic presidential nominees? Which party will win the presidency in 2024? Will President Joe Biden resign during his first term? Nearly 50 million shares have exchanged hands forecasting the outcomes of those events.
But much like the markets, the site's fate is not a foregone conclusion.
"We hope we won't have to close the 2024 markets prematurely, and there's still time to get this right—to reverse this action," Phillips said. "We'll continue to pursue every avenue to allow political prediction markets to continue to operate. Aristotle has filed for an entity to be licensed as a DCM [designated contract market]."
In the meantime, traders and other members of PredictIt's ecosystem can visit savepredictit.org to access a portal to write letters to members of Congress and the CFTC to share their thoughts about the no-action letter's withdrawal, Phillips said.
"The people at the CFTC work really hard, and we've always said that their oversight is necessary to run a safe and secure exchange for our traders," he said. "But they also need to hear from the people who use PredictIt and our data."
HOW PREDICTION MARKETS WORK
Prediction markets use real money to forecast outcomes of events. Contracts trade between 1¢ and 99¢, and the price reflects the market's forecasted probability of an event occurring. When an outcome is reached, correct contracts pay out $1, and incorrect contracts become worthless.