Wagering on policy markets can seem challenging, but public opinion polling and political context can provide valuable clues
Luckbox readers have a lot to say about student debt forgiveness.
"Students shouldn't be saddled with crushing debt while starting off in life," wrote one reader.
"You take out a loan, it's your responsibility to pay it back," wrote another.
All in all, more than 72% of readers indicated they opposed forgiving up to $10,000 of a borrower's federal student loan debt, according to the latest Luckbox Readers Survey. That number balloons to over 82% when asked about forgiving all of a borrower's federal student loan debt.
Support or opposition aside, those with strong convictions about what will actually transpire can wager on the outcome, thanks to prediction markets. A variety of legislation-related markets attract traders to predictit.org and kalshi.com: from rescheduling cannabis under the Controlled Substance Act to passing Build Back Better before the midterm elections.
But prediction market traders need more than just hunches to profit consistently in policy markets. Short of a direct line to Congress or President Joe Biden himself, public opinion polling may be traders' most valuable resource. In the spirit of this issue's higher education theme, let's use Kalshi's "Student debt forgiveness becomes law by
Dec. 31, 2022" market to demonstrate how.
The pulse of the polls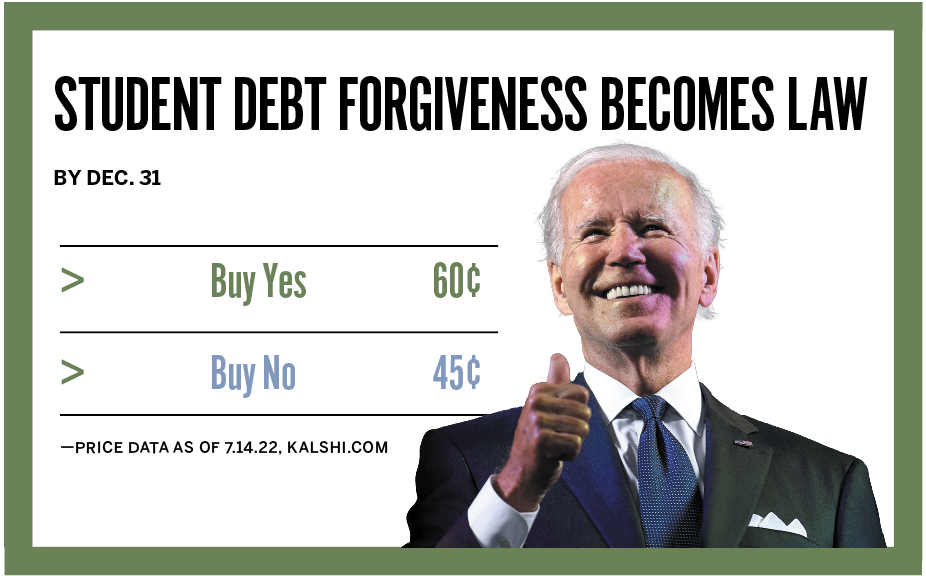 An NPR/Ipsos poll found that 55% of Americans surveyed supported forgiving up to $10,000 of a person's student loan debt. The same poll found that 47% supported $50,000 in forgiveness, and only 41% supported total student loan forgiveness.
That slim majority in favor of $10,000 of student debt forgiveness should hypothetically put the odds of the policy becoming law a little greater than calling a coin toss. Yet, at press time, the respective prediction market at Kalshi has the odds considerably higher, with "Yes" shares trading for 60¢. And they've traded as high as 76¢ in the past.
Why that might be
Is the market mispriced? Do its traders know something the pollsters don't? One possible answer, according to the hosts of The Prediction Trade podcast, lies deeper in the granular polling trends and the political context surrounding them.
Three-quarters of respondents to an intelligent.com survey—all of whom are registered voters—said a midterm candidate's stance on student loan debt cancellation was "very" or "somewhat" important to them. Nearly 80% of those respondents also indicated they supported at least $10,000 in student loan debt cancellation per borrower.
Similar sentiments are echoed elsewhere. According to Harvard University's Spring 2022 Youth Poll, 85% of young Americans (ages 18 to 29) favor some form of government action on student loan debt, 38% of whom favored total debt cancellation.
The Harvard Youth Poll seems especially noteworthy because, more so than any other age group, 18-to-29-year-olds have displayed the steepest decline in approval of the Biden presidency, according to Gallup. The 61% of 18-to-29-year-olds who approved of Biden's presidency from January to June 2021 shrank to 38% from September 2021 to March 2022.
Moreover, 94% of Democratic voters in that age group feel their party should nominate someone other than Biden to lead the 2024 presidential ticket, a July New York Times/Sienna College Research Institute survey indicated.
The discouraging poll results come just before a pivotal midterm election. Both FiveThirtyEight and RealClearPolitics, two polling aggregators, forecast that party control of the Senate after the midterms is a toss-up. And both currently give Republicans a slight edge.
Pair that with a string of headlines like Forbes' "If Student Loans Don't Get Cancelled, Borrowers Threaten To Vote Against Democrats" and Politico's "Dems fret Biden's inaction on student debt will burn in midterms," and it's far less surprising that the markets give the edge to forgiveness becoming law.
It's important to keep in mind that polling doesn't necessarily translate into policy. That said, it does paint a telling picture of voter sentiment—and what policy decisions could help or hinder a political party ahead of an election.
Even if student debt forgiveness doesn't become law by the end of the year, the traders who bet that it would have had ample opportunity to sell their shares for a profit.