Political Fortunes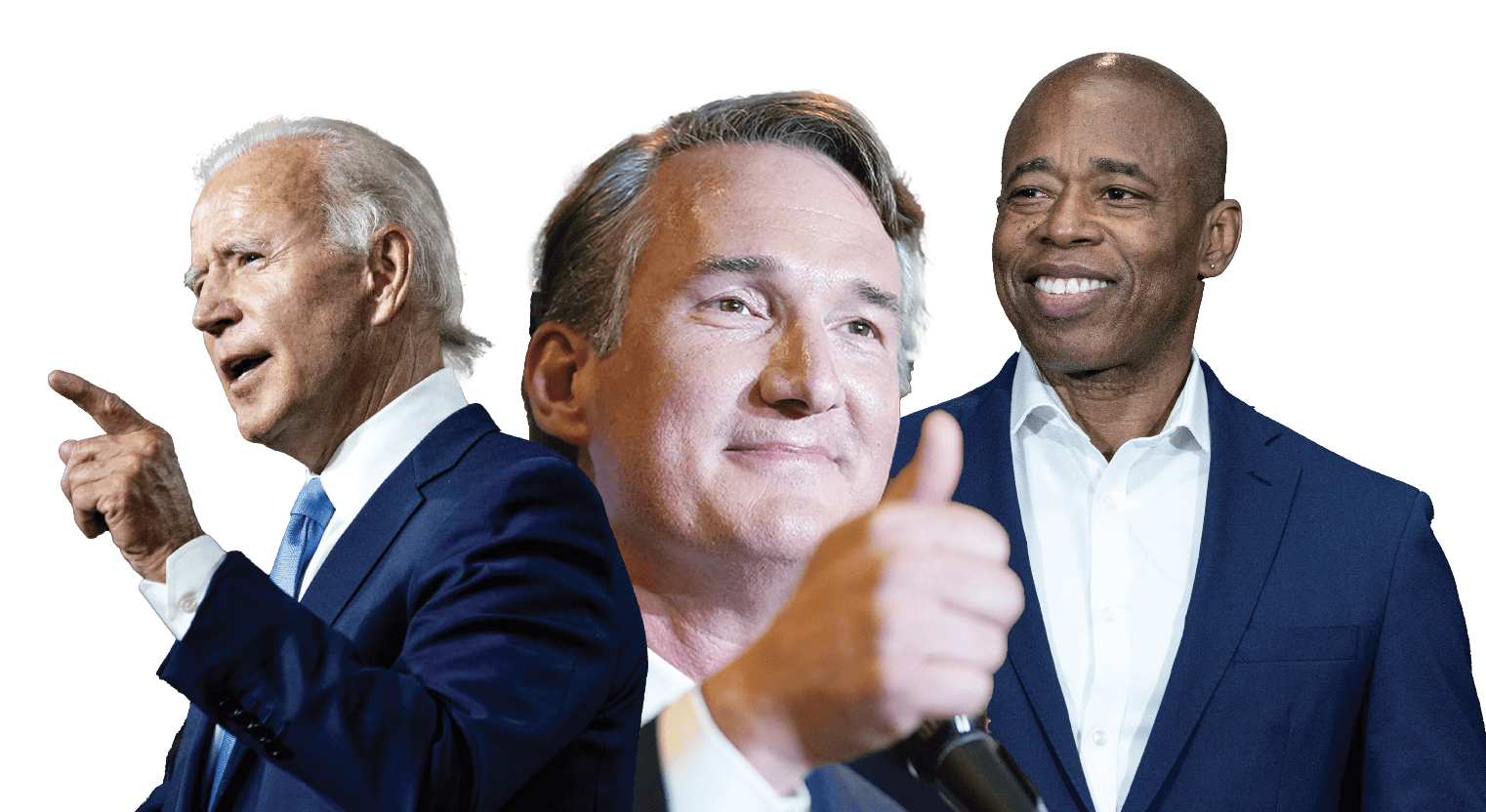 Serious money can be made and lost when prediction markets flip—and in some cases flip back again. Here are a few of the most memorable market comebacks from recent elections.
Weak End With Bernie
More than 140 million shares traded hands in PredictIt's "Who will win the 2020 Democratic presidential nomination?" market, and it's no surprise why. The market launched in August 2017 and spent the bulk of its three-year lifespan fiercely contested among a total of 33 contracts.
Then-candidate Joe Biden was almost always the favorite—something that was likewise reflected in the polls. Six months before he even announced he was running, 33% of respondents to an October 2018 CNN/SSRS poll put Biden far ahead of the pack.
But prediction market traders and political junkies alike remember that the race was anything but a lock.
Besides Biden, candidates Bernie Sanders and Elizabeth Warren each saw daily average trade prices on PredictIt reach above 50¢, implying the market was forecasting they had greater than 50% odds of securing the nomination.
By Jan. 25, 2020—a little over a week before the Iowa caucus—the race that looked like it was Biden's to lose had flipped in Sanders' favor. Adding insult to injury, Sanders had a stronger showing than Biden in Iowa, pulled off a narrow victory in the New Hampshire primary a week later and went on to win the Nevada caucus a little over a week after that.
Sanders looked unstoppable. On Feb. 11, the day of the New Hampshire primary, Biden shares traded for their lowest price ever, at 6¢, and spent 17 straight days trading under 15¢ on average.
Meanwhile, Sanders was trading as high as 53¢ with no sign of slowing down.
Then, on Feb. 26, South Carolina Rep. Jim Clyburn endorsed Biden just three days before his state's primary. Biden's share prices jumped to 23¢ that day, and after winning the South Carolina primary, his average trade price never dipped below 25¢ again.
Early March marked Sanders' descent and Biden's return to the top, where he would remain until he comfortably secured the Democratic nomination for President of the United States.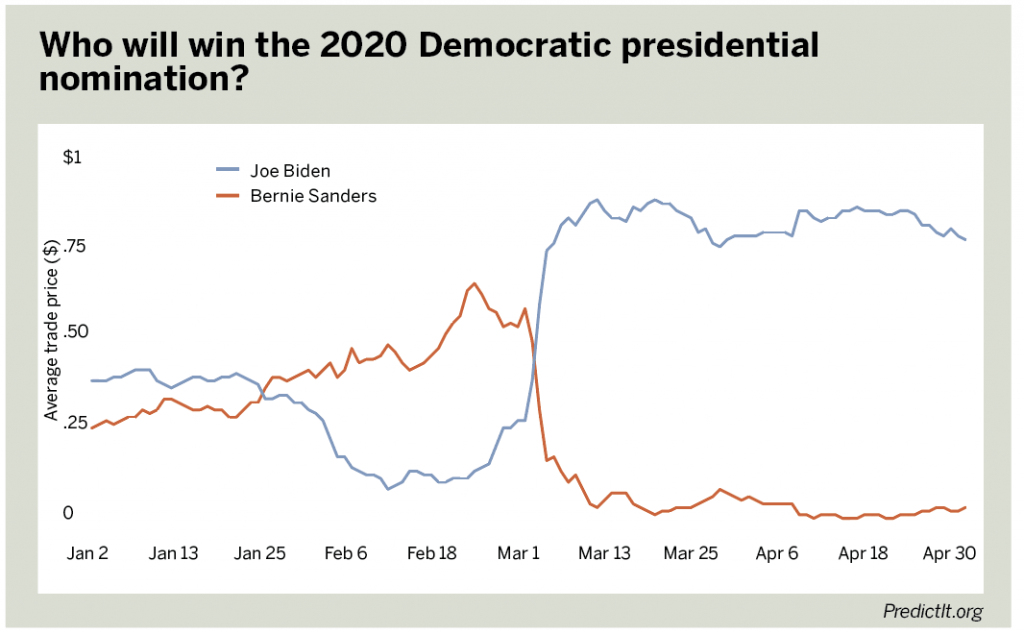 ⊲Traders who bought Joe Biden shares under 15¢ saw returns of at least 566.7%.
Virginia? I Hardly Know Ya
When it comes to the 2021 Virginia gubernatorial election, whether you look at the polling averages of FiveThirtyEight and RealClearPolitics or the prediction markets of PredictIt, you'll essentially see the same thing: long, dull trend lines that flip dramatically in the final days.
Democrat Terry McAuliffe, the 72nd governor of the state from 2014 to 2018, was the favorite from the get-go against Republican businessman Glenn Youngkin.
In PredictIt's "Which party will win the 2021 Virginia gubernatorial election?" market, Republican shares traded under 20¢ for nearly five months from December 2020 to May 2021. But it was Youngkin who would come out on top and win the election by over 63,000 votes.
When did the flip happen?
Republican and Democratic shares began inching toward each other until reaching a virtual dead heat on Oct. 29, 2021, when Democratic shares traded for an average of 53¢ and Republican shares traded for an average of 50¢.
The next day, Republican shares eclipsed Democratic shares for the first time, at 52¢ to 51¢, respectively. The rest is history.
Political pundits suggest it was Youngkin's campaign emphasis on education—and especially parents' role in their children's education—that made the difference in the election. McAuliffe's "I don't think parents should be telling schools what they should teach" remark during a September debate certainly didn't help.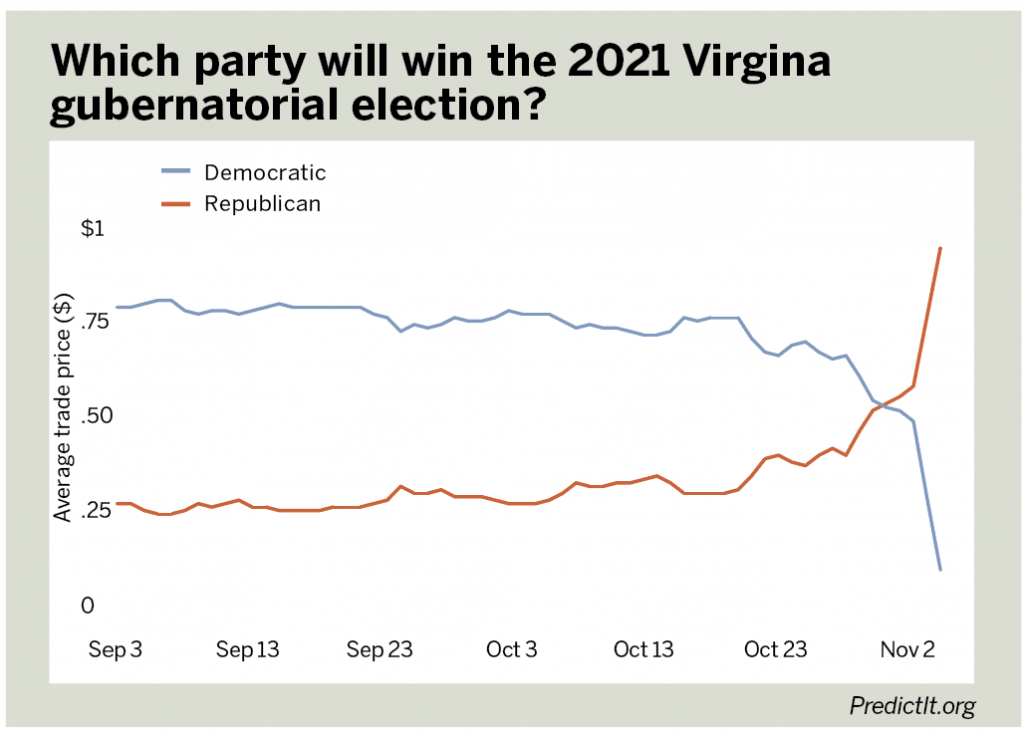 ⊲Traders who bought Republican shares under 20¢ saw returns of at least 400%.
Mayoral Melee
Andrew Yang seemed like a shoo-in for New York City's 2021 mayoral election—at least at first. As a Democratic presidential candidate just the year before, Yang had name recognition, energized supporters and early polling leads.
In PredictIt's "Who will be elected New York City mayor in 2021?" market, Yang shares traded as high as 73¢ in late April 2021, and it looked like the former presidential hopeful would soon be in charge of The Big Apple.
At the same time, Brooklyn Borough President and retired New York City Police Captain Eric Adams had shares trading in the teens, down from the mid to upper 20s a month prior. In total, his shares spent 17 consecutive days in April and May trading under 20¢ on average.
Things didn't look good, but Adams got a boost from an unlikely place: Andrew Yang.
From criticizing unlicensed street vendors, calling Times Square his favorite subway station and tasteless debate gaffes about mental illness, Yang and his campaign unraveled as New Yorkers questioned whether he was experienced enough to serve as their mayor.
Then, in June, the early front-runner became the first in a field of 13 Democratic candidates to drop out of the race.
Still, it wasn't a sure thing for Adams after he overtook Yang and became the new front-runner. Former sanitation commissioner Kathryn Garcia was within striking distance when initial ranked-choice preferences were revealed—with over 120,000 absentee ballots yet to be counted.
On July 1, Garcia shares traded up to 61¢ as traders grappled with the very real possibility that she could win. But it was ultimately Adams who came back from behind again, went on to beat Republican Curtis Sliwa in the general election and became New York City's mayor.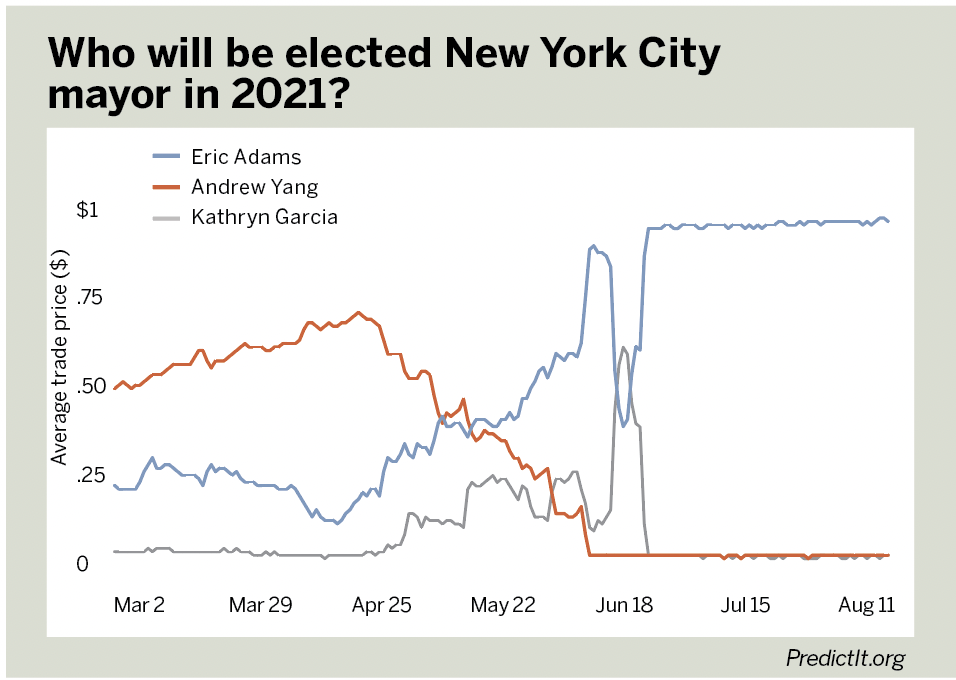 ⊲Traders who bought Eric Adams shares under 20¢ saw at least 400% returns.
How prediction markets work
Prediction markets use real money to forecast outcomes of events. Contracts trade between 1¢ and 99¢, and the price reflects the market's forecasted probability of an event occurring. When an outcome is reached, correct contracts pay out $1, and incorrect contracts become worthless.