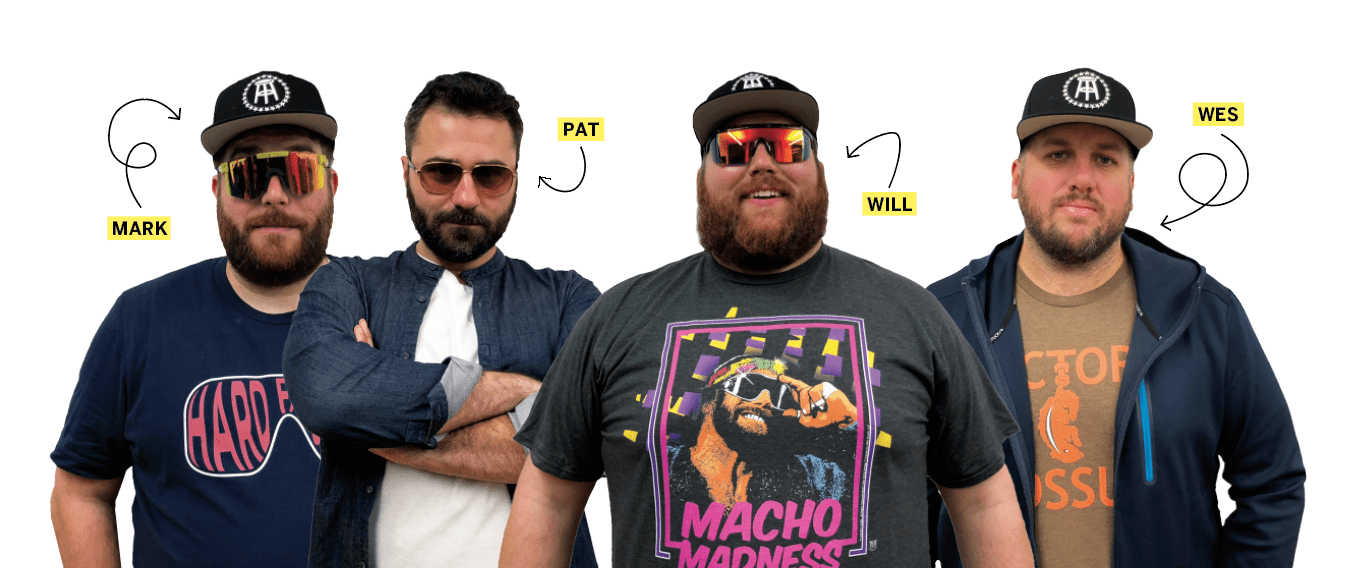 News, Comedy & Gambling on Politics
Plus sex, drugs and rock 'n' roll—this podcast has it all!
Get a FREE digital subscription to Luckbox magazine!
And…
Subscribe here to The Political Trade podcast!
The guys at Barstool Sports' Hard Factor podcast cover a lot of ground, and they're avid prediction market traders who tie the markets into each of their daily shows. Luckbox sat down with Wes, Mark, Will and Pat to talk about their chart-topping podcast and political wagering prowess.
Will: After moving to Austin, Texas, to pursue independent sketch comedy and filming, we then went into different career paths. Pat had been doing music producing and movie producing. Mark and I had been in the corporate world, and Wes had been running his own videography company. So professionally, not much broadcast experience. But, practically, we have been hobbyists at comedy and sketch comedy for a long, long time.
Have any of you done any broadcast work before?
Pat: Yeah, I did a college radio show. I think that's probably the extent of traditional broadcast.
Will: Also, I was the soccer announcer in high school for the varsity soccer team.
And how did you guys hook up with Barstool?
Will: Wes, Mark and I had a podcast called Diet Starts Tomorrow for about a year and a half prior to—
Mark: Because we're fat.
Will: Yeah, because we're fat. When the opportunity with Barstool came around, all four of us came in from having worked together previously, and that's how we got going with Barstool.
How did you guys discover prediction markets?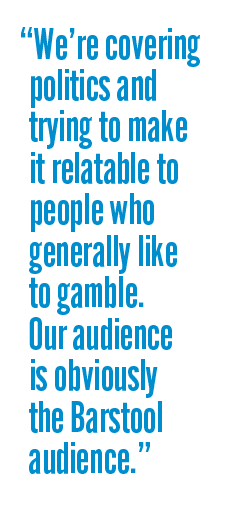 Mark: They kind of discovered us. Someone from PredictIt reached out to us, and it just went from there. We talked about how our demographics lined up, and gambling is something we like to do. We talk about politics, so it just really aligned. When we started using the app, we really liked it so when we were doing the ad reads, we had skin in the game and we really cared about it.
Previously, who was the most frequent gambler?
Mark: Probably me.
Do any of you trade in the stock market?
Pat: I dabble in the stock market, and I actually started dabbling with day trading right when we started this job but I'm what they like to call a "bad gambler," so.
Mark: Yeah, no one's really a good gambler.
Wes: I'm actually fantastic at betting on golf. I'm up probably $10K over the course of my betting lifetime.
Mark: He's got, like, a very average IQ, but he's like Rain Man when it comes to golf.
So, what's the appeal of prediction markets?
Will: We're covering politics and trying to make it relatable to people who generally like to gamble. Our prediction market audience is obviously the Barstool audience. The fact is that we have a baked-in niche of people at least willing to consider gambling. So when we saw PredictIt, we said, "This is a pretty good match." And we obviously got into it as well—you have more of a stake in it when you want to play it yourself, and we saw it as a way to relate current events to our audience where they could also play along.
Pat: The other thing that attracted us to prediction markets is that, again, we'd only dabbled in the stock market and that seemed like such a steep learning curve. We were able to get into prediction markets and gamble more like we do on sports. We have the upside of shorting things or selling our positions if we feel like we're starting to lose. It's not just that you win or you lose, which I think is very attractive to us.
Mark: We treat gambling on politics like the news: We like to have fun with it. We're not running algorithms and spending all hours of all days coming up with spreadsheets on how to bet. It's like we treat the news. News is kind of bleak and not fun for most sources. So, we like to give a fun take on the news—have a little fun with it. With PredictIt, we can also do that—spend a little bit of money, but really, it's enjoyable and we have a little fun with the news with it.
How has the audience responded? Do you get a lot of feedback?
Mark: We've had almost unanimous positive feedback. Small learning curves, but people love it.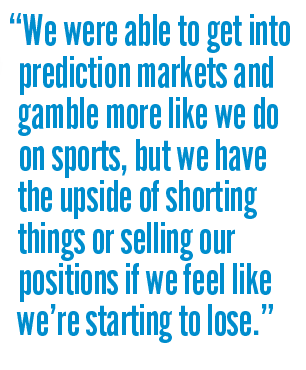 Mark: I'd say Pat and myself. I was doing really, really well—
Will: I'm also up this year.
Mark: Will's a more responsible gambler, which you should be—bet responsibly. Will's accurate, but he bets with small amounts. I was betting with large amounts and was doing very well, and then recently I'm back down to about average or where I started.
Tough question: Who's doing the best among you?
What lessons have you learned that you would pass on to new prediction-market traders?
Mark: Definitely read the rules. Read all the rules and think ahead as to when the market you're entering will settle based on the rules. Sometimes you're going to enter a market that's not going to settle for a very long time. If you don't have a lot of money and you want to keep playing, then your money is invested unless you sell at a rate where you might not want to sell. So I would say, once again, read the rules clearly and think about how long it's going to take for that market to settle. There's nothing worse than being stuck in a market.
Will: If it looks too good to be true, just like in regular gambling, it usually is. I mean, you're not smarter than 98% of the market, so don't trick yourself into thinking that you are in this case, either.
Pat: Set a gains limit or gains minimum, a daily goal. That's what I do. I try to make $100 a day. And if I've maxed out what I can put into a contract and I make $200 on that, I'm out.
Wes: The biggest mistake I've made is panicking. Do not panic. If you get into a market that's a longer market—like, for example, when Pat and I got into the vice president market with Amy Klobuchar, it was at 8¢. It went down, I panicked, I sold all my stock, and now it's up to like 30¢. Do not panic.
Any advice on how not to die?
Will:I've got a lot of good tips. Here are the ones that I am going with, even though there is soft medical evidence. One is that UV light exposure, masturbation and marijuana are good for you. I mean, the science is loose, but you can connect the dots to say that those could be beneficial. And then, other than that, obviously washing your hands and avoiding people is best.
Mark: The science is loose, Will, but we're going to give them a few extra case studies, so we'll see. Our best advice is to lock down, turn up. Donate to charity and make sure that the elderly, mainly, but that everyone stays healthy.
Hard factor's softer side
The Hard Factor news team for Barstool Sports—which includes longtime friends Wes Shephard, Mark Borghi, Will Smith and Pat Cassidy—debuted their show June 6, 2018. They've since recorded more than 400 news- and humor-packed episodes, racking up well over a million downloads a quarter.
Dubbed "news cocaine," Hard Factor publishes new episodes of the podcast Monday through Friday "to give you just enough information to make you sound knowledgeable at the water cooler, but not knowledgeable enough to put you on a government no-fly list."
Recurring segments include "Florida Man Friday," where the team wraps up the week by showcasing some lesser-reported, yet nonetheless captivating crazy crime and misdemeanor stories from the Sunshine State. Past episodes delved into the details behind headlines such as "Multiple Florida Men are Arrested on Nudity and Other Charges," and "A Florida Man was Caught at Publix Wearing an Idiotic Homemade Hazmat Suit."
Before long, someone at the prediction market site called PredictIt took notice of the guys' light-hearted approach to politics and reached out. Shephard, Borghi, Smith and Cassidy have all been active gamblers on the prediction-market platform ever since.
Recently, as guests on Luckbox's The Political Trade podcast, the team shared which PredictIt markets they were betting on. Shephard said he liked Joe Biden in the Democratic nomination market, a choice that was on the money. Borghi said Republicans would win Texas in the presidential election. Smith has his money on longshot Michelle Obama for the Democratic vice presidential nomination. Cassidy favored a postponement of the Wisconsin primaries that didn't happen.
Political betting aside, the team strives to spin hard news in a manner that translates into hard laughs, using levity to make otherwise bleak or boring stories more digestible to listeners. The same principles underpin their charitable pursuits.
In response to the COVID-19 pandemic, the Hard Factor team encourages listeners to "Lockdown & Turn Up," and sells T-shirts bearing the mantra. Proceeds from T-shirt sales are donated to Meals on Wheels and its COVID-19 response fund. (Luckbox grammarians point out "lock down" is two words as a verb phrase.)
Tune in to Hard Factor wherever podcasts are available.
Get a FREE digital subscription to Luckbox magazine!
And…
Subscribe here to The Political Trade podcast!