Heavy-Metal Whiskey
Metallica's new Blackened American Whiskey strikes many chords, but is it worthy?
Blackened is the end
Winter it will send
Throwing all you see
Into obscurity

Death of Mother Earth
Never a rebirth
Evolution's end
Never will it mend
— Lyrics from "Blackened" from … And Justice for All (1988) Metallica's fourth studio album

---
Uplifting lyrics.
If you're not a whiskey drinker by nature, there's nothing like pondering the post-apocalypse to get you in the spirit. Perhaps that's what heavy-metal heavyweights Metallica had in mind with their introduction of Blackened American Whiskey, a carefully calculated marketing collaboration staged with Kardashian acuity.
We were cynical when we learned of Metallica's new whiskey. Celebrities are still trying to duplicate George Clooney's $1 billion sale of his Casamigos tequilla company to Diageo plc (DEO) in 2017. Big names that grace spirits bottles include Ryan Reynolds, Ludacris, Dan Akroyd, Danny DeVito, Pharrell Williams, Bob Dylan, Jay-Z, Sean Combs, Justin Timberlake and David Beckham.
But to their credit, Metallica chose not to simply play along. They cranked the volume up to 11 and partnered with Dave Pickerell, a revered master distiller, to craft their new whiskey. Pickerell earned his industry cred during his 14-year tenure at Maker's Mark and then became one of the most highly regarded consultants in the craft spirits industry. He's helped launch hundreds of distilleries, including ultra-successful brands such as Whistle Pig.
With Metallica's choice of the name Blackened, Pickerell saw an opportunity to try something new and he finished the whiskey in black Spanish brandy barrels.
Then Pickerell used a "sonic maturation" technique developed by Hudson Whiskey to reduce (costly) barrel-aging time. Quality whiskey requires years of aging in charred barrels to take on color and flavor profiles. The longer the age expression, the more complex the character of the whiskey. But Hudson Whiskey distillers discovered they could accelerate maturation by exposing whiskey barrels to a pair of subwoofers emitting bass tones that agitated the liquor inside. What could be more agitating than a Metallica playlist?
So the blending team bombarded the whiskey with ultra low frequency Metallica tunes. Hence the marketing tagline, "born in cask, forged by sound." Metallica explains: "This causes the molecules to become excited and penetrate deeper into the barrel, where it picks up additional wood flavor characteristics."
But simply exciting the molecules at random wasn't good enough for professional musicians. Instead, Metallica chose specificity and diversity. So the producers vary the playlist used to enhance the whiskey during finishing. The movement of the whiskey and the amount of interaction depends on which song is played, so the variation in the music creates a slightly differing nuance from one batch to the next." The marketing people put it this way: "Each unique playlist produces a unique flavor profile."

OK, you had us at Metallica, but you may have lost us with that playlist = uniqueness claim.
Not new to this (having previously side-hustled a successful spirits start-up that went on to become a popular Vodka brand), I sought out whiskey tasting event promotor and independent bottler Dave Sweet to bring another palette to a Blackened taste test.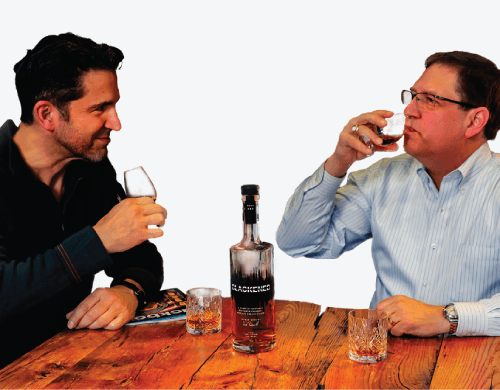 We obtained a bottle of batch #085 for our taste test, mainly because the song titles on the playlist resonated with all the hope and optimism of a burial crypt (see below). Sweet had some nice things to say, describing the whiskey as balanced, pleasant and approachable.
Blackened displayed a distinctively "craft" nose and initial taste, according to Sweet. He found it soft and mellow right from the start, the benefit of both the blending and the brandy barrel finish.
"Berry and brandy is most prominent on the middle palate," Sweet continued. "The additional barrel finish (or perhaps mature whiskeys in the blend) also enhances the wood, but again, subtle."
The fruit of the brandy barrel overtakes the finish but comes up light and short, Sweet maintained.
Water enhances the flavor but increases the alcohol and phenol so the whiskey "drinks better neat," Sweet concluded.
I thought Sweet was generous in his review. I noted Blackened's apricot and honey tones at the outset, finishing with just a little grassy taste at the end. But the absence of aging was apparent as there was no discernible lingering complexity. I am a fan of port and sherry barrel finishes, but the black brandy finish recalled the #085 playlist track, The Day That Never Comes – more noise than finish.
Perhaps, we just picked the wrong playlist. But at $45, whiskey aficionados can choose from among many sophisticated alternatives with longer age expressions. Blackened represents a triumph of style over substance.
Next: Whitesnake's Whiskey?
The Batch #085 Playlist
1. Spit Out the Bone
2. Suicide & Redemption
3. All Nightmare Long
4. The Struggle Within
5. The Day That Never Comes
6. Metal Militia
7. Creeping Death 
8. Dyers Eve 
---