A New Take on the Highball
CBD is showing up everywhere, even in cocktails. So luckbox asked contributing editor and Fake Financial News columnist Vonetta Logan to check it out.
Kuma's on Fulton is at the epicenter of Chicago's new food mecca, the Fulton Market District.
Even before you set foot inside, the thrashing beat of heavy metal rearranges your internal organs. On the day of the "drinking for science" challenge, the temps had climbed well into the 80s, so Kuma's sliding front windows were open and people sat outside happily munching on towers of hand-cut fries and burgers so large they should have their own cardiologist.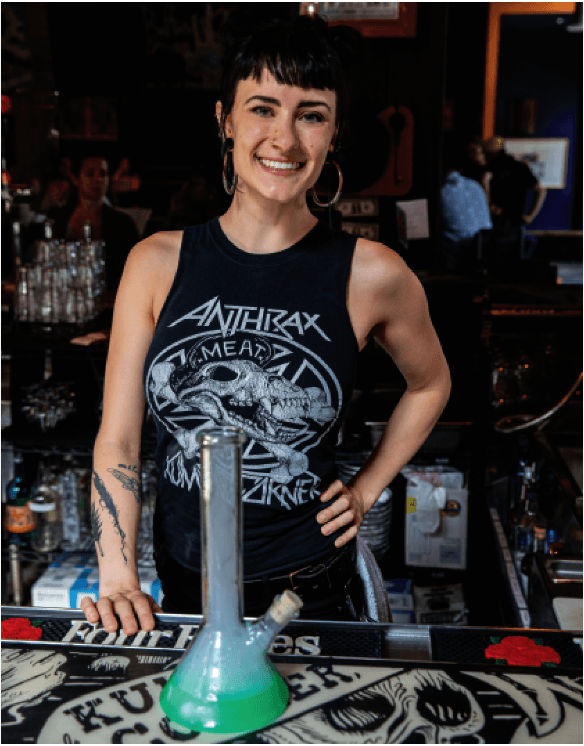 The place's newest claim to fame is offering one of the area's first selections of handcrafted CBD cocktails. As bar manager Bryn Gleason explained: "Making cocktails that we light on fire, that are smoking and things like that are definitely embraced here. So I figured why not go over the top? I had custom bongs made, we got dry ice and we made three different drinks inspired by three different strains of weed."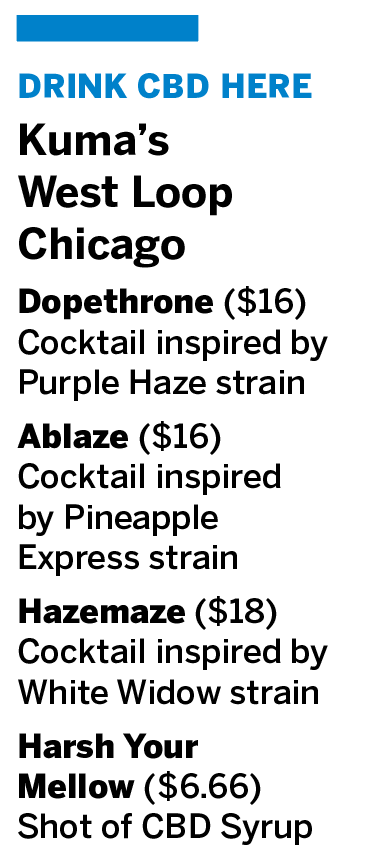 Her curated offerings include drinks aptly named: Ablaze—Pineapple Express: sweet pineapple balanced with a sneaky hint of spice and rum; Dopethrone—Purple Haze: delicately floral, gin-based with hints of hibiscus and lavender; and Hazemaze— White Widow: a Mezcal based drink with notes of anise and lime and mint.
Gleason admits she's not that into cannabis, so when she took a field trip to a cocktail lab she brought bussers, bar backs and bartenders who were…let's just say more well-versed. Like any good cocktail curator, she had questions. Does Pineapple Express actually taste like pineapples?
Chicago-based Euphoric brands created a CBD-based simple syrup that Gleason uses as the base for the CBD cocktails. "They refined the syrup a little bit for me because I wanted it to be more like a regular simple syrup and they were able to thin it down for me with the same amount of CBD," she notes.
Each drink packs about 20mg of CBD, the non-intoxicating form of cannabis derived from hemp. Gleason took the syrup home because she was working on her creative process. "I wanted to know what I was working with and what I was going to be giving people since I'm used to giving people alcohol. I wasn't sure how CBD would play into that, but it was really chill. It was just calming for me. I didn't feel sleepy and didn't feel weird. I just felt calm."

The patrons I spoke to couldn't specify exactly how the CBD was working on their senses. "Is it alcohol or is it me feeling the CBD?" one asked. "I just feel good. It's hard to tell what is affecting me first."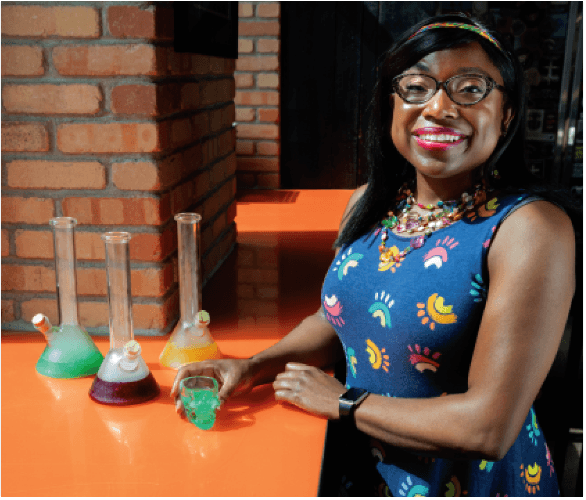 The presentation's a delightful surprise. Each drink is served in a custom glass bong, and the dry ice adds "smoke" to each drink as the server delivers it to the table. Patrons uncork the bong and pour the libation into a skull shot glass. It's definitely made for Instagram.

But they're not just pretty to look at. Gleason took her time balancing the flavor profile of each cocktail. The Pineapple Express is bright yellow and has an unexpected kick of spice that burns (in a good way) on the way down. The Dopethrone has a vibrant violet hue and will convert anyone who's not a fan of gin. It's floral forward but not overpowering, and it smells so good it could be a high-end candle. The Hazemaze is nearly neon green, and it's like smoking a pack of Kools. It burns but it's mentholated minty all at the same time.
Gleason says the clientele has been diverse. If you're 18, you can get a CBD shot added to a non-alcoholic drink. She says older customers come in and giggle over the bongs, reminiscing.
"I feel like it's a very fast-growing trend though people are starting to figure it out and they come in and are like, 'Oh, my gosh! CBD cocktails! We have to try one of those.' So, yeah, people are embracing it."
Vonetta Logan, a writer and comedian, appears daily on the tastytrade network and hosts the Connect the Dots podcast. @vonettalogan