Pairing Dark Rums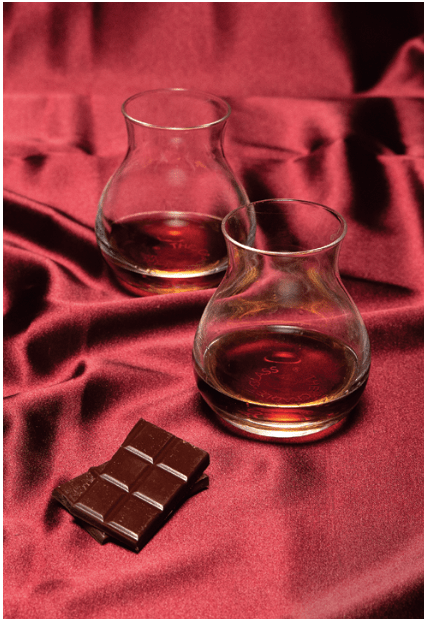 Dark rums are taking their rightful place alongside whiskey in the brown spirits craze.
Both rum and whiskey require fermentation, distillation and aging, but the ingredients differ. Rum is made from byproducts of molasses, honey and sugarcane, whereas whiskey is fermented from barley, rye and wheat.
Just as whiskey drinkers have learned to appreciate the unique experience of each barrel finish, rum aficionados are finding they can identify the containers used in the aging process. Finer dark rums may be aged (mostly) in old bourbon barrels or sherry, port or other wine casks, for anywhere from two to 30 or more years.
The aging gives them a distinct, full-bodied rich and spicy flavor, and it adds to the whiskey-like color. But, for the most part, the deep hues of dark rums are achieved through copious use of caramel coloring and unfermented molasses.
The result invariably yields a rich and exotic drinking experience. The initiated detect notes of toffee, coffee, leather and smoke.
Instead of diluting the finest rum in cocktails or watering it down with ice, fanciers sip the liquor neat and pair it with premium cigars or single-origin dark chocolates with cacao levels of 65% to 73%.
That's why Luckbox asked Valerie Beck, a favorite chocolate expert and CEO of Chicago-based Chocolate Uplift, to provide an assortment of artisanal dark chocolates. Beck specializes in soy-free, additive-free, small-batch global varieties of single origin. Each of the chocolates that passed the magazine's pairing test were of Caribbean origin.
Beck says that the Caribbean islands became a major part of the cacao industry in the 1500s, relying predominantly on slave labor. Today, 2.1 million children still work cacao farms, sometimes in hazardous conditions not far removed from slavery. Chocolate Uplift sources sustainable chocolate from cruelty-free companies, she notes.
For cigar pairings the magazine called upon Plasencia, the world's largest tobacco grower. Plasencia produces more than 40 million cigars each year from plantations in Honduras and Nicaragua. The company's extraordinary full-flavored cigars are the perfect dark rum companion.