The Cult of Celebrity Spirits
We value our liquid assets and the master distillers who make them special, so we're not the least bit impressed when a celebrity attaches his name to a brand—as should be evident from our (May 2019) review of Metallica's Blackened Whiskey.
We were similarly unmoved by Justin Timberlake's Sauza 901, George Clooney's Casamigos, Michael Jordan's Cincoro Tequila, Drake's Black American Whiskey, Bob Dylan's Heaven's Door Rye Whiskey, Conor McGregor's Proper No. Twelve Irish Whiskey, Dan Aykroyd's Crystal Head Vodka and Ryan Reynolds' Aviation Gin.
We've tried them all. With much more compelling offerings in each category, there's simply nothing special—move on.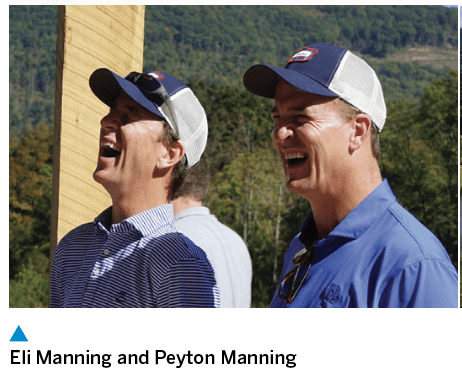 So, we were skeptical when the news came that sports celebrities Peyton Manning, Andy Roddick and Jim Nantz—co-owners of Sweetens Cove, a Tennessee golf course with a cult-like following—were "collaborating" on the launch of a new, eponymously named premium bourbon whiskey. Intrigued by the course tradition of welcoming newcomers with a celebratory "shot" of whiskey at the first tee, we found the story became even more interesting when they hired Marianne Eaves, former Brown-Forman blender and Castle & Key distiller, to blend the first 100 barrels of their 13-year-old, $200-per-bottle Tennessee bourbon.
With the initial 14,000 bottles to be sold only to Tennessee residents, finding Sweetens Cove is a challenge. When we were able to secure a tasting bottle before the June commercial release, we invited our favorite whiskey connoisseur and collector, David Sweet, to put Sweetens Cove to the test against other coveted whiskeys with more mature age statements.
Sweet brought some age-stated Jack Daniels and Knob Creek whiskeys to our tasting, as well as a selection from his own award-winning label, Barrel and Bottle.
Four Winning Whiskeys
Knob Creek 12 Small Batch Bourbon
First up, this age-stated Knob Creek was originally positioned as a limited edition bourbon when it was released in late 2019.
Proof: 100
Age: 12 Years
Color: Bronze
Price: $60
Mashbill: 75% corn, 13% Rye, 12% malted barley
Nose: Brown sugar and maple with sweet oak
Taste: Long rich flavors: brown sugar, light vanilla with burnt caramel and oak
Finish: Luxurious black pepper, oak and peanut
Mature, sophisticated, serious bourbon. The age is prevalent. We preferred it neat.
4 out of 5 luckboxes
Jack Daniels #27 Gold Maple Wood Finish
Initially, JD's #27 Gold was intended to have limited distribution. The bottle became available at the Lynchburg distillery shop in 2018 and is now available in select markets throughout the United States
Proof: 80
Age: Not stated
Color: Gold
Price: $100
Mashbill: JD's flagship bill: 80% corn, 12% malted barley and 8% rye
Nose: Light, sweet maple syrup
Taste: Approachable creamy caramel and molasses
Finish: Smooth, very easy to drink
The whiskey finishes in maple barrels from six months to a year. If there were such a thing as a "session" whiskey, this would be it.
3.5 out of 5 luckboxes
Barrel and Bottle's Oloroso Sherry Barrel
Dave Sweet, our expert guest, has launched Barrel and Bottle, a new spirits label made in collaboration with the special releases of storied distilleries. This past June 1, the label introduced a new skew featuring Town Branch Single Malt aged entirely in an Oloroso Sherry casks for over 10 years. To keep it real, Sweet sat out of this tasting.
Proof: 120.5
Age: 10 years and 4 months
Color: Dark red and brown
Price: $100
Mashbill: Malted Barley
Nose: Dark cherries, chocolate, dark molasses and baked plums
Taste: Rich molasses, dark cocoa, baked fruits, and raisins that spring from Oloroso sherry barrel aging
Finish: Oak, cocoa, burnt fruits and slight pepper; water brings out milk chocolate and sweeter fruits
One of the oldest American single malts available is a recent winner of Double Gold at the 2020 San Francisco Spirits Awards. It's a standout. Opulent and distinctive.
4 out of 5 luckboxes
barrelnbottle.com
Sweetens Cove Tennessee Bourbon Whiskey
Last up, Sweet comes back to the tasting table for Sweetens Cove Tennessee
Straight Bourbon Whiskey. We're big fans of Manning's gridiron exploits, but expected to feel indifferent to yet another celebrity collaboration.
Proof: 101.4 (cask strength)
Age: 13 years
Color: Dark caramel
Price: $200
Mashbill: 84% corn, 8% Rye, 8% malted barley
Nose: Peanut, oak and banana
Taste: Berries, pecan and a full range of black pepper and spices at the outset
Finish: A big finish of dark cherry, dark chocolate and oak explodes, then lingers
Wood from the age penetrates through the spice. Water opens up an orange finish. Unusual. Awesome. Touchdown!
4.5 out of 5 luckboxes
sweetenscovespirits.com