A Difficult Year for Distilled Spirits
Americans in COVID-19 lockdown changed the modes and means of their drinking habits in 2020, resulting in many losers and some surprising winners in the alcohol sector.
Homebound alcohol consumption spawned the "quarantini cocktail," even as the market for liquor imploded and spirits companies saw net revenues plunge. Hundreds of thousands of bar and spirits industry workers lost their jobs as bar stools sat vacant and bottle service became just a fading memory.
Other notable casualties include an estimated 6,500 American bars, including the 60-year-old Saturn Bar in New Orleans' Ninth Ward and the venerable Grey Lodge Pub in Northeast Philly—both recently named among the world's 50 best bars.
New craft spirits distillers were hit particularly hard by the absence of the on-premise venues they need to introduce their brands to new consumers. They lost an estimated $700 million in sales, or 41% of their total.
At least they received an 11th hour Christmas reprieve when Congress included a permanent reduction in federal excise taxes for small craft spirits distillers and importers in the $908 billion COVID-19 aid package. "Moonshine" played a role in achieving the bipartisan agreement as Sen. Joe Manchin, D-W. Va., shared a Mason jar filled with 170-proof "farm fuel" to warm up his colleagues and promote the spirit of compromise.
Another surprise was the growing number of 0% ABV ready-to-drink "mocktails" that were launched in 2020. For the record, Luckbox does not approve.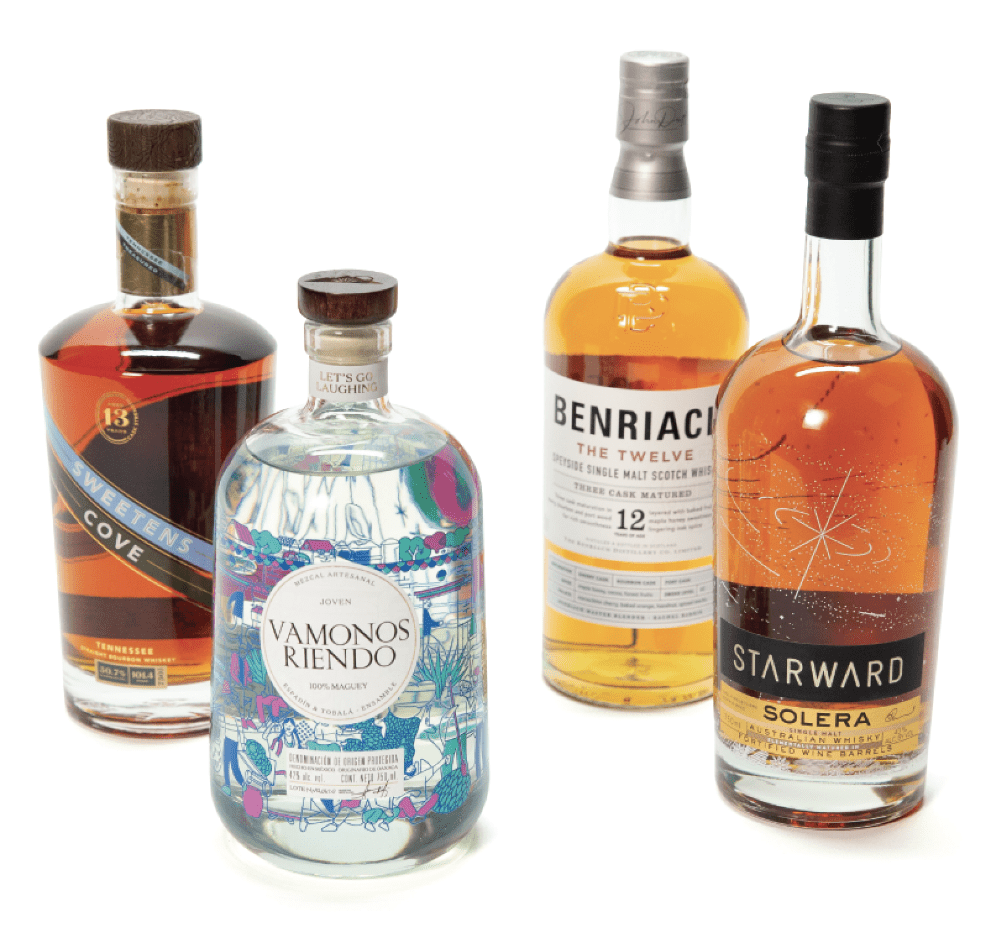 2020's Buzziest Booze
Sweetens Cove Tennessee Straight Bourbon Whiskey
Last July, Luckbox reviewed a distiller's sample of Sweetens Cove just before its public release. Our enthusiastic rating still stands. Not only is this 13-year-old Tennessee Bourbon superb, but it bears the name of a storied golf course and has the backstory of quarterback Payton Manning's ownership interest. Berries, pecan and a full range of black pepper and spices at the outset followed by a big finish of dark cherry and dark chocolate.
sweetenscovespirits.com, $179 (If you can find it.)
Among the more eye-catching packages released in 2020, this mezcal backs its stylish bottle with substance. A blend of eight-year-old espadin and 14-year-old tobala agaves propel citrus fruit forward with smoky undertones, followed by a whiff of vanilla and cacao milkshake to sweeten the finish. Smokiness is apparent but does not dominate this mezcal. Complex but approachable.
BenRiach "The Twelve" 12-Year-Old Single Malt Scotch Whisky
BenRiach Distillery's whisky-making heritage dates back to the late 1800s, but its late 2020 launch of four new lightly peated scotch whiskies has caught our attention.
This 12-year-old is our favorite new scotch. Dried fruit dissipates into a very dark chocolate. Each of the three finishes—sherry, bourbon and then port—announce their presence to your palette, leaving behind a smoky maple honey sweetness.
benriachdistillery.com, $49
Starward Solera Single Malt Whisky
The appeal of this Australian craft-distilled whisky lies with its apera barrel finish. Apera is a fortified wine, like sherry, that is native to Australia. Apera often finishes in its barrels for decades, accounting for the dominant malty sweet, banana, honey, fig and pinot-like palette that unmistakably emerges. While we appreciated the creamy smoothness, we welcomed more nuance. A nice gift to receive but did not make our shopping short-list.
Us.starward.com.au, $49