How I Turned $400 into $400,000 Trading Political Futures
I've always been a bit of a gambler. I went to college during the poker boom of the early 2000s, when everyone wanted to become the next Chris Moneymaker. I thought my experience playing cards with my grandfather and drafting fantasy football teams meant I had an advantage. It didn't.
Later, during my hour-long drives home from the dog track, I rationalized leaving money behind in the poker room as an investment in the future. I dreamed of using the skills I was supposedly acquiring to achieve financial independence. In retrospect, it's bizarre to me that I might have been right.
Eventually, I saw a PredictIt ad on Facebook in the summer of 2015, about eight months after the website was launched. I had just moved to a new city and was working remotely at a job that left me bored and a bit disconnected.
I always had a passing interest in politics. But once I became familiar with how the PredictIt website operated, the delusions kicked in again. I allowed myself to dream of achieving financial independence through legal gambling. I put $400 on my credit card and invested an increasing portion of time on PredictIt. Before long, it became an addiction.
More than just gambling
While PredictIt's core demographic is undoubtedly people like the character in my story—young men eager to fight with strangers and hungry for the thrill of a big wager paying off—the developers carefully distinguish what they do from gambling. Marketing for the website bills PredictIt as the "stock market for politics," with the broader mission of building a better model for predicting political outcomes. In this model, the free market determines the probability of political events by enabling users to bet money on their opinions.
Prediction markets generally do not constitute a scientifically chosen sample of the general population, so the betting can lead to mispriced markets. But the data it produces has become increasingly relevant to academics, political analysts and media outlets. As PredictIt continues to grow and attract a larger and more diverse user base, it will become even more useful as a model for predicting outcomes.
Bettors create markets by taking binary positions on a political event that's matched with someone taking the opposite position. Through this process of offering and accepting bids, a price is negotiated and both participants stake a correlating percentage of a dollar. Each winning share is redeemed for the full dollar at the market's resolution.
For instance, if I purchased 100 shares of Bernie Sanders winning the New Hampshire primary at 75 cents, I would have risked $75 and profited $25. The person who wagered $25 that Sanders would lose (it doesn't matter to whom) would have stood to win $75 and lost everything in the end. Buying and selling can take place any time, so if I am happy to make $5, I can offer to sell at 80 cents, just as the person with the 25-cent NO shares can see the way the returns are progressing and cut the losses for the highest price available.
Imposing limits
A U.S. Commodity Futures Trading Commission no-action letter limits how much users can wager but not how they can deposit. The maximum bet is $850, according to PredictIt's legal owner, New Zealand's Victoria University of Wellington. (PredictIt, of course, was developed for educational purposes, wink wink). Limits like this and a 5,000 trader per contract maximum enable PredictIt to operate as a non-profit and skirt national gambling laws. It also prevents organized trading operations from buying out markets and loading enormous amounts of money into positions to inflate their value before selling the bump.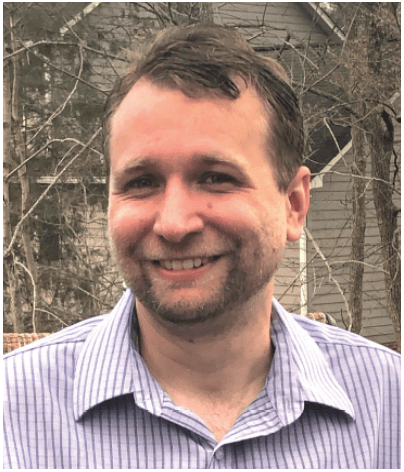 While "maxing" a position can be frustrating, high rollers always have opportunities beause PredictIt operates several hundred markets—some recurring weekly. Unless the world of politics becomes boring, there will always be plenty of action.
And with a diversity of buying opportunities comes a diversity of strategies. I began on PredictIt the way I would suggest any new player get started. Familiarize yourself with the platform by looking for zero-risk opportunities in marketplaces with lots of options. Markets like the Democratic nomination and presidency markets are great for this, and even the weekly tweet and polling markets offer potential. In those markets, bettors are always willing to pay a premium on their preferred option and don't realize they would get a much better deal betting against the others.
Market pricing tightens over time, and the most lucrative arbitrage is always when a market opens. But even now bettors can buy the open NO offers on every candidate in the Democratic presidential primaries and get a guaranteed 10% return on investment, paid up front because of PredictIt's linked contract policy. You lose only the opportunity cost because these markets are cash cows for those of us who know what we are doing.
But, of course, bettors can sell at any time, so if they feel like they've graduated to something more profitable, they can take their money out and move on.
A community forms
As part of the PredictIt scene for four years, I've gotten to know hundreds of players on the website's message board, in real life and through back channels such as Twitter and Discord. That's just a small percentage of the nearly 100,000 active users on PredictIt, including college students, employed professionals who play the markets in their spare time and a few dozen full-time professionals like me—many bringing in six-figure incomes.
There are as many approaches to prediction market trading as there are traders. As with any betting outlet, some strategies are clearly bad, including get-rich-quick scams or martingale-style doubling down. But I've taken the best of what others have shared and applied it to my own game. The most successful bettors learn from one another and never stop trying something new.
With a willingness to learn and a respect for the personalities that make PredictIt fun and exciting, you'll find that we're quite a social group. We're willing to share secrets and celebrate each other because our success depends on a steady stream of suckers and political partisans willing to gamble with their hearts and lose big on predictable outcomes. But people of all backgrounds have found success, and each contributes something unique.
In my network, I'm plugged in to lawyers who interpret contractual language on complicated issues such as Senate cloture, mathematicians who can provide expert perspective on probability and statistics, and software developers who can build programs to search network websites for polling data. We have social media experts, data scientists, former quant traders and political strategists.
Then, of course, there's me, who is none of these things. My background is in teaching, and I have no discernible skills that would make me good at this. But on PredictIt, sometimes the improbable can happen. So I'll continue to do what I do until the luck runs out.
Derek Phillips' Best Bets
Which party will win ME-02 in the 2020 presidential election?
Buy Democratic YES or Republican NO under 30¢
With Nebraska, Maine is one of two states in the country that apportions their delegates by district. Obama won Maine's second district by double digits both times, and Trump won by 10 in 2016. Democrat Jared Golden won the House seat in this district during the midterms, and both potential nominees should outperform Hillary Clinton with rural white voters in the northeast.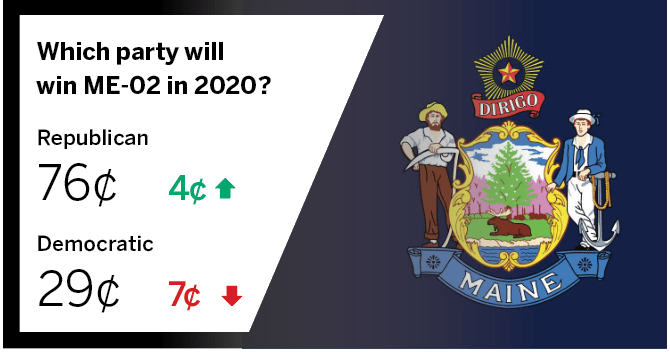 Which party will win New Hampshire in the 2020 presidential election?
Buy YES on Democrats winning or NO on Republicans around 50¢.
President Trump's reelection prospects are at a high on PredictIt, but some of the money coming in for him is unwisely invested. A lot depends on who the Democratic nominee is, but unless the primary descends into chaos and the party nominates someone who cannot win, NH is unlikely to even be a battleground state.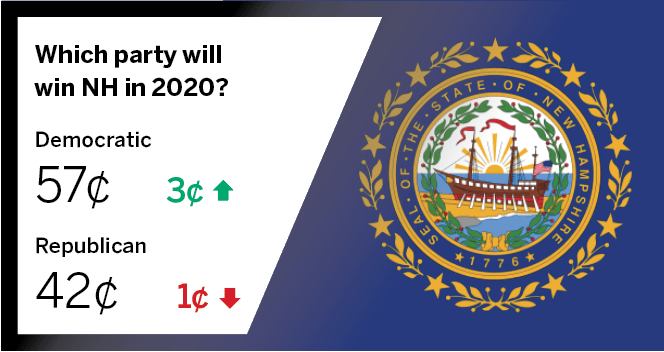 Who will win the 2020 Alabama Republican Senate primary?
Buy Sessions YES or Tuberville NO under 20¢
The price for Sessions is low right now because Trump just attacked him on Twitter. It's possible that it will recover substantially before this goes to print. It's also possible that Trump will continue to attack him. If you can buy under 20¢, there is a ton of upside to this bet. Sessions is a four-term Alabama Senator with deep ties to the state party, and even Republican voters here have shown an unwillingness to defer to Trump when it comes to electing their representatives.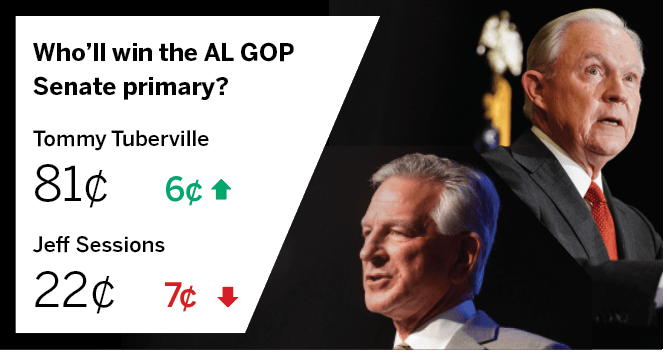 Derek Phillips, a self-described failed academic, began trading political futures as a hobby before going pro during the 2016 election. In four years, he has turned a $400 investment into a portfolio that has earned more than $400,000, a claim verified by Luckbox. He lives in Chapel Hill, N.C., and trades on PredictIt under the name Dmp. @dmpfrompi