Yeezy Money Betting on Kanye for President
Kanye West is a powerful influencer, and now he's influencing prices in the political prediction markets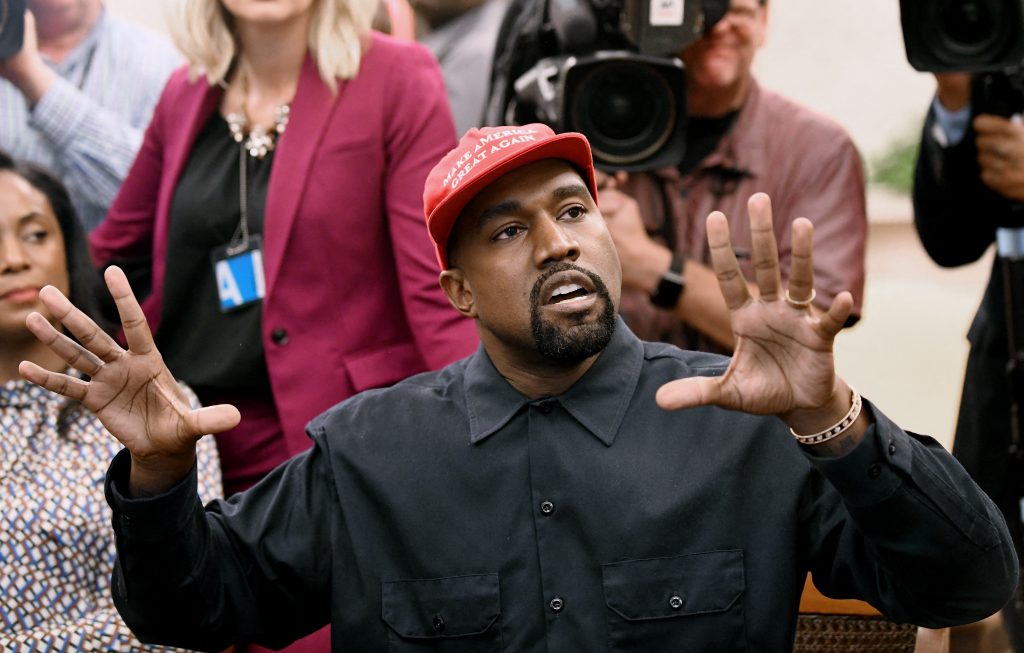 Award-winning rapper Kanye West took to Twitter on the night of July 4 to announce his intention to run for president, a decision that—if followed through—would make good on a nearly 5-year-old declaration shared during West's 2015 MTV Video Music Awards speech.
The tweet, which has been liked more than a million times and retweeted more than 500,000 times, garnered support from the likes of Tesla and SpaceX CEO Elon Musk, as well as Dallas Mavericks owner Mark Cuban, who said he would place West above President Donald Trump in a ranked-choice voting scenario.
You have my full support!

— Elon Musk (@elonmusk) July 5, 2020
Still, with less than four months before the Nov. 3 election, West has yet to officially file as a candidate with the Federal Election Commission (FEC), with several media outlets noting that independent filing deadlines have already passed in states such as New York, Texas, North Carolina, New Mexico and Indiana.
But West's tweet sparked more than just a flurry of news and social media attention—it also prompted an influx of trading activity in the prediction markets on PredictIt.org, a site where people can wager real money forecasting the outcomes of political events.
In PredictIt's "Will Kanye West run for president in 2020?" market, which had seldom seen "Yes" shares trading above 3¢ prior to the rapper's viral tweet (representing a 3% forecasted probability of that outcome occurring), prices surged as high as 63¢ on the 4th, closing at 43¢.
In total, nearly 105,000 shares were traded in the market on July 4. For comparison, only 17 shares were traded the day before.
On the 5th, trading activity maintained its momentum for the most part, with over 102,000 shares traded and a "Yes" share trading range between 19¢ and 49¢, closing at 36¢.
Current pricing at press time sits at 27¢, down 9¢ on the day.

West's announcement was the primary focus of a recent episode of prediction market-focused podcast The Political Trade, which went into detail about the potential candidate's announcement and why election analysts are taking the news very seriously—despite a knee-jerk reaction not to.
The full episode can be heard here:
Below is a lightly edited transcript of TPT's coverage of West's presidential announcement.
Jeff As promised, we saved the best story for last. Kanye West is making international headlines as of last night, and then again this morning. Mike, tell us the story.
Mike Yep. We had some interesting political developments on the Fourth of July—this little holiday weekend that we had—rapper, singer, songwriter, record producer, composer, entrepreneur and fashion designer Kanye West—
Jeff And may I add the composer of the lyrics, "Beggars can't be choosers bitch, this ain't Chipotle."
Mike Yes. Kanye tweeted out at 8:30 p.m. Saturday night, the Fourth of July, that he wants to run for president in 2020. Now, the tweet comes four months before the election—so he's got to get moving—and apparently without yet filing with the Federal Election Commission or creating a campaign committee. West tweeted, "We must now realize the promise of America by trusting God, unifying our vision and building our future. I am running for president of the United States!" Already West's tweet has been liked nearly a million times and retweeted more than 470,000 times—it seems he's already establishing his base. So both Twitter and the PredictIt comment boards are on fire with speculation, both supportive and critical of the award-winning performer's potential presidential bid. If you take a look at the price history on PredictIt in the "Will Kanye West run for president in 2020?" market, "Yes" shares haven't traded above 4¢ in the 90 days leading up to last night. But following his announcement on Twitter, those "Yes" shares sold as high as 63¢, closing the day off at 47¢. So today, those "Yes" shares are trading around 34¢, down 13¢ from yesterday. Jeff, what do you make of this?
Jeff This is an awesome market, first of all, and I was speaking with Scott Supak earlier this morning, who already got a piece of this market when the news broke out. He happened to be on the PredictIt site. He was able to buy at 50¢ and sell at 60¢, just within a couple cents of the high of yesterday. 62¢ was the highest print. But good, we're finally getting to the big story. Can we hear a little bit? He has a new album coming out, right? The lead song has already dropped, called, "Wash Us In The Blood." It features Travis Scott. It's about mass incarceration. Do you have a clip of it?
Mike Sure.
[Wash Us In The Blood clip plays]
Jeff Coming out! Got already highly ranked on every platform This is going to be a big album. It's called "God's Country," and the first single was just released last week. So this is a lyrical genius. You know, I mean, you have an opportunity here. Could you imagine what these debates would be like, right? I mean, this is a man who said, in fact I asked you to pull a clip from the song "Wolves." Do you have that clip?
Mike Oh, yes.
[Wolves clip plays]
Jeff "You left your fridge open, somebody just took a sandwich," which really rivals, you know, Paul McCartney as a lyricist. "Someone's knockin' at the door, Someone's ringin' the bell, Do me a favor, Open the door and let 'em in." I mean, this is good stuff here, so—
Mike Well hey Jeff, I don't think you can deny that Kanye West has gotta be one of the most influential music artists of our— this generation. But I just don't know if that's enough to bring you to the presidency. I think this is a media ploy to get more attention to, as you mentioned, this new album that he is going to be releasing. But I understand some people are taking these tweets and the possibility of him running for president very seriously.
Jeff The conventional wisdom right out of the gate is to assume that this is a promotion for "God's Country," the new album that drops in a couple of weeks, but there are many political observers and analysts who are taking this very, very seriously. Our friend Rachel Bitecofer, who was on The Political Trade just a couple episodes ago, is already in a spat on Twitter with Nate Silver from FiveThirtyEight just this morning. Silver was really dismissive about the announcement from West. But Bitecofer said that— her quote on Twitter was that the Trump team wants to use him to siphon off 1% to 2%, and it won't take much. She went on to say hopefully the Kanye West crap is a publicity stunt. He doesn't need ballot access. He's a celeb. So he poses a threat to Biden as a write-in because young people are stupid as hell. Not a lot will do it, but it wouldn't take much. So this has already kind of turned into a situation that many people are taking seriously. And the reason why someone like Rachel Bitecofer would take this seriously, who looks at the election numbers very, very closely, is she knows that there is a vulnerability right now on the Democratic side, and that's young male African American voters. Black Americans are one of the Democratic Party's by far most-loyal voting blocs, and Trump only won 8% of Black voters in 2016. But, you know, Biden has some issues there, including collaborating with segregationists in the Senate and in sponsoring the 1994 Federal Crime Bill. More recently, we know the Trump campaign is going to be making noise about him supporting China, joining the WTO and supporting the war in Iraq. And surveys conducted this year by the Wall Street Journal/NBC already showed that 92% of Black women support Biden compared with 4% for Trump, but 80% of black men back the Democrat and 12% support Trump. So his support among Black men is greater than Black women. More specifically, among Black men under 50, Biden support drops to 70% with Trump getting 17%, so there is a vulnerability, it's been noted in the past—Bitecofer herself has noted this previously—and it's well-known within Democratic circles. They recognize that losing any material amount of black vote could potentially be a game-changer. And it's reason to take this seriously. Now, nobody thinks that Kanye is going to be president. And the real question, according to the PredictIt markets and what people are wagering on, is if he's even going to become a candidate. So let's go to the rules first, right? It's always the law. What do the rules say?
Mike Well, before we get to the rules, I just have to bring up the point though, it's hard for me to imagine Kanye siphoning votes away from anyone who would have any inclination to support Democrats. Now, my reasoning for that is Kanye has a history of being a somewhat ardent supporter of Trump. There are plenty of pictures of him sporting the "Make America Great Again" hat. I would think that this would only serve to hurt Trump more than Biden. How does that work out?
Jeff The numbers are showing up. Listen, I don't take him seriously as a candidate, but I take him seriously for his ability to attract attention and even attract votes. There's a reason there are 1 million likes and half-a-million retweets there. There's actually some interest in him. Elon Musk immediately responded by saying "You have my full support." That was his Twitter endorsement. Later on, Mark Cuban said if there was ranked-choice voting available, and Kanye West was on the ballot with Joe Biden and Donald Trump, he would have Kanye West ahead of Donald Trump. Rose McGowan, some other celebrities have already said "You have my backing" as well. So there's actually a reason to take this a little bit more seriously. At the very least, it's a terrific promotion for an upcoming album. I think that's what we have to look at first and foremost, I mean, he is an accomplished promoter as much as he is a musician in terms of top-selling rappers of all time. Kanye is number three in terms of records sold. We have to take him seriously from that perspective. Now, more specifically, people are noting that it's too late to get on the ballot as an independent voter in New York, in Texas, North Carolina, Indiana, Minnesota, New Mexico. In those seven states, the ship has already sailed. But there are 43 states that he could get on the ballot. And Ballotpedia reported just this morning that there is a candidate in the FEC database, the Federal Election Commission database, under the Green Party who's named "Kanye Deez Nuts West," and next to him shows zero dollars. So the spelling is accurate. And it looks like this is an interesting wager, and that's all we're really contemplating is will he fulfill the rules. So what do the rules say? What is this about here?
Mike Yes. Well, it's interesting that you brought that up because I'm not sure that's his actual middle name. In fact, looking to the rules, the PredictIt rules state, "Hip hop producer Kanye Omari West…"
Jeff That's his legal name. But yes, I think we know comfortably that he's not "Ye" or "Yeezy" or "Christian Genius" or "The Greatest Artist of All Time." Those are all names that he's referred to himself as. His real name is Omari.
Mike So, "West shall become a candidate for President of the United States in the 2020 general election by filing a statement of candidacy and/or a statement of organization of an exploratory committee for the Office of President with the Federal Election Commission. Absent such filing(s), the market will not resolve to "Yes," notwithstanding declarations by Mr. West and/or his representatives regarding intentions to run." So, those are the rules.
Jeff Well, this market, as we speak, is up to 41¢ on the day, which is a new high. It's traded in the low teens and it's back up to 41¢. And remember, what's so interesting about this market is it existed for the last nine months. So there's currently about 400 markets on PredictIt. This was one of the quiet ones that was sitting there: "Will Kanye West run for president in 2020?" He was sitting at about 3¢ for the last three months, just quietly, and then yesterday this thing shot up into the low 60s and then backed off to the teens this morning. And now it's trading back up to 41¢, and I'm sure there's Twitter activity on this while we speak. It did make the Sunday news shows today—there was a mention on "Meet the Press" of this as well. And remember, he gave a heads up on this back in the 2015 MTV Video Music Awards where he said that he'd be running for president in 2020. So I think we have something that's going to be entertaining to watch. At the very least, it's an interesting PredictIt market, one that was likely going to have some good volatility until his intentions become clearer. If I were forced to bet in this market, I would take the "Yeses" and not the "Nos," although it just plays so perfectly as a promotion of an upcoming album and to attract attention.
Mike If nothing else, he's very well-positioned to be a position candidate. You know, I think you're right, there may be a good chance he actually files and winds up as a potential candidate on the ballot.
Jeff And keep in mind that he has some money to play with, you know, the reports of his financial demise were premature and greatly exaggerated. He just ended up back on the Forbes list of billionaires. He's got $1.3 billion, $21 million in real estate, a $3.6 million car collection, and even $300,000 worth of livestock was on his asset returns. So he has money to make an investment and perhaps make a difference in siphoning some votes off. The big question is, what are we looking at here? Is this a coordinated plan, as many are theorizing, with the Trump campaign to siphon up votes from Biden, or is this just about promoting himself? We'll see. No one really knows, but it's a fun trade to watch and it's a great trading market. I think the best way to approach this market right now is to swing trade it: identify the extremes, as some traders clearly did this morning. By buying in the teens and now we're up to 40¢, you know, people have doubled and tripled their money just this morning. This might be a market to take a good look at. At the very least, it's gonna be a lot of fun.
Listen to full episodes of TPT here.