Trading the Top-Performing Small Cap Tech Stocks in 2023
Large cap tech stocks have pushed the Nasdaq 100 up more than 35% in 2023, but there have been plenty of winners from the small cap universe as well. 
Like their large cap counterparts, small cap stocks in the technology sector have outperformed in 2023.
Small cap stocks are defined as those with market capitalizations below $2 billion.
Three small cap tech stocks focused on AI—Applied Digital (APLD), Innodata (INOD) and Rigetti (RGTI)—are especially intriguing looking ahead into 2024.
Considering the 37% year-to-date return in the Nasdaq 100, it's no great surprise that mega cap tech stocks like Nvidia(NVDA) and Meta (META) have been in focus in 2023.
However, one could argue that small cap stocks from the technology sector have been unfairly overlooked. Stocks of this variety usually have market capitalizations below $2 billion.
Unlike their large cap counterparts, small cap stocks in the tech universe don't generate eye-popping revenues or earnings. Instead, these companies are focused on developing new (and sometimes cutting-edge) products and services.
At some point in the future, these new products and services may be successfully commercialized, which is when the revenues and profits typically start rolling in.
That said, even at an early stage of development, small cap stocks can still represent an intriguing proposition. After all, some of these small companies will become tech giants of the future.
Moreover, small cap stocks can also be attractive due to their takeout potential. For large companies with extra capital, it's sometimes easier to acquire new technologies than it is to develop them in-house. For example, Absolute Software(ABST) was acquired by Crosspoint Capital Partners in May for around $870 million.
Highlighted below are some of the top-performing small cap stocks from the tech sector so far this year (with market capitalizations between $50 million and $2 billion):
Cipher Mining (CIFR), +298%
Applied Optoelectronics (AAOI), +298%
MicroAlgo (MLGO), +180%
Applied Digital (APLD), +168%
Archer Aviation (ACHR), +165%
Riot Platforms (RIOT), +162%
Innodata (INOD), +138%
Arlo Technologies (ARLO), +136%
FingerMotion (FNGR), +133%
Bitfarm (BITF), +130%
Eltek (ELTK), +130%
Marathon Digital Holdings (MARA), +128%
Hut 8 Mining (HUT), +117%
CSP Inc. (CSPI), +105%
Qudian (QD), +104%
RxSight (RXST), +94%
CleanSpark (CLSK), +94%
Ehang Holdings (EH), +92%
HIVE Digital (HIVE), +92%
Rigetti Computing (RGTI), +75%
Of the 20 companies listed above, three are especially interesting because they are involved in the burgeoning artificial intelligence (AI) niche. Led by companies such as Nvidia and Open AI, valuations in the AI niche exploded in 2023.
More Details on the Small Cap Tech Winners in 2023
Some of the same themes that have pushed large cap tech stocks higher in 2023 have also spilled over into the small cap universe. At the top of the list is artificial intelligence (AI), but the rally in Bitcoin has triggered a rally in the cryptocurrency stocks, as well.
Data centers are a key part of the AI story, and that's no doubt a big reason that Applied Digital (APLD) has seen its fortunes rise in 2023. Aside from operating data centers, Applied Digital offers artificial intelligence-focused cloud services.
Along those lines, Innodata (INOD) has also been a favorite amongst small cap investors and traders in 2023.
Innodata specializes in data engineering, with particular emphasis in the field of artificial intelligence. One segment of the company that's shown promise is Innodata's AI data preparation division, which collects/optimizes/annotates training data and provides deployment/integration services for AI models.
In addition to Applied Digital and Innodata, another company that's made waves in the AI niche in 2023 is Rigetti (RGTI). Rigetti builds quantum computers, which could be the next big thing in the world of tech because these machines are expected to unlock the next major stage of development in AI.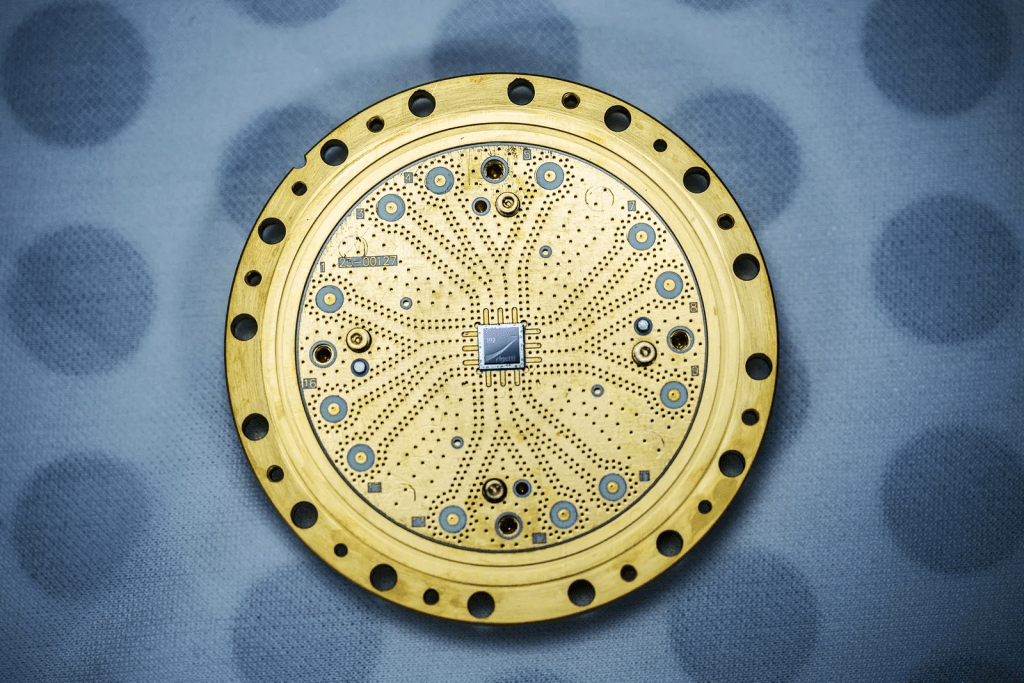 The biggest driver of this sector's potential is the sheer power associated with quantum computers. They are faster and more powerful than the world's top supercomputers, which makes them uniquely suited to power complex generative AI models like ChatGPT.
Rigetti went public via a SPAC merger in early 2022 and is now working on building an 84-qubit quantum computer called Ankaa. Like Rigetti, shares in IONQ Inc. (IONQ) have also rallied significantly due to the company's promising quantum computing potential. However, IONQ's market capitalization is above $2 billion, which is why it doesn't appear on the aforementioned list of top-performers.
One of the other top small cap performers in 2023 hails from the medical technology niche, and therefore represents a bit of a crossover from the traditional tech company. However, there appears to be a good reason that shares in RxSight (RXST) have more than doubled in 2023.
Back in 2021, RxSight commercialized the first and only customizable intraocular lens approved by the FDA. This technology allows surgeons to customize and optimize visual acuity following cataract surgery, as illustrated below.
RxSight's technology is truly ground-breaking because it allows for improved post-surgery outcomes as compared to existing technologies. The company's Light Adjustable Lens (LAL) technology has shown in a wide range of studies that its customizable functionality allows for optimized vision after cataract surgery.
The recent success of the commercial application of the LAL technology has no doubt contributed to increased optimism in the company's shares. Shares of RXST currently trade for about $26/share with an average price target of $32.80. The stock started the year at under $13/share.
Two of the other companies featured in the aforementioned list of top-performers include Archer Aviation (ACHR) and EHang Holdings (EH), which both hail from the unmanned aerial vehicle (UAV) sector. To learn more about recent developments in the UAV industry, readers can check out this recent article on Seeking Alpha.
Considering that Bitcoin is up more than 70% in 2023, it's no great surprise that a number of smaller cryptocurrency miners are also included in the list of top-performing small cap tech stocks.
Of the 20 stocks listed above, seven of them are involved in mining cryptocurrencies, including Cipher Mining (CIFR), Riot Platforms (RIOT), Bitfarm Ltd (BITF), Marathon Digital (MARA), Hut 8 Mining (HUT), Hive Digital (HIVE) and CleanSpark (CLSK).
Considering their high degree of correlation with the price of bitcoin, one's opinion on these stocks will probably hinge on one's outlook for the broader crypto industry, with particular emphasis on bitcoin.
Lastly, four of the twenty top-performers listed above are headquartered in China. The aforementioned EHang Holdings, as well as FingerMotion (FNGR), MicroAlgo (MLGO) and Qudian (QD).
FingerMotion provides mobile payment and recharging systems, while Qudian operates online platforms that offer consumer credit products. MicroAlgo helps clients optimize algorithms and accelerate their computing power, often without the need for new hardware purchases.
In that regard, MicroAlgo is also levered to the AI niche, which makes it another important stock to watch in 2024, along with Applied Digital, Innodata, and Rigetti.
Parting Shots
Investing in smaller companies can be akin to riding a rollercoaster, because the fortunes of these companies can change so quickly. However, small cap stocks also represent an opportunity to get in on the ground floor, at a reasonable valuation.
Considering the transformational nature of AI, the three aforementioned stocks—Applied Digital, Innodata and Rigetti—are especially intriguing at this time. But as with any investment opportunity, investors and traders should conduct the necessary due diligence before entering any new positions.
Market participants that prefer exchange-traded funds (ETFs) over single stocks can also consider the Invesco S&P SmallCap Information Technology ETF (PSCT), which is up 3% year-to-date.
To follow everything moving the markets, including the bond markets, tune into tastylive—weekdays from 7 a.m. to 4 p.m. CDT.
Andrew Prochnow has more than 15 years of experience trading the global financial markets, including 10 years as a professional options trader. Andrew is a frequent contributor Luckbox magazine.
For daily financial market news and commentary, visit the News & Insights page at tastylive or the YouTube channels tastylive (for options traders), and tastyliveTrending for stocks, futures, forex & macro.
Trade with a better broker, open a tastytrade account today. tastylive, Inc. and tastytrade, Inc. are separate but affiliated companies.
Hungry for more? The next issue of Luckbox is food-focused looking at new growth opportunities and trading ideas in food, beverage, agricultural, hospitality and grocery stocks. Not a subscriber? Subscribe for free at getluckbox.com.